I've got to admit, I'm not much for canned red enchilada sauce. I didn't think I even liked red enchilada sauce at all for the longest time, not realizing I just didn't like canned red enchilada sauce.
The green kind is usually okay (though better homemade), but the red canned kind just doesn't do it for me. Luckily, my childhood friend Laura has a great recipe for red enchilada sauce.
I've adapted her recipe a bit, and it's perfect. This recipe makes a little over 3 cups of sauce. For a large pan of enchiladas, Laura likes to double the recipe and serve any extra sauce in a gravy boat for people who like their enchiladas extra saucy.
I found that a single recipe was plenty for my black bean enchiladas, but you're welcome to double it if you like. The recipe below is the equivalent of about a 28oz can, or two of the small cans.
*Note: when I buy a can of chipotle chiles in adobo sauce. I use what I need for a recipe then freeze individual chiles on a plate covered with waxed paper for about 20 minutes or till set. Then, I transfer the chiles to a freezer zip-top bag to store. They will keep well this way for about 3 months. For other recipes that use the chiles, try these or these.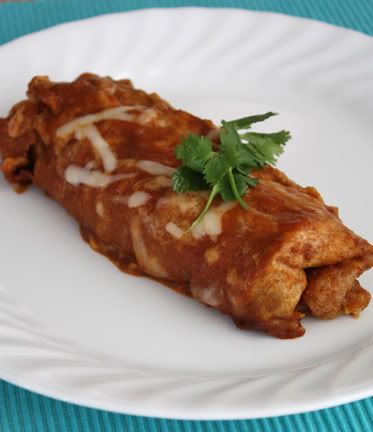 Ingredients
2 Tbsp olive oil
2 Tbsp flour
1 Tbsp chili powder
½-1 canned chipotle chili (packed in adobo), rinsed and minced
½tsp cumin
¼tsp garlic powder
¼tsp onion powder
1 tsp salt
1 (8oz) can tomato sauce
2c water
Instructions
Heat oil in a large saucepan over medium heat. Add flour and chili powder. Cook 2-3 minutes, stirring often. Add remaining ingredients and stir to combine.
Bring sauce to a boil and reduce to a simmer. Simmer about 10 minutes.
Makes about 3¼c sauce.