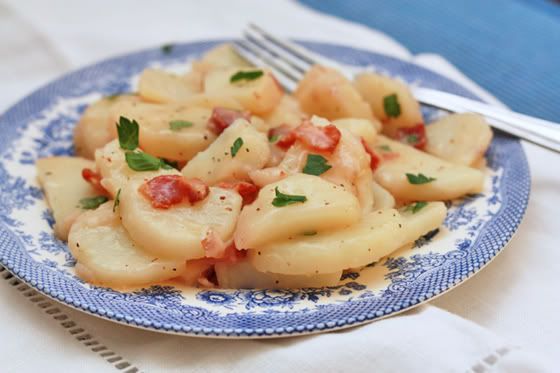 So, I can't exactly vouch for the super-duper authenticity of this dish to the same degree I could with the rotkohl. What I DO know is that this is Michael's family recipe for German potato salad, and I've had a few other versions that are similar–potatoes with hot bacon dressing.
Yes, dear reader, I did just say hot bacon dressing. Hot. Bacon. Dressing.
Ooooh yeah.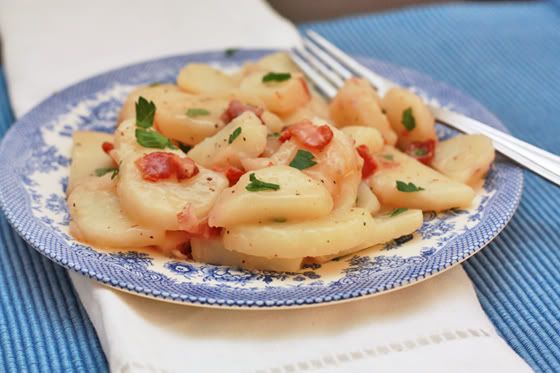 I find that in German foods, I often come across things that are vinegary, pickled, or mustardy. This sort of flavoring isn't for everyone, but I'm not much for really heavy-on-the-mayo potato salads, so the idea of a warm vinegary dressing sounded really delicious. Add bacon and signed, sealed, delivered, I'm yours. With warm regards.
I really loved that this salad was so simple. Michael's mom recommends boiling the potatoes skin-on, then peeling and slicing them after they've cooled. I tried this method and found it pretty easy, although sometimes I wasn't patient enough and had to juggle some hot potatoes. I'd recommend cooking the potatoes, draining them, and setting them aside to cool a bit while you brown the bacon. After the bacon is done, I peeled and sliced potatoes, then proceeded with the rest of the dressing. You can certainly do it any way you want (i.e. peel the potatoes before boiling them).
Note on the recipe: I never use bacon grease for anything. But let me tell you, I tried it here since the recipe called for it, and I'm glad I did. It was delicious, albeit not the healthiest thing
Ingredients
6-8 medium red potatoes, scrubbed
3 slices bacon, diced
1½ Tbsp flour
½c apple cider vinegar
½c water
3½ Tbsp sugar
1 tsp salt
¼-1/2tsp black pepper
3-4 Tbsp fresh parsley, minced (optional)
Instructions
Place potatoes in a large pot and fill with water until potatoes are completely covered by 1-2 inches of water. Bring to a boil and cook until mostly tender, about 15-20 minutes (or more, if larger). Drain and allow to cool before peeling and slicing into ¼" thick slices.
To make the dressing, brown bacon pieces in a large skillet over medium heat until crisp. Set bacon aside to cool on paper towels. Reduce heat to medium-low and add flour, stirring to combine. Cook 1-2 minutes. Pour in vinegar, water, sugar, salt, and pepper. Cook, stirring until thickened, about 3-4 minutes. Toss dressing with sliced potatoes and stir in parsley. Serve warm or room temperature.