The writing of a birth story is a very interesting thing. How much detail do you add? How much do you leave out? What is too special to share? How long do you let it get before saying "okay, people are probably done reading this now"?
Well…I've done my best.
As I mentioned, Sophie was born Friday, April 15th. I was 39 weeks and 5 days pregnant. And very full of a baby. At my doctor's appointment that Tuesday, my doctor walked in and looked at me with pained eyes, just as she had the past two appointments before that and said, "Oh, honey, I can't believe you're still pregnant. Ouch. Ouch. Ouch."
By the 39 week mark, my stomach was so tight I was having a hard time standing upright or sitting up straight without feeling like it would tear. Otherwise, things were going really, really well. I was blessedly still sleeping pretty well through the night and was able to exercise up until the day before Sophie arrived. In addition, I'd been 80% effaced for a month, baby was already about a +1 station, and I was dilated to a 4.
To be honest, by 39 weeks, I was shocked to still be pregnant. With three trips to triage with contractions before I hit 37 weeks, the medical world and pretty much everyone who knows me could NOT believe she hadn't arrived. So, when my sweet doctor looked at me with sympathy in her eyes and suggested an induction for Friday at noon, I agreed.
I'd spent my pregnancy reading loads of books on childbirth and pregnancy, hoping to get a broad scope of ideas I could draw from as I approached my own birth experience. I have no moral opposition to pretty much any form of birth–unmedicated or medicated. Okay, that's not entirely true–water birth was not for me. But anyway, I'd studied lots and lots of childbirth pain management methods and, knowing my family tends to have speedy deliveries, thought I might be able to make it sans meds. If not, I had no problem getting an epidural. I figured going in with a very open mind would help me relax and not panic should the plans change mid-labor.
Friday arrived. The house was clean, the freezer had meals, we'd bought a few groceries for when we got back from the hospital, the laundry was done, and my legs were shaved (very important, you know). We called as instructed at 11am to make sure we were still good for our noon induction. Sadly, while WE were ready, the women's center was bursting at the seams with women bursting at the seams. We had to wait.
And wait.
Aaaaaand wait.
After the longest four hours of our lives, we checked into the hospital at 4:00 and I was hooked up to the monitors and on pitocin by 5:15. I'd love to have gone into labor by myself (especially since I'd already had so many contractions at home before I was full-term), but I was okay with pitocin under the circumstances.
And then nothing happened.
I'd had my dosage increased three times already, but the contractions weren't doing much and despite fancy labor positions, walking, pacing, awkward yoga positions, and doing exercises on an exercise ball…nothing was happening. At 7:39, I found myself very sad. So I decided to climb back into the bed and wait for my next dosage increase. Michael decided to read in a chair close by.
At 7:40, I found myself very excited. Just as I was on all fours climbing into the bed, my water broke. It was a really, really weird feeling. All I could do was say over and over, "my water is breaking! It broke! It's still breaking! Michael, my water is breaking!" I was thrilled! Ha cha! No matter what, they can't send me home now! This baby is coming!
As soon as I was able to settle into the bed, the next contraction was mind-blowingly intense. An instant transformation from the easily managed contractions heretofore. I summoned my relaxation techniques and tried breathing and visualizing my way though things. I was moderately successful. We waited for my nurse to show up. She didn't. We paged her. 10 minutes later, she walked in and decided that since my water had broken, she'd check me. She did and then promptly left. I was dilated to a 5, and every contraction was harder and more intense than the last. 20 minutes later, I wanted her to check me again. She sort of rolled her eyes a little and said, "there's no way you've gotten very far. At most, you might have gone to a 6." Still, she didn't check me, sure that she was right.
I started feeling a little silly that I had started moaning and saying things like "ow, ow, ow, please don't let go of my hand" and "oh, no" when contractions hit. If this was what a 5 felt like, I didn't think I could make it to a 10 on my own without becoming hysterical. I looked at Michael mid-contraction when the nurse finally came back and asked if I wanted anything. Bless him, he knew that look meant "I think I need an epidural."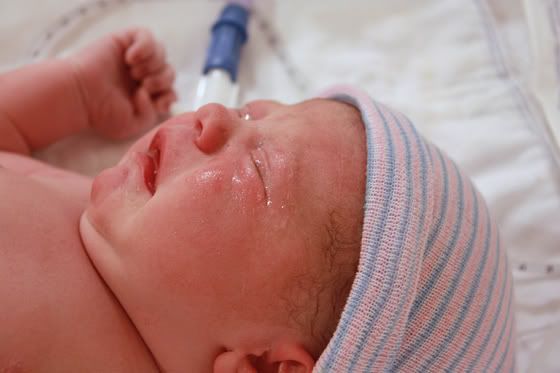 It took Dr. Epidural (can't remember his name for the life of me) about 15 minutes to get there. He was a short, quiet, sweet man, who I'm sure I would have liked had he not been remarkably out of touch with when would be a good time to do the painful parts of the epidural process. In between contractions, he'd do the easy things like swab my back with alcohol and ask me how much I weighed. During contractions, he'd ask me to hold still and not move. It was very hard to not move. I wasn't very good at it.
After the epidural was in (but before it had taken effect), the nurse said "well, we'd better check you." Her eyes got REALLY wide, REALLY fast. "Um, you're completely dilated and the baby's head is, well, um, low, and I'm going to call your doctor." Then, right before she left she said, "huh. I guess you didn't really need that epidural after all. We could have had you pushing." I'd gone from 5 to a 10 in under an hour. I suddenly felt justified for my moaning.
Had not the warm tingliness of epidural numbness started taking effect in my legs, I might have done something mean just then to the nurse as she walked out of the room. Shake my fist, blow raspberries…something mature, I'm sure. Thankfully, I was distracted by contractions and the excitement of knowing my baby was on her way, and was able to maintain a shred of dignity.
My wonderful doctor arrived 15 minutes later, and in a flurry of activity, they got the room ready and my made-of-lead numb legs in position. I was having a hard time not laughing that my legs kept almost falling off the table. My ever-handy nurse decided to take this opportunity to suggest we finally change the sheet underneath me from where my water had broken. I rocked myself side to side as best I could, but I'll be honest: it was awkward. "Well, at least my legs are shaved," I thought.
Pushing went much better than I'd expected, seeing as I couldn't feel a blessed thing from the waist down. I was shocked when my doctor said "oh, look, there's her hair!" Michael and I were both shocked! She has hair?! We got a mirror in place, and I was able to see her little head as I pushed, which helped things go remarkably smoother. Less than 25 minutes of pushing, and there was a beautiful baby girl in the room! It was 9:36pm. Just under 2 hours of active labor.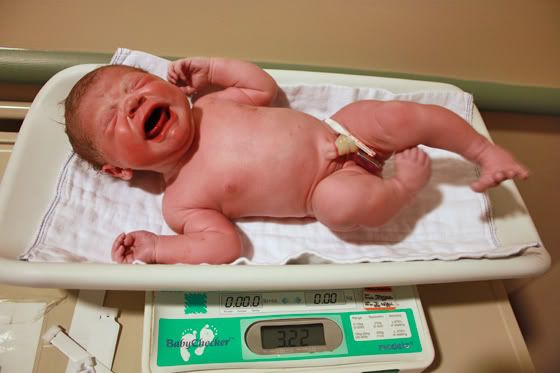 As they called out her measurements and cleaned her off, I was incredibly jealous of Michael, who was seeing her and snapping pictures. As they called out her measurements, my doctor kept saying "oh, honey, that's such a big chest for you" and "oh, Emily, I'm so sorry. That's such a big head for you."

I had minimally torn and was numb as could be. Finally, I got to hold her. She was perfect, and so alert!
Thankfully, the nursing shift changed shortly after Sophie arrived, and we were blessed with the sweetest nurses for the rest of the night.

We're a touch over a week into parenthood, and it's wonderful. Certainly not without its challenges, but we couldn't feel more blessed or more excited to have her here with us. We love you Sophie girl!