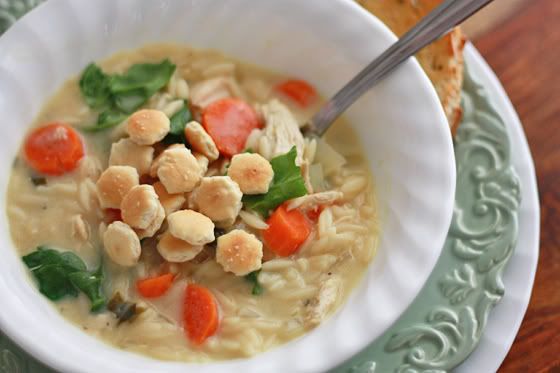 Believe it or not, I'm not on a super lemon kick. I've just been trying to see how Sophie tolerates citrus, so I've been trying a few recipes with lemon. So far, she's done well (hallelujah!), so this recipe was actually to try out the whole onions/garlic thing. She seemed to do well with this soup–I haven't tried anything else yet with onions or garlic, but I have hope that she'll continue to do well.
Sophie's opinion aside, I LOVED this soup. I thought it was delicious and homey, and creamy–all without any dairy!
The magic is actually using egg yolks and lemon juice, which I thought sounded weird at first. Still, when I can't have dairy, and I wanted something creamy, I was willing to try it. And I'm SO glad I did! The soup still tasted light and had a nice silky texture. Perfect!
I know that summer is just around the corner, but when someone in your house catches the inevitable summer cold (am I the only one who gets those?) or you have a cloudy (or, in our case, monsoon-y) day, this can really hit the spot.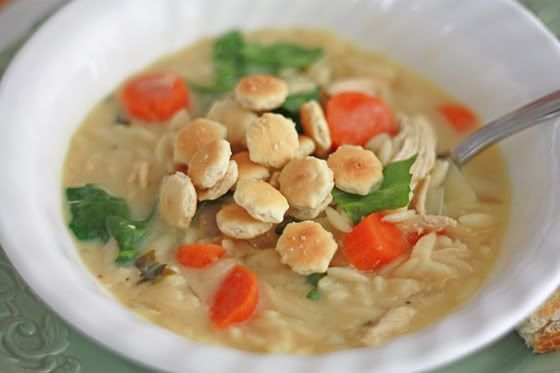 Lemon Chicken and Orzo Soup
Ingredients
1 small onion, diced
1 clove garlic, minced
3 medium carrots, sliced
6c chicken broth
2c water
3 egg yolks
juice of 2 lemons
1-2c cooked chicken, shredded or cubed
1c orzo, uncooked
2c fresh spinach, torn or minced
2-4Tbsp fresh basil, minced
salt and pepper to taste
olive oil
Instructions
In a large Dutch oven or soup pot, heat about 1 Tbsp olive oil over medium heat. Add onion and cook until translucent and tender. Add garlic and cook 1 minute more. Add carrots, broth, and water and bring to a boil over medium heat. Reduce heat to a simmer.
In a small bowl, whisk together egg yolks and lemon juice. Stirring constantly to avoid clumps, add a small ladle-ful of the simmering chicken broth to the egg yolk mixture. This will prevent your eggs from scrambling in the soup. Pour egg yolk/broth mixture into the soup pot and stir to combine.
Add chicken and orzo and cook until orzo is tender, about 10-15 minutes. Add salt and pepper to taste.
Just before serving, stir in spinach and basil.
Adapted from Good Life Eats