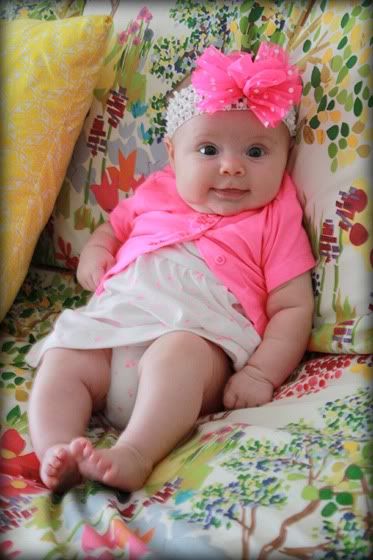 My baby is three months old.
MY baby is three months old.
My BABY is three months old.
My baby is THREE months old.
I am equal parts disbelief that she's already three months old and disbelief that she's only three months old. It feels like Sophie has been part of our family forever.
By way of update, here are some things to mark three months.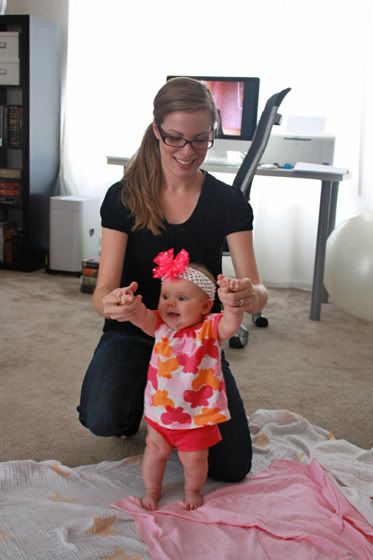 1. Sophie is a smiling machine. Incidentally, she figured out how to smile the day before my parents came into town for her blessing. Timing couldn't have been better. She's a big smiler now, for which I'm grateful.
2. She rolled over twice on the 4th of July and hasn't done it again since. I'm so excited for this to be a more regular occurrence. It's fun to watch her learn new things!
3. In that vein, Sophie's a smart cookie. She knows when I start getting her ready for bed or naps. When a certain blanket touches her face, she starts fussing and crying for a few minutes, then nestles into my arms with that blanket and settles in. She also opens her mouth for her binkie. It's adorable.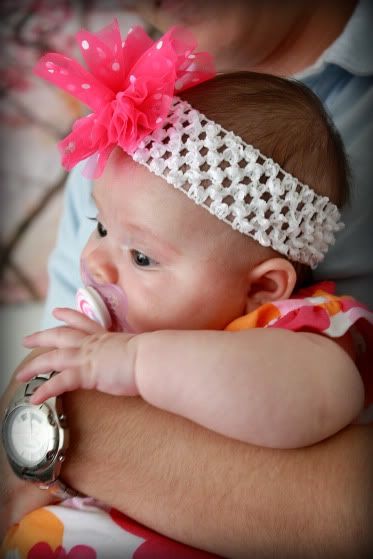 4. Her longest stretch of sleep at night to date is 5.5 hours. It happened once. It was a beautiful thing. It was, however, punctuated by many wake-ups before and after that stretch.
5. It has been seven weeks since she took a full nap on her own. Before, she would sleep 1.5-2 hours and wake up happy. For the last seven weeks, she wakes up 30-40 minutes into the naps crying and exhausted. We're not supposed to let her cry, so in order for her to finish her naps, I've been holding her for 1-1.5 hours for each of her 3 naps of the day. Perk: I'm getting really strong arm muscles, and I've finished lots of audiobooks on my ipod.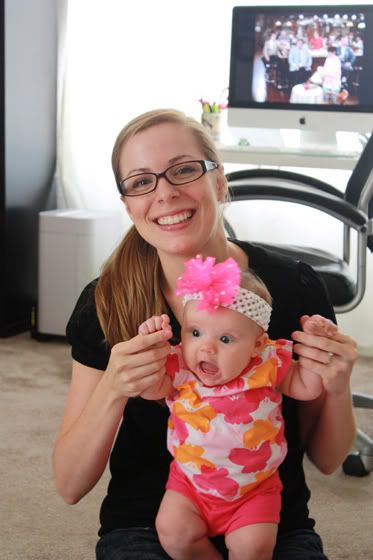 6. She's really starting to explore her voice. I LOVE this. It's SO fun to watch her "talking" to herself. She's very expressive, and I can only imagine that when she starts using words, she will be even MORE expressive. It should be fun.
7. Her eyes have yet to decide on a color. One's still blue and one's still brown. The blue one is getting darker, so I think it's on it's way to becoming a brown eye. I'm a little sad that they're changing, since it's really cool to me that she has one of each. I bet her future junior-high self will be REALLY glad to have two same-colored eyes, though. Sigh.
8. She LOVES being outside. Sometimes when her reflux is bothering her, she'll start crying and after 1-2 minutes she starts having acid run up into her throat which causes the crying to escalate FAST, which aggravates the reflux…etc., etc. One of the surefire ways to get her to calm down when nothing else works is to take her outside. Works like a charm.
9. Similarly, she loves going on walks, which we've made part of our daily routine. We take a short walk around our complex to get the mail and see what's new every day and then we take a long walk with daddy after dinner. It's one of my favorite parts of the day.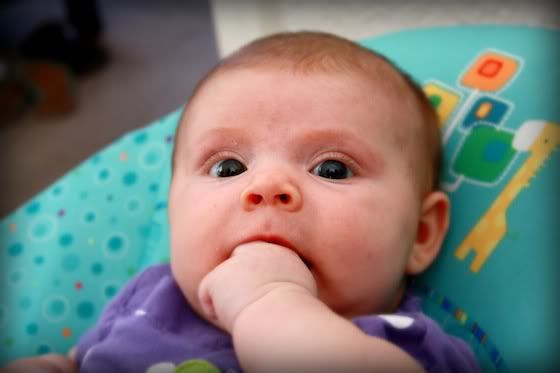 10. She's pretty sure she's got the most delicious fist in the world. She LOVES to try stuffing both fists in her mouth at the same time. She smiles and drools all over the place when she can get a fist, but if a finger or thumb happens to make its way out of the fist and into her mouth, she instantly gets a disgusted expression on her face that doesn't go away till the finger/thumb is outta there. Makes me laugh every time.

Also, by way of a reflux update: we've seen marginal improvement with her medication, as well as some improvement with chiropractor adjustment. We're trying to detect if food allergies or intolerances are part of the problem at the moment. I did a two-week "allergen-free" diet (no wheat, dairy, soy, eggs, nuts, or fish) and have just begun adding foods back in, one food at a time. It's a slow (and bland) process, but it will be worth it to be able to rule out food allergies as an issue. We're meeting with a pediatric gastroenterologist next Tuesday and hope to learn more then.
She continues to fill out well, despite the reflux, for which we're grateful. Although she's right at the 50th percentile for weight and height, I get comments all the time about what a chubby girl she is. My two favorite are "well, she's a full-figured kind of gal" and "she's rounding out her corners nicely." As a firm believer in squishy baby knees and thighs, I take these as compliments!
Although her health situation has certainly painted a different picture of motherhood than the one I had in my imagination, I really love this sweet little girl and I'm SO glad she's in our family. Her smiles and loves make up for just about anything. We love her!