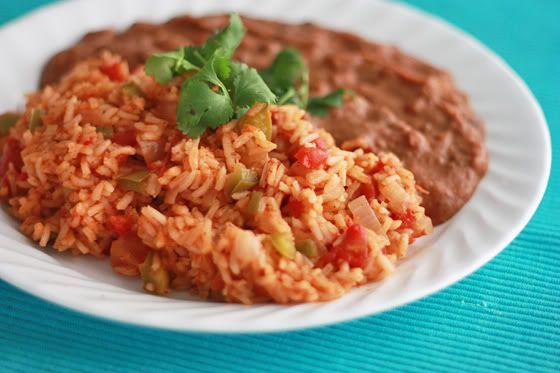 Updated from the archives
How was your weekend, dear reader? We spent most of it relaxing at home and celebrating Michael's birthday a little. Michael's birthday is tomorrow, and I didn't want to miss out on the chance to make him his birthday dinner before baby comes. His first request was "meat." When I asked for something a bit more specific, he finally came up with beef fajitas with Mexican rice and beans. Something I can do!
The fajitas turned out great–I just rubbed some sirloin steak with taco seasoning, sliced it really thin (like I did for my peppered beef and snow peas), and cooked it quickly over medium-high heat until just done all the way through (only about 2-3 minutes). Then I set it aside, cooked peppers and onions in the same pan, then served it all with tortillas, cheese, and lettuce. Michael was in 7th Heaven, and I don't mean the awkward/cheesy tv show from way back when.
For some reason, what sounded best to ME in the meal was the rice and beans. I hadn't made Mexican rice in a LONG time, and I'm glad I gave it another go round. It really hit the spot!
The recipe below is for mild rice (even with the jalapenos). If you want to kick it up a notch, I'd recommend switching out the plain diced tomatoes for a can of Rotel-style tomatoes. They'll definitely add some extra zip. I made them the mild way this time so as not to upset a pregnant stomach, and to have something somewhat mild to have with the spicy fajitas.
Ingredients
1 green bell pepper, diced
1 small onion, diced
2 cloves garlic, diced
2 jalapenos, seeded and minced
1 Tbsp olive oil or butter
½tsp salt
pinch pepper
1 tsp chili powder
pinch cumin
1c rice
1 (14.5oz) can diced tomatoes, undrained (can also use Mexican-style diced tomatoes)
1½c chicken broth (or vegetable broth)
Instructions
Saute pepper, onion, jalapenos, and garlic in oil until tender. Sprinkle with salt, pepper, chili powder, and cumin. Add rice and stir to coat with vegetable mixture. Stir in tomatoes and their juices, and 1½c chicken broth. Cover and bring to a boil over medium heat. Reduce heat to low and allow rice to cook until liquid has been absorbed and rice is tender. (This took me about 15-20 minutes)