I love making friends with people who love cooking. Not only do we have endless foods and restaurants to discuss and cookware to fawn over at length (why hello, Le Cruset Dutch ovens), I get all kinds of new recipes to try! We had the pleasure of meeting some new friends who moved into our congregation at church recently who love to cook. Tim and Casey have a darling family and I work with their oldest daughter in the young women's youth group. After one of our activities recently, Tim, Casey, and I started talking about how much we love all things cooking and Tim mentioned one of his favorite recipes.
It is a truth universally acknowledged, dear reader, that any time someone says the words "start with a half pound of bacon," pretty much whatever follows is sure to be delicious. This recipe certainly doesn't disappoint.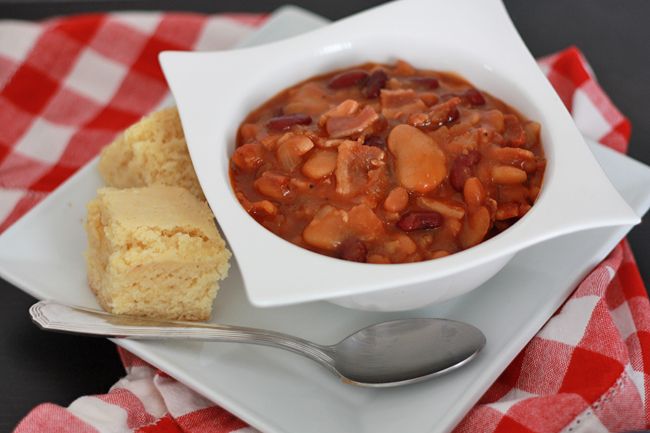 Barbecue candy. I mean it, dear reader. Barbecue. Candy.
Settlers's Beans are delicious on their own or spooned over pretty much anything in the grilling kingdom. Grilled chicken, brats, sausages, even hamburgers. We at them in bowls with our favorite cornbread on the side and pretty much died, went to heaven, then died again. They were that good. Try them. You'll thank me (and Tim and Casey).
I barely adapted the recipe, adding a bit of black pepper and accidentally forgetting the ground beef. The original recipe called for ground beef or turkey, which I forgot about when I was grocery shopping. Consequently, I left it out and they still tasted amazing. I'm sure one of these times I'll try it with the beef or turkey, but if you forget/don't have any on hand/would rather leave it out, they'll be great anyway.
I know it probably isn't grilling season where you live, but like I said, they're cozy enough on their own. Try them, dear reader. Believe me.
Serves:
about 6 as a main dish, and up to 8 as a side dish
Ingredients
½ lb. ground beef or turkey (optional–we didn't use it)
½ lb. bacon, cut into small pieces
1 large onion, diced
1 (14.5oz) can butter beans
1 (14.5oz) can kidney beans
1 can pork and beans
⅓c brown sugar
⅓c white sugar
¼c ketchup
2 Tbsp molasses
½ Tbsp dry mustard powder
½ tsp black pepper
¼ tsp Worcestershire sauce
Instructions
In a Dutch oven or other oven-proof pot, brown ground beef (if using), bacon, and onions over medium-high heat. (You're not trying to get it crispy, just cook it through). Drain any fat from the pan. Stir in butter beans, kidney beans, and pork and beans.
In a small bowl, whisk together brown sugar, white sugar, ketchup, molasses, mustard powder, black pepper, and Worcestershire sauce. Stir into the bacon/bean mixture.
Cover and bake at 350 degrees for 1 hour*
Notes
*Alternatively, you can bake it in a Dutch oven over hot coals for 1 hour or, if you don't have an oven-proof pot, you can pour it into a casserole dish and bake it in the oven for 1 hour.
Recipe barely adapted from our friends Tim and Casey