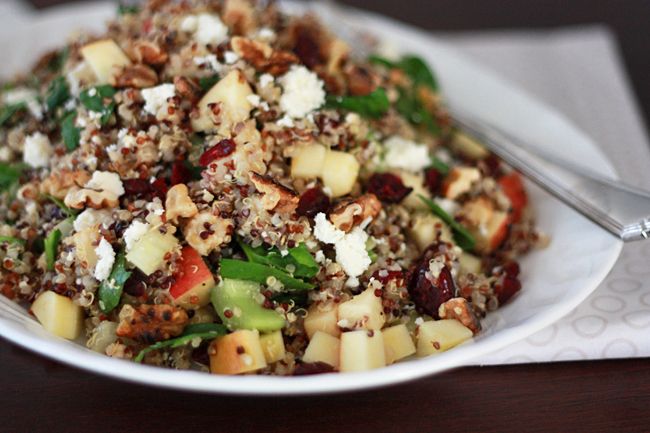 I'm sorry. I know we just talked about salad last week, but it's been over 100 degrees here all week. We've been trying to use our oven as little as possible, and one of the most filling no-oven meals I know is salad.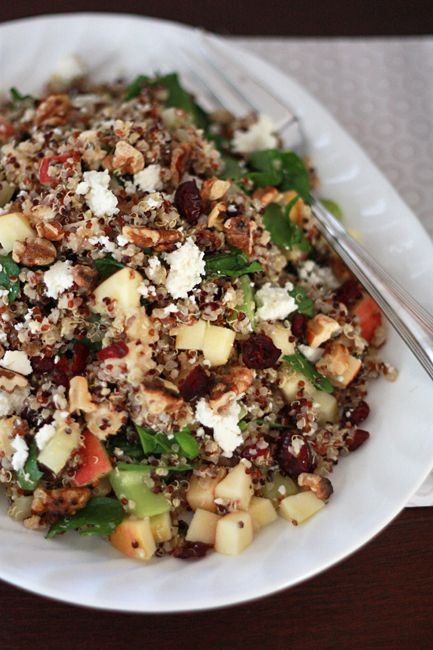 The texture contrast here is amazing. The quinoa is tender and light, the walnuts nice and toasty, the apples and celery fresh and crisp, and the cheese salty and crumbly. All that brought together by a little honey-mustard balsamic dressing (or not) makes for a hearty, satisfying meal. It also makes a great lunch for the week if that's the route you'd rather take.
You could easily make this vegan by leaving off the cheese. I just appreciate the piquant tang it brings to the party. Also, if you'd prefer, you can skip the dressing an either eat it plain or with a small drizzle of olive oil and balsamic vinegar.
Ingredients
For the salad:
1½c uncooked quinoa, preferably rainbow or red quinoa
1-2 apples, cored and diced
2-3 stalks celery, diced
1c loosely packed spinach leaves, torn
½c dried cranberries
½c toasted walnuts
½c cotija, feta, or bleu cheese (optional)
salt and pepper, to taste
For the dressing:
1½ Tbsp dijon mustard
3 Tbsp honey
3-4 Tbsp balsamic vinegar
3-4 Tbsp olive oil
¼ tsp salt
¼ tsp pepper
Instructions
Prepare the quinoa. Rinse quinoa in a fine mesh sieve. Add rinsed quinoa and 3 cups of water to a large saucepan. Bring to a boil over medium heat and boil 5 minutes. Turn off heat and let steam 15 minutes, or until all the water is absorbed. Let cool.
In a large bowl, toss quinoa, apples, celery, spinach leaves, cranberries, walnuts, and cheese.
In a small bowl, whisk together mustard, honey, vinegar, olive oil, salt and pepper. Pour over quinoa salad mixture and toss to coat. Taste and add additional salt and pepper as desired.
Toss salad with dressing.
Notes
This will be enough dressing to add flavor to and coat the salad, but not enough to be soggy. If you prefer more dressing, you may want to double the dressing recipe.