Michael and I don't go to very many chain restaurants (not because we're snooty, but because we don't go out to many restaurants in general), but we do really love going to The Cheesecake Factory. It's where we fell in love with so many of our favorite foods (cuban sandwich, we're looking at you).
One of my favorites is the Barbeque Ranch Chicken Salad. We decided to re-create the recipe at home since I've been on such a salad kick lately, and one of the things I knew the recipe had to have was that delicious BBQ Ranch Dressing.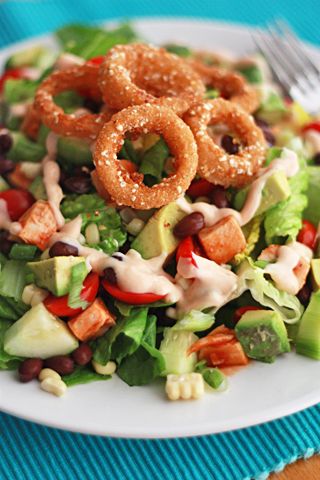 We made it a little differently here at home, using what we had available and I liked ours just as much. That certainly won't stop me from ordering it when we go out, but in between fixes, this will certainly do.
Loaded with chopped romaine, chicken, black beans, corn, tomatoes, green onion, cucumber, and avocado, then finished with onion rings and homemade barbecue ranch dressing, this big-time salad is going to blow your mind.
You can certainly play with the recipe–if you like, you could use the French's crispy onions or make your own onion strings, add in a little cheese (cotija, queso fresco, or pepper jack would be nice), leave out the chicken or even use crispy chicken tenders.
Barbecue Ranch Chicken Salad
This dressing is delicious over a chopped salad, with onion rings, on burgers, spread on sandwiches, or to dip vegetables.
Ingredients
For the Barbecue Ranch Dressing:
½c sour cream
½c mayonnaise
¼-1/2c milk or buttermilk (add ½ Tbsp vinegar if using milk)
¼c your favorite barbecue sauce
¼ tsp garlic powder
¼ tsp onion powder
¼ tsp dried dill
salt and pepper to taste
For the Salad:
2-3 hearts romaine lettuce, chopped
1 cucumber, diced
2 ears' worth of corn (or about 1c or so frozen or canned)
¾c baby tomatoes or diced Roma tomatoes
1 avocado, diced
1 (14.5oz) can black beans, drained and rinsed
2 green onions, diced
3-4 Tbsp fresh cilantro, minced
1-2c cooked diced chicken
barbecue sauce
optional: frozen onion rings, cooked (we used Alexia's brand)
Instructions
For the dressing:
In a small bowl, whisk together all ingredients until smooth. Add additional milk if necessary to make dressing more pourable. Dressing will keep in the refrigerator covered for about 1 week.
For the salad:
In a large salad bowl, toss together romaine, cucumber, corn, tomatoes, avocado, black beans, green onions, and cilantro. In a medium bowl, toss chicken with enough barbecue sauce to coat. Add chicken to the salad.
If serving all at once, toss salad with enough barbecue ranch dressing to coat. If serving individual servings, drizzle individual portions with desired amount of dressing.
Top with warm onion rings and serve.