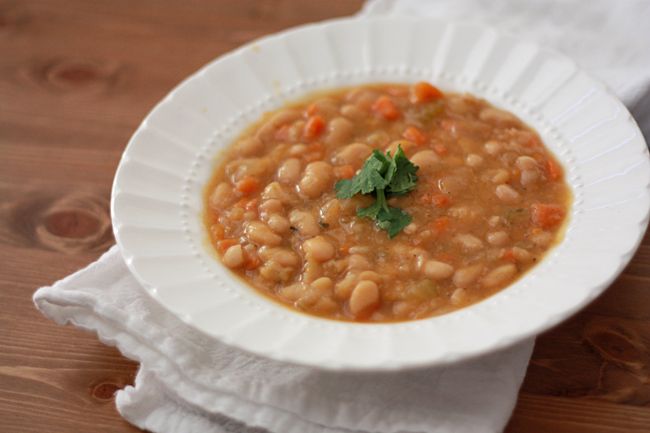 It's that time of year again. The time where I get swoon-y about fall and start quoting my favorite lines from You've Got Mail.
Don't you love New York in the fall? It makes me want to buy school supplies. I'd send you a bouquet of newly sharpened pencils, if only I knew your name and address.
Something about the fall is magical to me. The arrival of sweater weather, the advent of the holidays, the crispness of the air, the bountiful produce, and soup season.
Of course, where I live, it's mostly honorary and ceremonial connection to all but the arrival of the holidays, but that doesn't mean I'm not true to my favorite season.
Which is why I'm eating this soup. Now. In 106 degree weather. And loving it.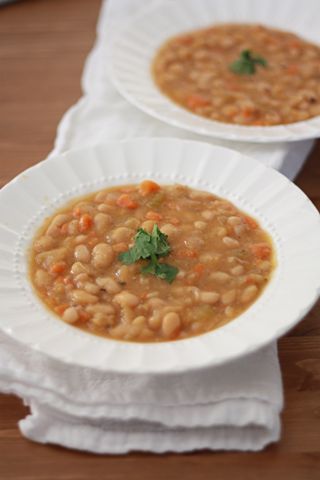 This couldn't be easier. The ingredient list is short, it's a great use for those few carrots and stalks of celery you sometimes find yourself with after buying a bag to make something else. Because of that, it's also a VERY inexpensive meal and a great way to extend your grocery budget just a little further.
This is the most basic version, but don't be fooled by the short list of ingredients. You may be tempted to add all sorts of herbs and spices, or to throw in extra vegetables or meats. I highly recommend trying this recipe exactly as written the first time. Taste how delicious it is, and then let your imagination run wild, if you must.  Add a little ham hock or a few slices of crisped bacon into the soup before your cook it (better yet, top it with a few slices of crisp bacon before serving). Add some bell pepper, or swap out the sage for thyme or another favorite hearty herb. You could even puree half of the soup and stir it back in for an extra-thick version.
I just think it's amazing that something so simple can fill you up deep down in your happy place. And my happy place includes fall, and You've Got Mail, and soup.
Slow Cooker Vegetable Bean Soup
Another favorite white bean would work well here too. The soaking step speeds up the cooking process, but if you forget, don't fret. As for the vegetables, mince them very very small, and they'll just melt as they cook. Delicious!
Ingredients
1lb. dried great northern beans, soaked overnight if possible and drained
3 carrots, very finely minced
2 stalks celery, very finely minced
1 onion, very finely minced
2-3 cloves garlic, minced
½ tsp sage (I buy rubbed sage rather than ground, but ground works)
4c vegetable broth (chicken broth works fine too)
2c water
salt and pepper to taste
Instructions
Drain beans and place beans, carrots, celery, onion, garlic, and sage in the slow cooker. Cover with broth and water. Cover and cook on high for about 8 hours (the beans will be tender after 3-4 hours if you've soaked them beforehand, but the longer it cooks, the creamier the soup gets).
Taste soup and add salt and pepper to taste.
Recipe adapted from My Whole Food Life