My grandma makes the most divine spiced pear jam. It smells and tastes just as the fall and winter season should. I have had a craving for her jam for about the last… oh… three and a half years. I don't can. I know that I could learn, I know that people do it in kitchens smaller than mine with more children than I have, but I just. can't. bring. myself. to. learn.
Now that I've gotten that off my chest, let me show you the next best thing: spiced pear sauce.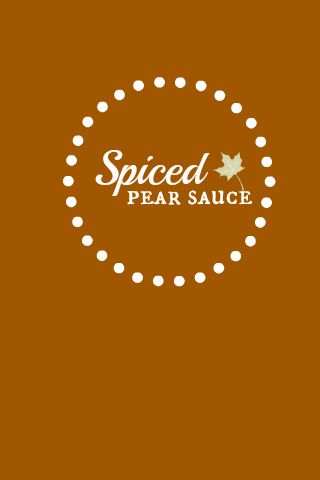 It goes without saying, but your house will smell DIVINE after this has been simmering away most of the day. This could certainly be made quickly on the stovetop in a pot. I just couldn't commit any length of time to really checking on the sauce, stirring it semi-regularly, etc. We've been so swamped with therapy appointments in and out of our home that out schedule has been CRAZY. This was perfect–core, dice, a few spices, some water, and turn the heat to low. Bam.
The texture and color are somewhat up to you–you can puree all the sauce if you like for a super-smooth version (I pureed 2/3 of the sauce then stirred in the rest). As for the color, the spices do darken it a bit, but if you'd like a lighter color, you can peel your pears first. Again, I've been a crazy person, so dicing and coring were about all I could manage before running out the door in the morning.
I will say it is quite strong. We love it that way, as it reminds us of Gramma's jam. It's FABULOUS plain (warm or cold), scooped warm over vanilla ice cream, some plain or vanilla yogurt, or served on top of your morning oatmeal with a splash of milk. If you're nervous about the spices, feel free to halve them the first go round. Enjoy!
Slow Cooker Pear Sauce (gf, df, v)
This is rather strongly spiced (just as I like it). Feel free to halve the spices if you're nervous. For lighter colored sauce, you can peel the pears beforehand.
Ingredients
6-8 medium pears, cored and diced
2c water
¼c pure maple syrup (more or less, to taste)
1 tsp cinnamon
½ tsp cloves
½ tsp allspice
½ tsp nutmeg
Instructions
Place all ingredients in the slow cooker. Set heat to low and cook for 6-8 hours, or on high for 3-4 hours.
For more rustic sauce: simply mash with a potato masher, leaving large pieces here and there.
For medium sauce (as pictured): Puree ⅔ of the sauce in a blender or food processor and stir in the remaining sauce
For super-smooth sauce: Puree entire batch in a blender or food processor until smooth.
Eat warm or cold, or scoop over your morning oatmeal (or a bowl of ice cream!)