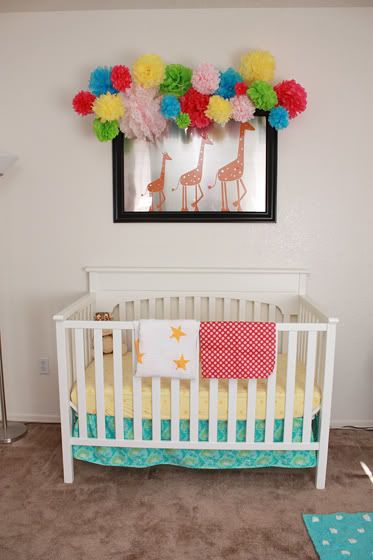 It's been another crazy week like last week, filled with two more trips to triage. The nurses have assured us that we ABSOLUTELY have done the right thing, but that I haven't been far enough along to admit yet. Now that we've hit the 37 week mark (and my doctor has gotten back from her trip to Italy), baby can come any time she wants! YAHOO!
A few of you have been sweet enough to ask to see pictures of our little nursery. You're so nice to ask! We've tried to keep things as simple as possible, knowing that there will inevitably be a swift addition of clutter with all the things that come when you have a baby.
Here are a few pictures I took last week to send to my sister in Boston.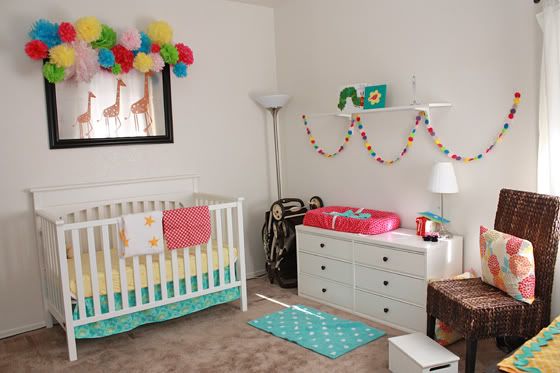 I would probably have gone WAY overboard on the bright pink and aqua if Michael hadn't been a balancing force. Thankfully, he is good about keeping things balanced and helped me control my squeals and girly craziness. I love that boy.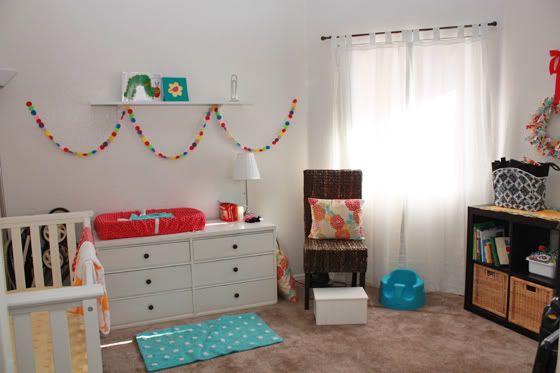 A few challenges:
The room is kind of an odd configuration–one wall holds the door to the bathroom and a closet, and another wall is cut short because of the door into the room and the angled window wall. We've arranged it this way for now, but I'm sure we'll be shuffling things around as we go.
I've mentioned before how we tried to keep it budget-friendly and mostly homemade. Were we in our own house, we'd probably have painted the walls a happy color and wouldn't have the brown carpet, but we feel pretty great about how things turned out anyway.
What we did ourselves:
We made pretty much every "decoration" in the room–the tissue poms, the felt garland, and the scrap wreath. We also refinished the dresser ourselves (free hand-me-down!). I also sewed the crib skirt (I don't LOVE how it turned out, but I'm happy with it).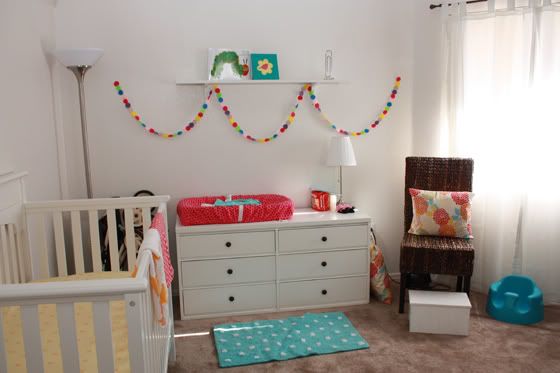 What's left to do:
We're getting a light fixture added to our ceiling fan in the next few weeks, so we're excited to get to remove the stand-lamps from the room. We were having cringe-inducing visions of baby pulling those down on herself, and can't WAIT to get them out of there!
I really can't wait to "finish" the shelf above the dresser with fun pictures, do-dads, and such. I think it will be a fun way to add personality to the room and keep an element that we can easily change around.
We'll be adding a few fun baskets to hold toys and blankets, especially since the stand lamps will be gone. We've also ordered a breathable bumper that should be arriving any day.
We still want to do something with that window area…maybe some more pink something or other? I don't know… Ideas?
Anyway, that's about it for babygirl's room. Now we just need her to come so she can enjoy it!
As for sources…
Crib: Made by Graco
Yellow fitted sheet: Land of Nod (I wish I could spend a million dollars here!)
White and yellow star blanket: Aden and Anais
Blue Crib skirt: Homemade from Amy Butler fabric
Vinyl giraffes: Purchased from Elephannie (Etsy shop)
Tissue poms: Homemade
Blue polka dot rug: a Target purchase from a while back moved into this room
Dresser: a hand-me-down that we refinished
Changing pad cover: Land of Nod
Shelf: Ikea
Felt circle garland: Homemade from felt
Chair: a hand-me-down, but originally purchased from Target, I believe
Square shelving: IKEA Expedit line (love it!)
Scrap wreath: Homemade from fabric scraps