Peach Salsa Rice Bowls – Your meatless Monday just got a whole lot tastier.

Note: While rice and beans aren't Paleo/Whole30 friendly, the peach salsa is! Feel free to use it on whatever you like.

Peaches and I. We're amigos. Compadres. Kindred spirits.
In a big, big way.
In every way, in fact, other than fuzzy peach skin. While it's nice to touch with my fingers, it is not so nice for my mouth. I get twitchy just thinking about it. Yeesh.
Anyway.
Have you ever eaten peach salsa? It's a revelation, I tell you. A revelation!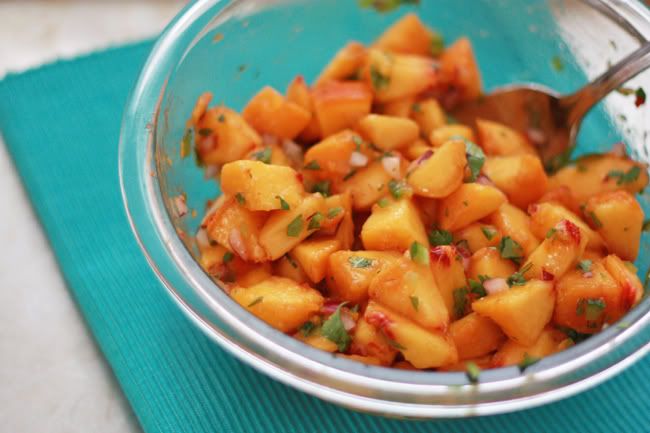 I was instantly smitten when I saw the post about peach salsa on one of my favorite blogs, A Couple Cooks. The picture of the peaches was gorgeous, the peaches were blushing, and have I mentioned I love peaches?
Anyhoo, I thought this would make a fabulous Meatless Monday meal for us. We borrowed the idea of pairing the peach salsa with black beans and assembled really yummy little rice bowls for ourselves. We used a nice brown basmati rice, black beans, and hefty scoops of the peach salsa. It was amazing. Heavenly.
This would be another great application of quinoa, if you're trying it out. The delicious flavors of the peach salsa and beans would go great with simply cooked quinoa. I would have done it myself, but we'd just found this lovely basmati, and I couldn't resist giving it a try.
I thought the salsa was perfect. I adjusted the amounts a bit–a little less onion, etc, and we loved it! Plus, these were a whole meal in a bowl–whole grain, protein from the beans, and fruit and a little veggie from the salsa.
Happy Monday!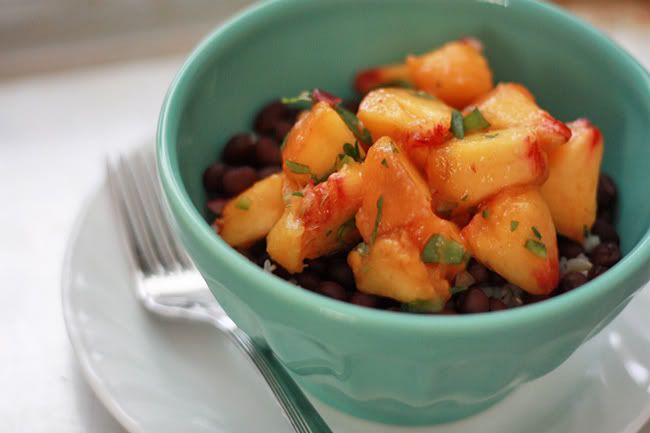 Ingredients
For the rice bowls:
4c cooked rice (I prefer brown) or quinoa
2 (14.5oz) cans black beans, drained and rinsed
1 recipe peach salsa (recipe follows)
For peach salsa:
4-5 large peaches, skins removed* and diced
3 Tbsp red onion, finely minced
3 Tbsp cilantro, finely minced
½ jalapeno, ribs and seeds removed and finely minced
juice of 1 lime
pinch salt and pepper
Instructions
Directions:
Assemble peach salsa by tossing peaches, onion, cilantro, jalapeno, lime juice, salt and pepper together in a large bowl.
Assemble individual rice bowls by layering together rice, black beans, and peach salsa as desired.
Notes
*To remove peach skins easily, bring a large pot of water to a rolling boil. Add peaches for 45-60 seconds. Remove from boiling water and place in a large bowl of cold water. The skins should come off easily.
Adapted from
A Couple Cooks