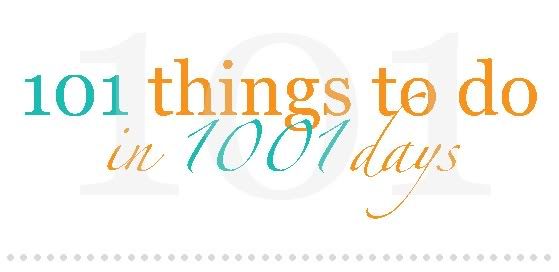 As Christmas approaches, I find myself crossing off projects left and right. I LOVE the feeling of crossing something off a list and have REALLY loved the benefits we see around our house from getting things accomplished.
Our 101 Things to Do in 1001 Days list is really coming along. We've got several longer-term items in the works, but here's what we've been up to lately…
#10: Have a Christmas tree
While we were visiting Michael's family for Thanksgiving, his brother Ben offered to let us use his apartment-sized Christmas tree this season as he wouldn't be needing it. Completely unexpectedly, we got to have our very first Christmas tree! We used the ornaments we had from our Christmas centerpiece, along with a few other additions from Crate and Barrel that we fell in love with. We LOVE having a Christmas tree. A LOT.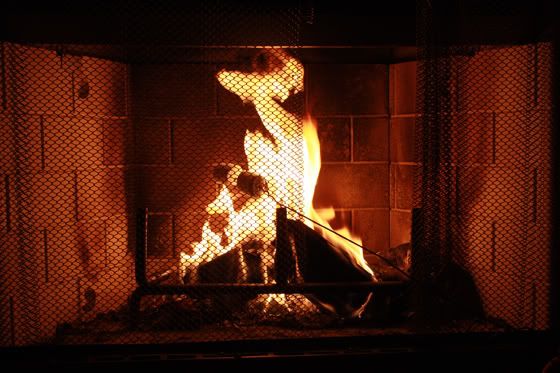 #13: Roast marshmallows & #14: Have a fire in our fireplace
With the ambience of a Christmas tree, we really wanted to have a fire in our fireplace for a cozy Christmas feel. We planned a fun date of cutting out snowflakes, watching It's a Wonderful Life, and enjoying a cozy fire. So we bought some logs and set to work. Inexplicably, although all of the kindling and paper we used to start the fire lit well, our logs refused to spark. Like, at all.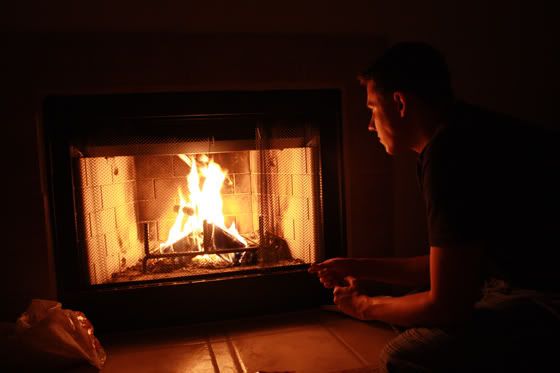 So after a disappointing hour of trying, we gave up for the night. This weekend, we purchased different logs, and decided that while we were at it, we might as well roast some marshmallows! Lucky for us, round two of Operation: Let's Enjoy a Romantic Fire was much more successful than round one. The marshmallows were sure tasty too.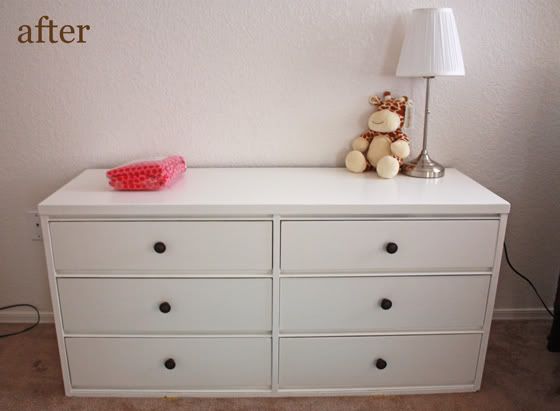 #44: Re-finish the baby's dresser
Here's another look at the before: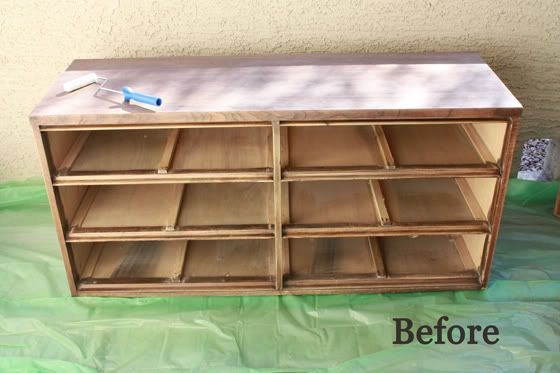 And here's the after: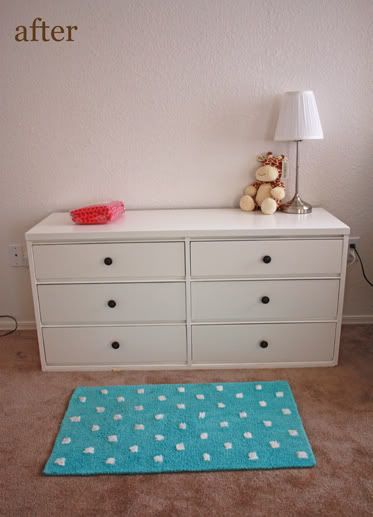 Primer, a few coats of paint, and some knobs really made a huge difference! Although the pictures don't really do it justice, the dresser looks fantastic in baby's room. I plan to make a cute yellow table runner with aqua trim. We'll also be putting our changing pad on top of the dresser and have purchased a shelf to go above it. It should really help brighten things up!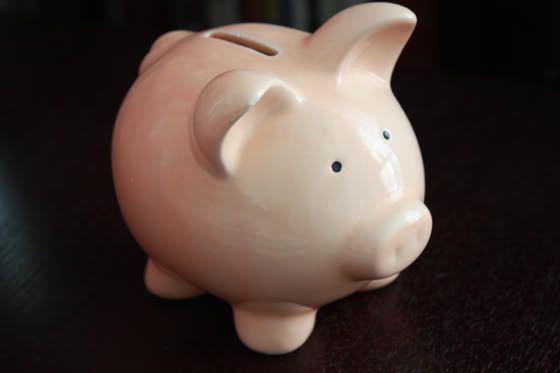 #90: Cash in our change
This was one of those silly little things I've been meaning to do FOREVER and haven't gotten around to since we got married. Harold, our family piggy bank, was glad to lose some weight a few weeks ago when we emptied him out. We opted to use a Coinstar machine to count things up. If you want to turn the coins into cash, they charge a minimal fee, but we opted for the free "turn-it-into-a-gift-card" option and now have $27.31 to spend at Amazon. It was like getting a present, since we weren't using that change, and we WILL use the gift card (especially at Amazon! Hello!).
#98: Organize our music collection
No picture for this one, but this was another task I've been meaning to do forever. CD cases full of old mixed CDs from high school, bands we don't like anymore, or songs we've already transferred to digital files were really cramping our style. We got rid of a huge pile of CDs, got things nicely organized, and emptied a lot of storage space. It was really cathartic to get things tidied up. Victory all around!
Items remaining: 90
Days remaining: 939