101 things to do in 1001 days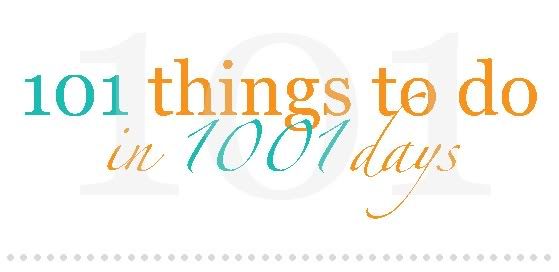 If any of you read my old family blog, you'll know that this is our second time doing a list like this. Our first list went really well–we finished about 75% of the list and still technically have until May 2011 to finish. But alas, since our baby plans didn't go as planned, much of what is left on that list won't be possible to finish (i.e. try making homemade baby food for baby at 6 months). So, for the last few months, we've been making a revised edition.
101 Things to Do in 1001 Days is a really fun way to make and keep goals as an individual, couple, or family. I like to include a broad mix of things–big goals that are going to be difficult to accomplish, things I've been meaning to do and haven't made time for, recipes we've been meaning to try, etc. The time frame is generous–you have over 2 1/2 years to get things done. Michael and I especially love this sort of list because it gives us lots of fun adventures and ideas for things to do and memories to make.
It was fun to come up with a lot of new ideas for our list and to see that some of my habits have really stuck from before. I had far fewer health and fitness goals this time around since I've gotten in the regular habit of exercising and eating well. I've also finally got room to really keep working on emergency preparedness ideas, so there's an entirely new section just for that category. As always, the projects and food categories are full. What can I say? Some things never change.
If you'd like to make your own list, feel free to borrow any ideas below that sound interesting or search the internet for more fun ideas. Lots of bloggers have done similar lists and there are some great ideas out there! To calculate 1001 days from any date, click here.
Anyway, after all that jabbering, here is our New-and-Improved 101 Things list. We start tomorrow, and I can't wait!
101 things to do in 1001 Days
Start date: Tuesday, October 5, 2010
End date: Tuesday, July 2, 2013
Family
1. Have a family picture taken (Done)
2. Get reusable sandwich-sized bags (Done)
3. Fly a kite
4. Go to a farmers' market (Done)
5. Go on a picnic (Done)
6. Go on a hike
7. Take a vacation (Done)
8. Apply to graduate school – Michael (Done)
9. Take the GMAT (Michael) (Done)
10. Have a Christmas tree (Done)
11. Visit a zoo, aquarium, or museum (Done)
12. Get a Consumer Reports subscription (Done)
13. Roast marshmallows(Done)
14. Have a fire in our fireplace (Done)
15. Celebrate our anniversary ON our anniversary (Done)
16. Visit a lake or ocean (Done)
17. Complete a no-spend month (Done)
18. Visit California (Done)
19. Make a D.I. trip (Done)
20. Order new checks (Done)
Personal
21. Post every day for 1 month on my blog (Done)
22. Read my entire photography book (Done)
23. Keep an "awesome" list for 1 month (Done)
24. Get a pedicure (Done)
25. Save up for and purchase a Speedlite flash (or other low-light solution) (Done)
26. Don't complain for 1 week
27. Get a haircut that includes some texture (Done)
Spiritual
28. Have family prayer and scripture study EVERY DAY for 1 month (Done)
29. Memorize 15 scriptures or quotes
30. Complete Personal Progress (Done)
31. Index 1,000 names on Family Search Indexing (Done)
32. In between General Conference sessions, discuss together all talks in the previous Conference (Done)
33. Read the Book of Mormon start-to-finish on my own again (Done)
34. Learn the Relief Society theme completely (Done)
35. Study an attribute of Christ from the Preach My Gospel manual. (Done)
Health & Fitness
36. Strength train 2x per week for 2 months (Done)
37. Lose baby weight or return to a healthy, doctor-recommended weight (Done)
38. Floss daily for 21 days
39. Get a new glasses prescription (Done)
40. Visit the dermatologist (Done)
41. Visit the dentist (Done)
42. Be consistent about Meatless Mondays for 2 months (Done)
Baby
43. Have a baby (Done)
44. Re-finish the baby's dresser (Done)
45. Make a baby blanket
46. Finish baby's quiet book (Done)
47. Take newborn pictures of the baby (Done)
48. Try making homemade baby food (Done)
49. Make or find wall decoration for baby's room (Done)
50. Add baby to insurance (Done)
51. Read Parenting with Love and Logic (Done)
52. Get a video camera (Done)
Food & Cooking
53. Don't eat out for a month (Done)
54. Make homemade jam
55. Make cinnamon rolls or orange rolls
56. Eat at the Melting Pot (Done)
57. Make ravioli from scratch (Done)
58. Make toffee
59. Roast a chicken (Done)
60. Make an Over-the-Top lemon drop cookie copycat (Done)
61. Eat meatless for a month (Done)
62. Make crepes (Done)
63. Make soft granola bars
64. Eat at the organic pizza place near us (Done)
65. Make 3 new ice cream flavors or ice cream treats (1 Done), (2 Done), and (3 Done)
66. Make apple fritters
67. Try frozen hot chocolate
68. Successfully poach an egg
69. Cook dried beans (Done)
70. Make a laminate pastry
71. Make a flavored pasta (i.e. spinach, red pepper, etc.)
72. Cook braciola/braciole
Emergency Preparedness
73. Update our 1-month food storage supply
74. Complete emergency preparedness notebook (Done)
75. Compile emergency preparedness recipes into a binder
76. Assemble food for our 72-hour kits (Done)
77. Gather emergency cash fund for kits (Done)
78. Complete transition to our new budget and savings program (Done)
79. Adapt 72-hour kits to accommodate baby
80. Obtain water purification
81. Purchase 100-hour candles
82. Complete car emergency kit (Done)
Crafts, Sewing, & Projects
83. Make a church ABC quiet book (Done)
84. Sew an apron
85. Make a Blurb-type book (Done)
86. Get or make reusable produce bags (Done)
87. Have my quilt quilted (Done)
88. Organize our old photos (Done)
89. Cut Michael's hair (Done)
90. Cash in our change(Done)
91. Change the light bulb in the closet (Done)
92. Assemble family photo album (Done)
93. Fill our empty picture frames (Done)
94. Make hard copies of my blog recipes for a physical file
95. Give handmade gifts for Christmas (Done)
96. Send out Christmas cards (Done)
97. Organize the storage closet (Done)
98. Organize our music collection(Done)
99. Make a magnet board
100. Watch 2 movies recommended to us by each parent
101. Compile a new 101 things to do/goal list after this one