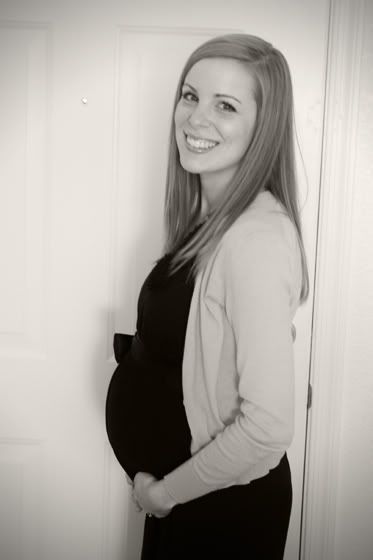 My friends, I have become exceptionally humongous in the tummy area. I am just over 26 weeks along (hello third trimester, where did you come from!?) and my family and I find ourselves wondering where on earth the rest of babygirl is going to fit for the next 11-14 weeks.
I find that I find this a very important matter. Babygirl seems nonchalant. I like that about her.
I also find I'm thinking a lot more about a few facts…
What facts? Well, here are a few, for starters:
1. I am giving birth in 11-14 weeks.
2. No, really. I'm giving birth in 11-14 weeks. I am giving birth in 11-14 weeks. I am giving birth in 11-14 weeks. I am giving birth in 11-14 weeks. Yep, still shocking no matter where you put the emphasis.
3. I really, truly, honestly LOVE being pregnant.
I laugh out loud on a regular basis when I catch a glimpse of my profile in the mirror, or look at one of the pregnancy photos to send to my sister in Boston. That my body has miraculously changed to accommodate another person still blows my mind. It's also hilarious to me to look down and just BARELY be able to see the tips of my toes, or to realize that no matter how straight I sit or stand, there is still a large round ball in my shirt. I don't know why. Maybe instead of the pregnancy weepies or mood swings, I have the pregnancy punch-drunks. Who knows.
It's just been an incredible 26 weeks. I know that on paper (and in life) 40 weeks is a long time, but really, it hasn't felt so very long thus far. I'm grateful that I have that time to really feel like I'm getting ready for the baby. To put together her room, to imagine what she'll be like, to read parenting and pregnancy and birthing books until my brain explodes… I'm grateful that I have a few weeks left to do things like sleep in (albeit till 7) on weekends, drop everything and go run an errand or go out to eat with Michael, or watch a movie or make a phone call uninterrupted. I'm grateful that I have the chance to learn about and feel connected to babygirl while she's still inside me. It's such a miracle and a blessing. I just love it!
So while certainly there have been a (very) few sacrifices made and some discomfort or sickness along the way, I love being pregnant and I can't wait to meet our girl in just a few more months.