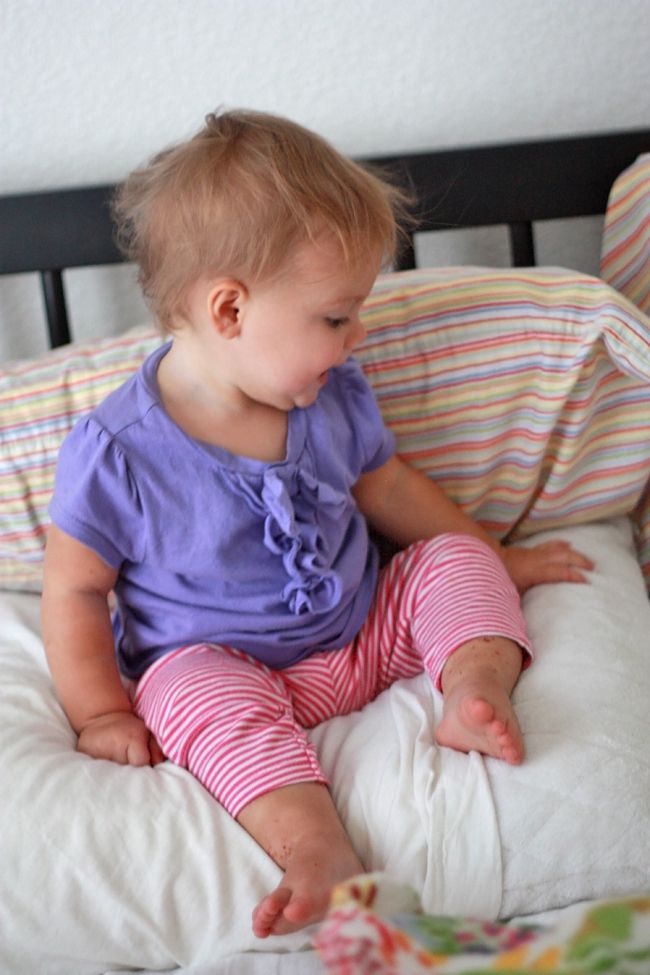 1. Sophie loves watching the garbage truck. Since we live in an apartment and don't have door-to-door garbage service, she only sees the truck when we're out on our morning walk in a nearby neighborhood. The garbage man (sanitation worker?) has been very patient with us as we watch him work and often waves, which delights Sophie. We try our best to stay out of his way, but our path takes us right in front of or behind him, depending on who arrives to the neighborhood first. We hug our side of the street and just follow along. On Monday, he noticed Sophie was watching and craning her neck to see him, so he paused an extra few seconds at a few houses so we could catch up. Isn't that nice?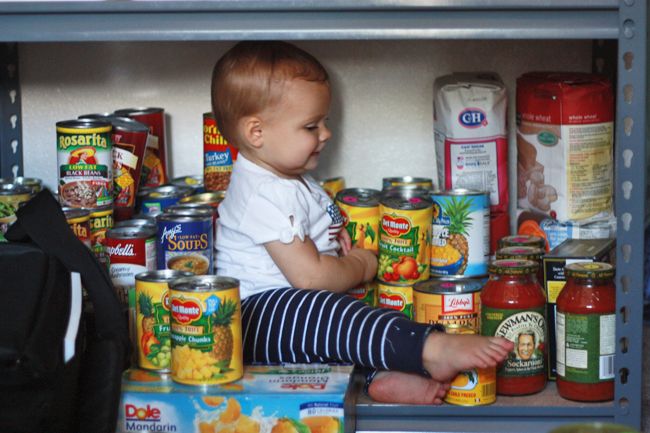 2. I have been devouring a few excellent books on the French philosophy of feeding children. I loved Bringing Up Bebe and found it utterly fascinating. I'm currently in the middle of French Children Eat Everything, and I sneak a page in every moment I can. I hope to talk about this more at some point, but it's been on my mind a lot lately, since Sophie's right at the cusp of that transition to eating all the same things we eat. Very interesting reads!
* side note: we have a shelf in our closet with a few emergency/back-up/shelf-stable foods for times when the power goes out, we forget to pick something up from the store, etc. Sophie has been finding a spot to sit and she's so pleased with herself when she gets situated.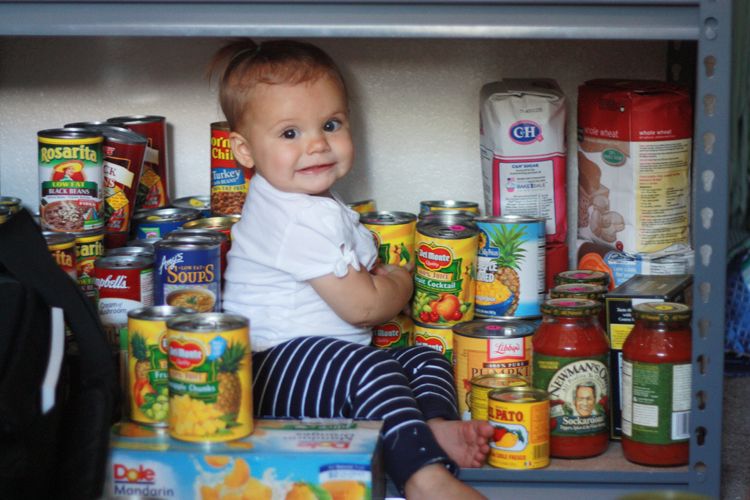 3. I have the uncanny ability when pregnant to crave things I can do absolutely nothing about. For instance, I'd give anything for Cafe Rio, but the nearest one is about 2 hours away. Also, I love this fabulous basil, sun-dried tomato, and mozzarella wrap (the wrap is fabulous!) I can get at the airport, of all places. It's not available anywhere else. I know what you're thinking: "airport food? Ew." My response is that you must not have tried this wrap, because it's one of the most delicious sandwiches I've ever eaten in my life, and I purposely go to the airport hungry so I can get one every time I travel. There's The Chicken Sandwich or chicken tenders at the barbecue place Michael and I loved going to in college that doesn't exist here. Ooh, or the Brazilian grill that brings around different meats on skewers they shave off for you and the giant salad bar… I could go on, but I'm afraid this sounds more whiney than amusing. I intended it to be amusing. I truly find it uncanny!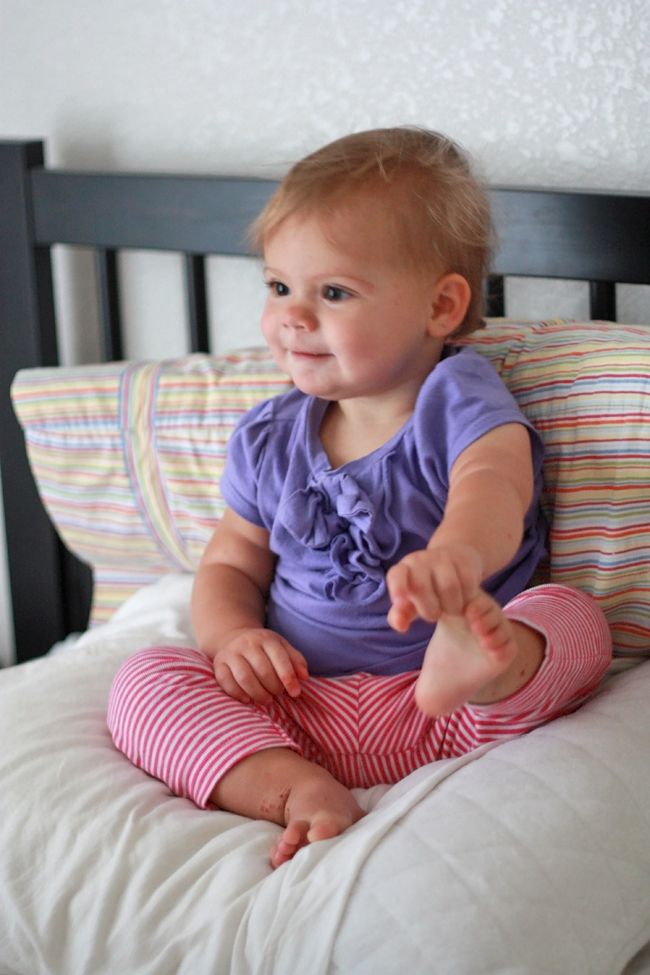 4. Sophie dances. And I die of cute overload every time she does it. We have dance parties a few times a day these days, just so I can watch it. She has three main moves: pump her arms in the air, spin in a circle, and hop from foot to foot. Now, if I can just train her to do the Single Ladies dance…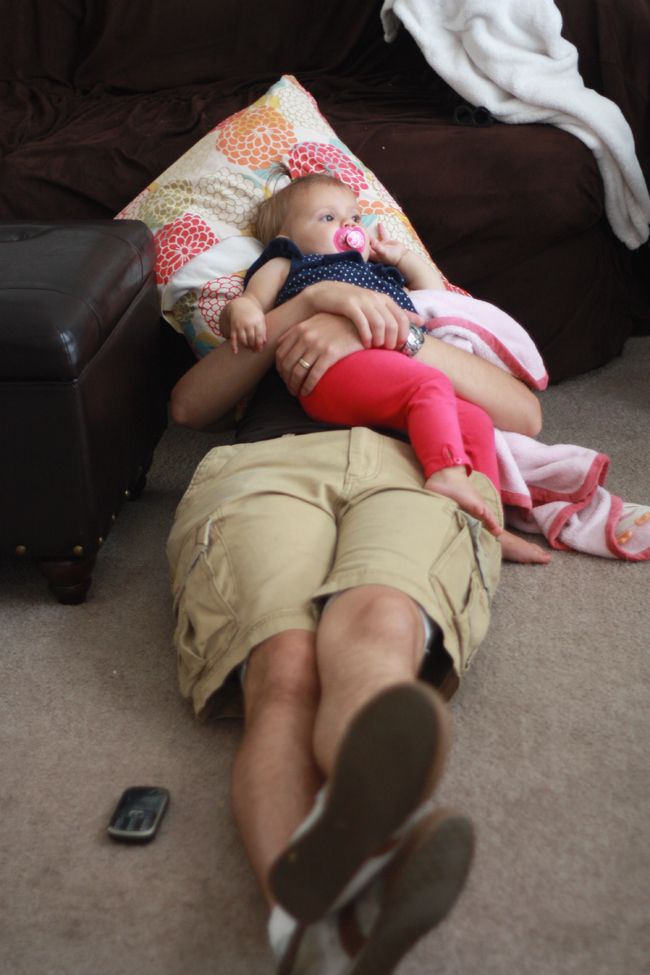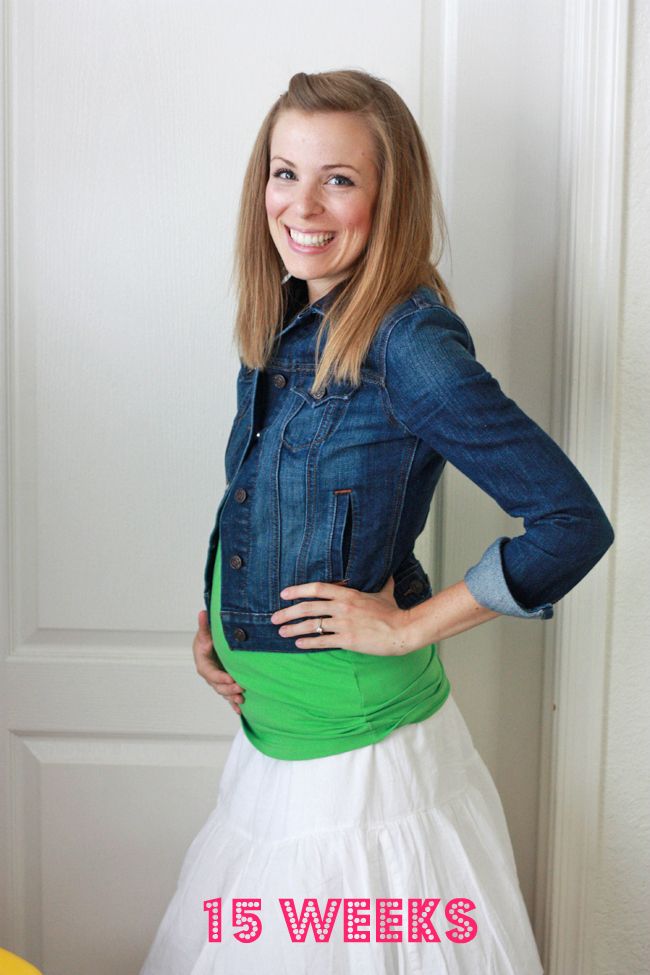 5. Sophie had about 2 weeks where she was sick with one thing or another, and there was some movie watching (no judgement please). This is the big news: Tangled is no longer the only movie Sophie will watch! Despicable Me has been added to the list. Gru and the minions crack her up, and she gets the giggles during the movie, which I LOVE.
Bonus fact: This is currently Sophie's favorite music video. She LOVES it. (I inwardly delight at her stellar taste. I love OkGo and their music videos).