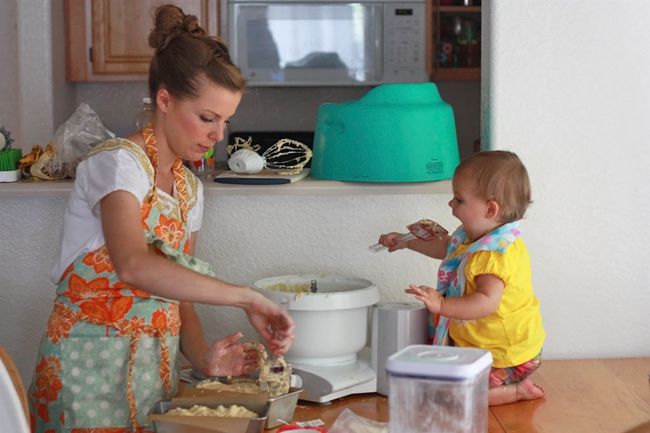 1. Baking with a baby is REALLY fun. Also messy. Sophie LOOOOOOVES to be in the kitchen working on a project. Especially if that project involves tasting of any kind. Never fear, she's not eating raw eggs in this photo. When we had to do all her allergy testing, we found a powdered egg substitute (made by Bob's Red Mill) that we used in baking. Even after she grew out of her egg sensitivity, we had lots of the egg powder leftover, so we keep using it–no fear of raw eggs! See also: I can eat cookie dough when pregnant. Totally worth every penny.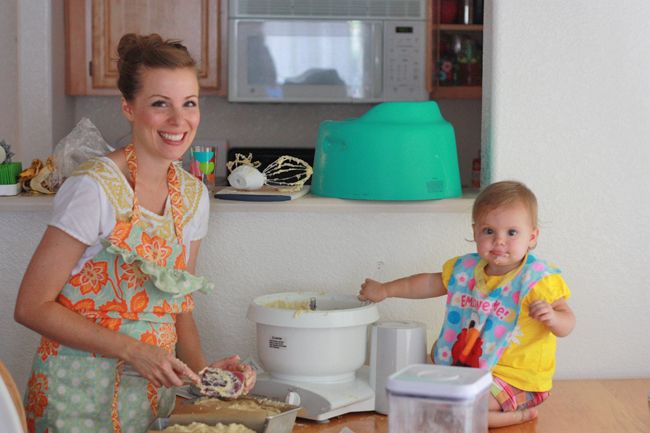 2. When do babies get trustworthy standing on chairs? We have very little counter space, so for now, that means I have to hold her when she wants to see what's going on. Usually that's okay (other than when I need to knead bread or move a hot pan), but as my pregnant self gets bigger, I'm thinking it would be really great if she could stand on a chair… am I dreaming? She can't climb onto/off of the couch yet safely and is still a nightmare on stairs (we don't have any for her to practice with). Any suggestions or tips?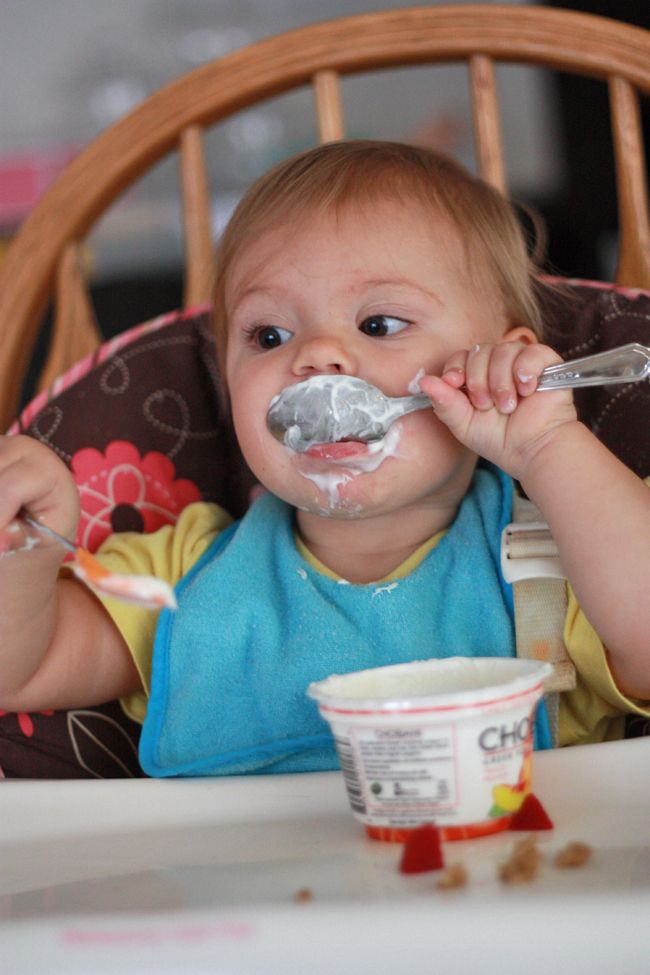 3. I'm flying solo with Sophie next week to visit 2 of my 3 sisters and my mom. Our flight is pretty short, but I'm also going to be in the car for 5-6 hours. Any fun or fancy ideas for flying with an almost 16 month old? I have lots of treats, a few dollar store toys, a coloring book, etc.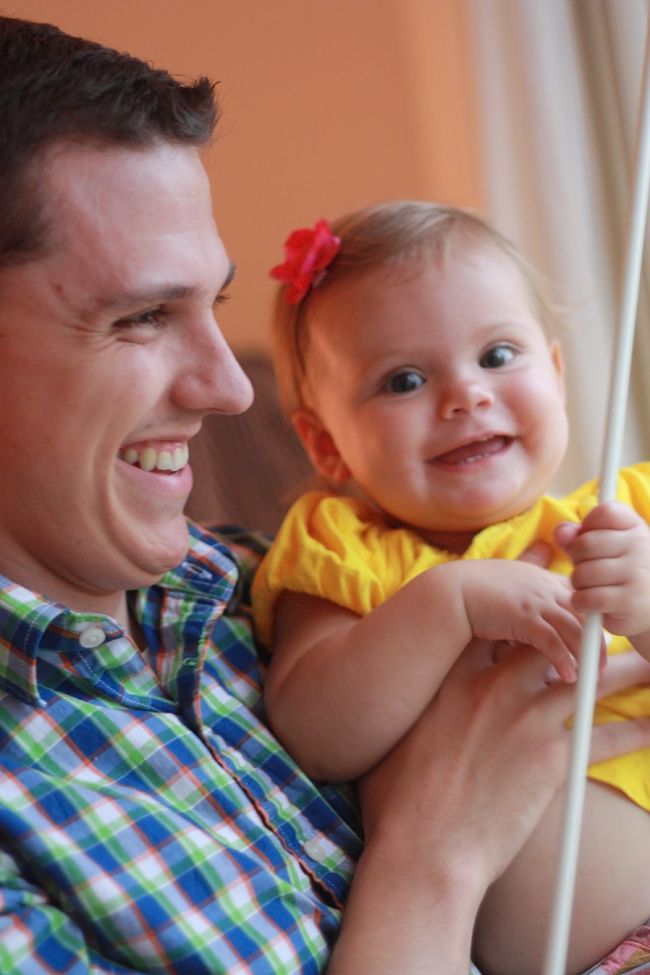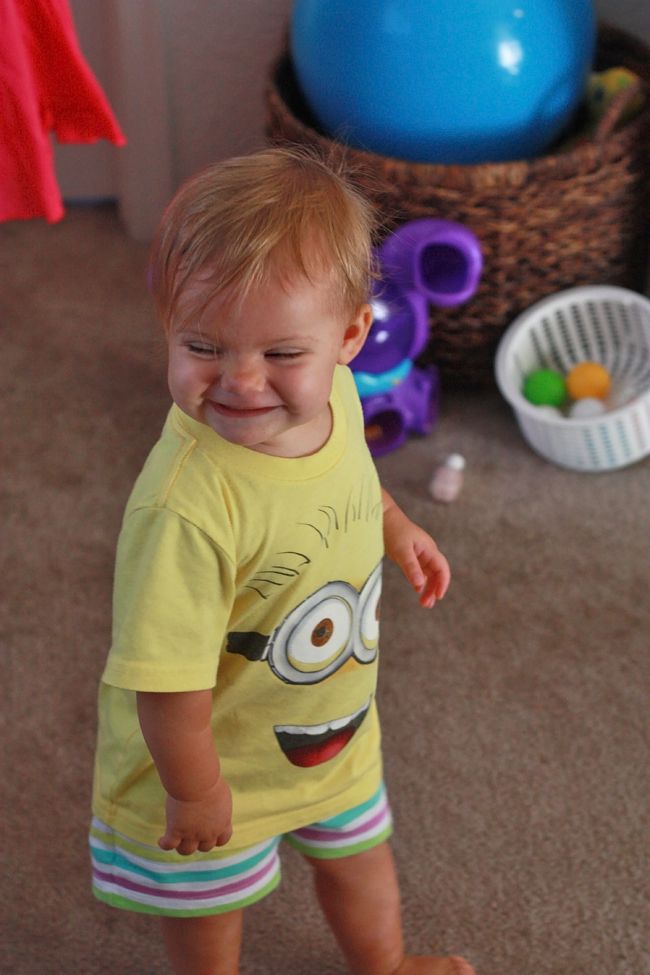 4. My biggest concern is managing the luggage and Sophie, so my next question is should I bring an umbrella stroller? We'll be checking our suitcase and car seat (which has a backpack carrier), so it'll just be me, Sophie, and our diaper bag on the plane. With only one hand to steer it (the other will be pulling a suitcase) and a giant car seat backpack on my back (and a pregnant tummy in front), will I be able to manage an umbrella stroller in the airport from baggage claim to my sister's car? My sister will be traveling with 2 kiddos of her own (a 2 year old and a 9 month old), so we'll all just have our hands full period. I'm clueless.

5. Does anyone have any favorite kids music that doesn't make you want to burn your ears off? Let's be honest here, lots of the kids music is so sickeningly sweet or cheesy, it's just hard to listen to. I'm on the hunt for something new (and not nausea-inducing)… Suggestions? Also keep in mind that Sophie loves to dance, so upbeat is fine too.
p.s. I CAN FEEL MY BABY MOVING!