The BLT and I have been pals, amigos, compadres, and BFF's for as long as I can remember. Something about crispy, dark bacon and juicy, ripe tomatoes really brings me happiness. Adding something different to the mix just adds to the happiness, be it a avocado, fancy bread, turkey, pesto, cheese, or even a perfectly-cooked, still-runny egg. Drool.
Well, again, this is nothing fancy, but it sure is a delicious riff on one of my favorite sandwiches. And since soup season is approaching, I thought we could all use a few versions of soup's best friend.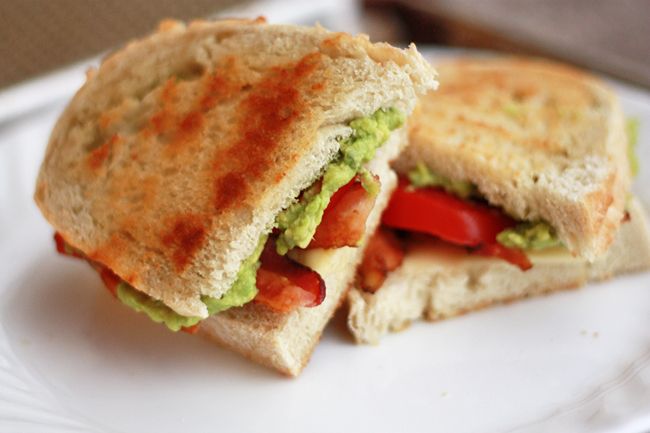 So what the heck does ABCT stand for? Avocado, bacon, cheese, tomato. This go round I swapped out the lettuce for some freshly-made guacamole with a hint of zingy lime. It was delicious. I also used a spicy pepper jack cheese for a bit more kick. These were fantastic. This time of the year, you could even use a few thin slices of apple in place of the tomato for an equally delicious combination.
You can certainly use any guacamole recipe you fancy for this recipe. I didn't use my standard guacamole recipe. Rather, I just mashed a few avocados with some fresh lime juice, salt and pepper and called it finished. I wanted the flavors of the cheese, bacon, and tomato to still shine through, and figured that a too-busy guacamole would just complicate things.
Use whatever bread looks best to you (or whatever you happen to have in your breadbox). We used a really delicious rosemary olive oil bread from the market, though we've also had these with French or Italian bread, and regular whole wheat toast. The amounts here are just suggestions, as always. Feel free to add more or less of something to taste.
If you're looking for soup to pair it with, might I suggest minestrone or split pea?
Print
8

slices bread, lightly toasted*

12

slices bacon, cooked until crisp

1

–

2

avocados
juice of

1/2

–

1

lime (use

1/2

lime per avocado)

1

–

2

tomatoes, sliced

4

slices pepper jack cheese
salt and pepper to taste
---
Instructions
In a small bowl, mash avocado and lime juice with a fork or potato masher. Add salt, pepper, and additional lime juice to taste.
Assemble sandwiches by spreading guacamole on one (or both) slice(s) of toast, then layering bacon, tomato, and pepper jack cheese.
Notes
*Alternately, you can start with un-toasted bread, assemble your sandwiches and then brown them in a skillet with a bit of butter or olive oil.