acorn squash stuffed with everything nice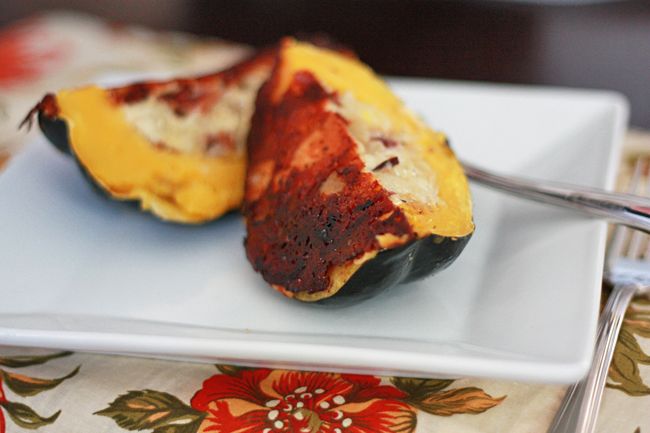 I've mentioned before that Michael isn't much of a squash guy. It's more of a texture thing than a taste thing. Still, he's wanted to eat more vegetables lately, so I've been doing my best to try new recipes for some of the in-season vegetables.
I'm pleased to say that the recipes we've tried have been a delicious success. This is one of them. I saw this recipe inspired by one from Dorie Greenspan's Around My French Table for a pumpkin stuffed with everything good.
Squash stuffed with everything good? Sure. Why not?!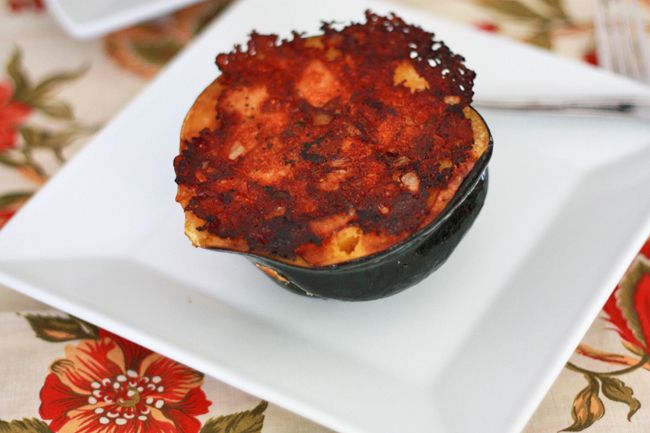 This is a hearty, filling recipe. We served it as a main dish, but you could certainly use it as a side, if you like.
Because it's stuffed with everything nice (a little bacon, some cheese), this squash is full of flavor. The texture was also fantastic. The cheesy crust provides a nice crunch which contrasts nicely with the stuffing and tenderness of the squash.
It was a delicious, rich meal and even Michael loved it (and the leftovers!).
Note: I used my favorite rosemary olive oil bread from La Brea. You can use whatever you please. If you don't use rosemary bread, I'd recommend adding a 1/4-1/2tsp of finely minced dried rosemary to the recipe, since the flavor was so nice.
Print
Acorn Squash Stuffed with Everything Nice
---
1

acorn squash, halved lengthwise and seeds removed*

1 1/2

c bite-sized bread cubes (use a good, crusty bread)

2

slices bacon, cooked and crumbled

3/4

c grated gruyere cheese

3 Tbsp

milk

1/2 Tbsp

fresh thyme (or

1/2 tsp

dried)

1/2

c diced onion
olive oil
salt and pepper
---
Instructions
In a small pan, saute onion in a small drizzle of olive oil until tender.
While onion is cooking, brush or drizzle acorn squash with olive oil and sprinkle generously with salt and pepper.
In a medium bowl, combine bread cubes, bacon, gruyere, milk, thyme, and cooked onion. Add a generous sprinkle of salt and pepper. Divide stuffing in half and pack into the hollowed out center of each squash half. Place stuffed squash upside-down on a cookie sheet sprayed with nonstick spray or lined with parchment paper.
Bake at 400 degrees 45-55 minutes, or until stuffing is browned and squash is tender when pricked with a fork. If, after 25-30 minutes, the cheese is beginning to brown too quickly, add a small drizzle of water to the pan.
Cut each half in half again to serve in wedges.
Notes
*If the seed pocket is quite small in your squash, you may need to scoop out a little extra flesh to make room for all of the stuffing. I didn't need to do this, but each squash is different.