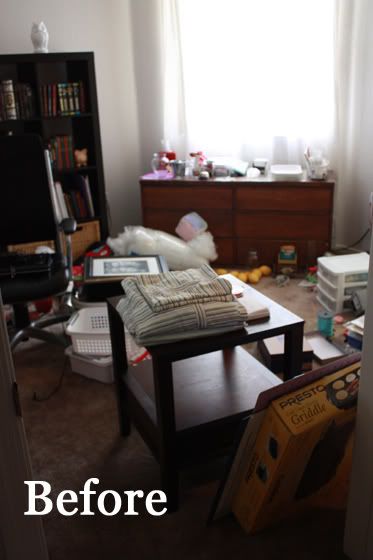 Last Friday, I did something very brave.
I tackled a closet I've been avoiding for three months.
When Michael and I moved here at the start of May, we moved into our very first TWO-bedroom, TWO-bathroom apartment. It was literally double the living space we'd been in during most of our marriage. Also, can I just say that in our last apartment we had one closet. In our bedroom. True, it took up an entire wall, but it had no doors and was only about 18″ deep. We had to get creative with storage space, putting our bed on risers and having certain things (like our vacuum) out in the open in the living room. It was not so fun.
So, when we moved in, we opted to use our second bedroom as an office/library/what-have-you, and made the decision not to overcrowd our bedroom closet (which, bless the architect, is a walk-in with plenty of room). Thus, in the hustle and bustle of unpacking, we sort of shoved everything that didn't have a place into the second bedroom closet, closed the door, and hoped for the best.
We don't really have a lot of just "stuff." We have VERY few items we keep around just for sentimental reasons, and almost everything in our house has a practical function. I haven't purchased a single holiday decoration since we've been married, and it wasn't like I was dragging around my 8th grade wardrobe or a bunch of puzzles with missing pieces or anything.
Still, I sew and quilt (which requires a sewing machine, thread, fabric, felt, etc.), make cards (which requires paper and supplies), and we have a lot of board games (given to us as wedding gifts). In addition, I have been working on gathering supplies for emergency preparedness kits and extra food storage. The second bedroom closet is also a walk-in, but it's arranged in a funny way that I just couldn't seem to make sense of.
Finally, last Friday, I decided to tackle this project. I purchased some inexpensive but durable and sturdy white plastic shelving, gathered some empty shoe-boxes I'd been saving for just this occasion, and decided to make sense of the Dreaded Second Bedroom Closet.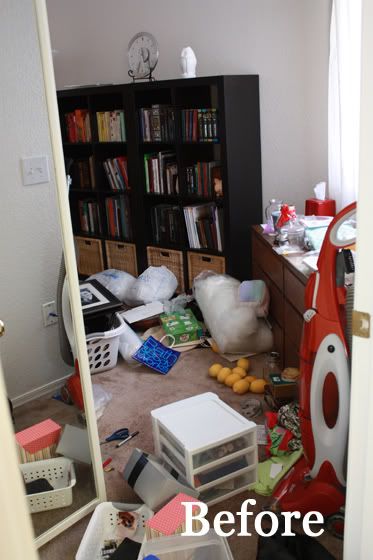 I started at 9:30 in the morning. I pulled absolutely everything out of the closet. I then decided to go through my card-making paper, tools, ribbon, fabric, etc., to determine what was and wasn't still in use. I set aside some things to throw away, things to give away, and the rest I decided to find a home for back in the closet.
This is what the room looked like while I was going through things. Oy vay.
Five hours later, I had things put back together and had met my goal to still have some empty places to grow into. It's a hodge-podge of things, but I was able to find homes for a spare end table, guest bedding, my wedding dress, our vacuum, my fabric & craft supplies, and our games. The lighting and photography isn't great, but I hope you get the idea.
What a relief! It was TOTALLY worth it to go through everything. I actually like opening the closet to see my handiwork. An organized house is a happy, calm house.
Total cost: $20 for white shelving (I LOVE this shelving. We have another set we've been using for years.)
Satisfaction: Ooooh yeaaaah!