Can you believe it's really fall? (also, can you believe that September is over?!)
This is the only time of the year that I feel sad we live in the desert. I love the magic smell of the autumn air. I love pulling out sweaters, drinking warm cider on a chilly day, and taking drives through the mountains to look at the colors. I hope wherever you live, dear reader, the weather is turning crisp and the leaves on the trees are changing colors.
And, on a chilly day, I hope you decide to eat this homey, hearty beef pot pie for dinner. You won't regret it.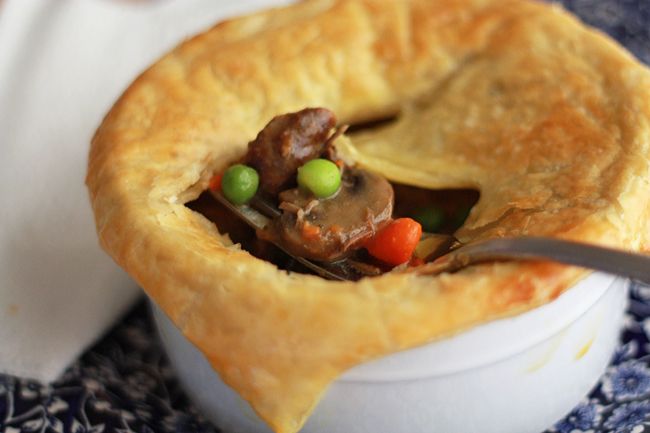 One of the reasons I know Michael loves me is that he is trying to eat more mushrooms. One of the reasons Michael knows I love him is that I am trying to eat more beef. It can be concluded, therefore, that this pot pie is nothing but love.
I'm sure you could add different veggies if you prefer–some cooked potato, perhaps, or some green beans. We kept things really simple this time. The filling could also be served simply as beef stew, or you could put it in a baking dish and cover it with mashed potatoes for a sort of shepherd's pie effect. Personally, I loved this so much that I want to try it all of these ways.
The puff pastry was delicious. I loved the light, flaky topping over the hearty filling. I adored these as individual pot pies, but you could use an 8×8″ pan instead. All I have left to say is that you won't regret making it, dear reader.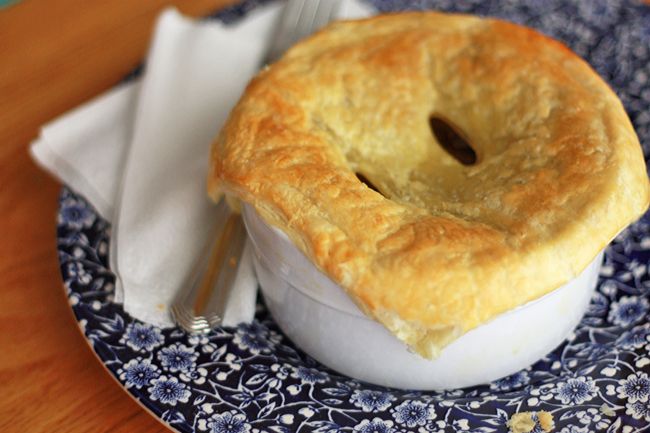 Print
2 1/2

lbs beef roast, cut into small pieces

1

onion, diced

3

carrots, diced

2

stalks celery, diced

8oz

mushrooms, sliced

2

cloves garlic, minced

1 1/2 Tbsp

fresh thyme (or

1 1/2tsp

dried)

1 Tbsp

fresh rosemary, finely minced (or

1 tsp

dried)

1/2tsp

paprika (smoked or regular)

2

c beef broth

1 Tbsp

cornstarch

1/4

c milk or cream (I used milk)

1/2

–

3/4

c frozen peas (don't thaw)

1

sheet puff pastry, thawed

1

egg, beaten
olive oil
salt and pepper
---
Instructions
In a large Dutch oven, heat a drizzle of olive oil over medium heat. Add beef and brown on all sides. Remove beef from pan and set aside.
Add onion, carrot, and celery to the pot. Cook over medium heat until tender. Add mushrooms and garlic and cook about 5 minutes longer. Add thyme, rosemary, and paprika. Add a sprinkle of salt and pepper.
Return beef to the pot and pour in broth. Stir to combine and bring to a low simmer. Cover the pot and allow stew to simmer until beef is very tender, about 1 1/2 – 2 hours. Shred beef and return to pot.
In a small bowl, whisk together cornstarch and milk/cream. Pour into pot and bring up to a simmer. Cook until thickened a bit, about 5 minutes. Stir in frozen peas and remove from heat.
If making individual pot pies, pour filling into 4-6 individual-sized baking dishes. (If making one large pie, pour into an 8″ x 8″ baking dish.) In a small bowl, make egg wash by whisking egg with 1-2 teaspoons of water.
Roll puff pastry out slightly and brush with egg wash. Cut pastry into 4-6 squares, large enough to cover each baking dish. (If making one pie, don't cut). Place pastry over each baking dish. Use a sharp knife and make a few small slits in the pastry to allow steam to escape while baking.
Bake pies at 350 degrees for 25-30 minutes, or until golden.
Makes 4-6 individual pies or 1 (8″ x 8″) pie.