brownie fudge almond ice cream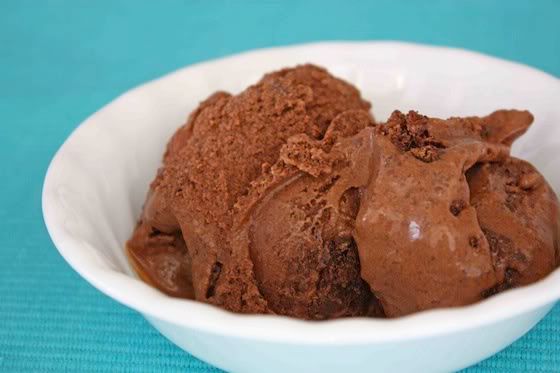 I know, dear reader.
I know!
This decadent brilliance sprung to mind when Michael and I couldn't decide whether we wanted to make burnt almond fudge ice cream or brownie fudge ice cream. The solution was glaringly obvious: make both!
I've been experimenting with Philadelphia-style ice creams (ice creams without eggs) lately, since I know a lot of people have qualms about egg yolks in their ice cream. It doesn't make much sense to me, since commercial ice cream vendors and brands put eggs in their ice creams. Plus, as ice cream guru extraordinaire David Lebovitz pointed out, if you're making your custard properly, you aren't dealing with raw egg yolks at all. Through a simmering and tempering process, your egg yolks and custard should be cooked through properly before you ever use them for ice cream.
Anyway. Sorry for the egg tangent.
Philadelphia-style ice creams can melt a little easier than a traditional custard ice cream, but otherwise provide a soft, delicious result that still gives you that fantastic old-fashioned, homemade flavor. For my brownies, I used leftover brownie bites from the brownies I'd made earlier, then toasted some whole almonds and chopped them roughly for some extra crunch and texture contrast.
**if anyone is wondering, we use a 1 1/2-quart capacity automatic Cuisinart ice cream maker that we've been VERY happy with.**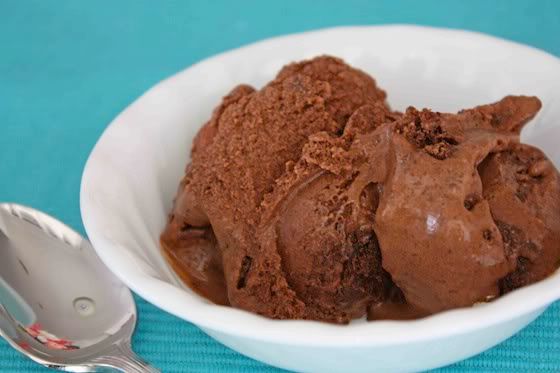 Print
Brownie Fudge Almond Ice Cream
---
2

c heavy cream

6 Tbsp

unsweetened baking cocoa

1

c sugar

1

c semi-sweet chocolate chips

1tsp

vanilla
pinch salt

1 1/4

c whole milk

1

c brownie bites

1/2

c toasted almonds
---
Instructions
In a medium saucepan, whisk together cream, cocoa, and sugar over medium heat until mixture comes to a full, rolling boil. Remove from heat and immediately whisk in chocolate chips until melted (if you need to, you can put the saucepan back over low heat until chocolate chips are melted). Stir in vanilla, salt, and milk.
Pour mixture into a bowl, cover with plastic wrap or a lid and chill until completely cooled (this took me about 3 hours). Freeze in ice cream maker according to manufacturer's directions, stirring in brownie bites and almonds at the end of the mixing time. Freeze several hours before serving.
Makes about 1 1/4 quarts