Chicken Bacon Wild Rice Soup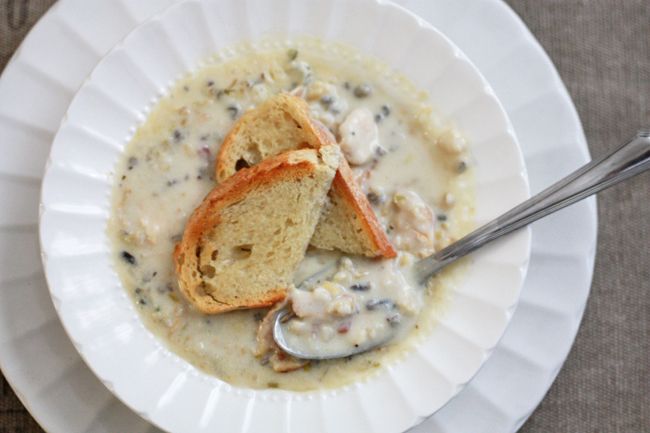 Last week, we were hit with a cold wave that send us from the high 80s/low 90s into the 70s-80s. That may not sound like much of a difference, but the wind was blustery, and it was chilly enough to really need to bundle up for our morning walks. It put me in a soup frame of mind.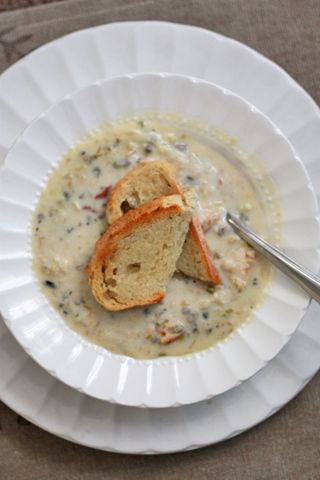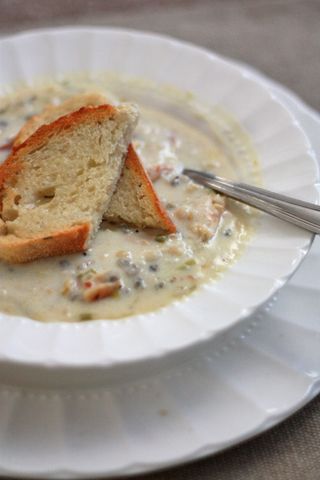 It's rare that we make a creamy soup in our house. Michael favors broth-based/lighter versions for the most part, and I'm happy to oblige. So are my thighs. But every once in a while, a person just needs to do things right.
And "right," in this case, is a nice-sounding word that means "including bacon and half-and-half."
Rich and creamy, this is one of those soups that satisfies you deep down in your happy place. And the longer you let it cook, the happier it tastes.
A few notes on the recipe:
Turkey. If you find you're looking for ways to use up leftover turkey next week, I think this would taste just dandy with turkey instead of chicken.
Leftovers. The leftovers didn't last long enough to attempt freezing them (typically creamy soups don't freeze as well anyway), but if anyone tries it, I'd love to know how it turns out!
Pimentos. I didn't think I really liked them, but that's because I've only ever had them stuffed in green olives. They aren't briny at all on their own. Instead, they're more like a mild roasted red pepper. They were really delicious and worth the purchase just for this soup.
Half-and-half. As for the half-and-half, if you're really nervous about it, I do think the soup would work just fine with whole milk. In fact, we'll probably make it with whole milk next go round. But honestly, it's not that bad per serving. Plus, it's filling enough that you won't need 3 bowls to do the job.
Please, friends. Just trust me. And join me in my happy place (which includes bacon and half-and-half).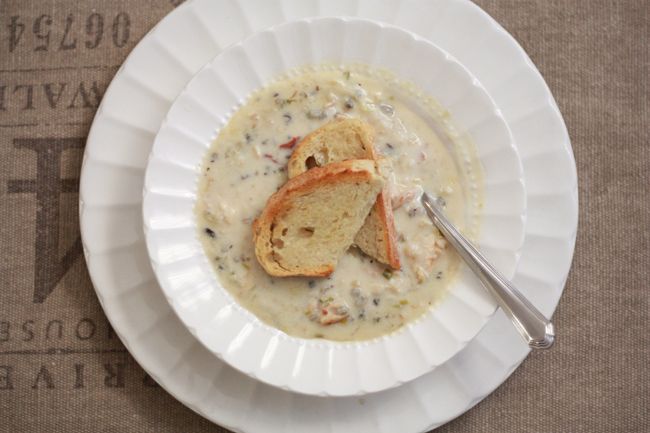 Print
Chicken and Bacon Wild Rice Soup
---
Description
This soup, like most, gets better with time. I recommend allowing it to cook over low for an hour or two at least. Better yet, make it the day before you plan to eat it!
---
1 quart

(4c) chicken broth

2

c water

3/4

c wild rice (I used a wild and brown rice blend)

1/2

c green onions, diced

1/2

c butter

3/4

c flour

1/2 tsp

black pepper

2

c half-and-half

1

–

1 1/2

c cooked, cubed or shredded chicken

8oz

bacon, cooked and crumbled

1 Tbsp

diced pimentos
salt to taste
---
Instructions
In a large pot or Dutch oven, combine chicken broth and water and bring to a simmer over medium-high heat. When liquid is simmering, add wild rice and green onion. Bring mixture to a boil, then reduce heat to a simmer. Simmer 30-45 minutes, or until rice is tender.
In a small saucepan, melt butter over medium heat. Add flour and pepper and stir until very smooth. Gradually add half-and-half and stir to combine. Continue cooking over medium heat, stirring constantly, until mixture is slightly thickened. Pour thickened mixture into the rice mixture and stir to combine.
Add chicken, bacon, and pimentos to soup and stir. Soup will look thin. Cook on low heat at least 30-45 minutes to allow soup to thicken. Soup will continue to thicken the longer it cooks and rests.
For best results, allow soup to sit on low heat (stirring occasionally) for an hour or two, or prepare the soup the day before you plan on eating it and refrigerate it overnight. If you've refrigerated it overnight, reheat soup before serving.
Recipe adapted from Pinch of Yum