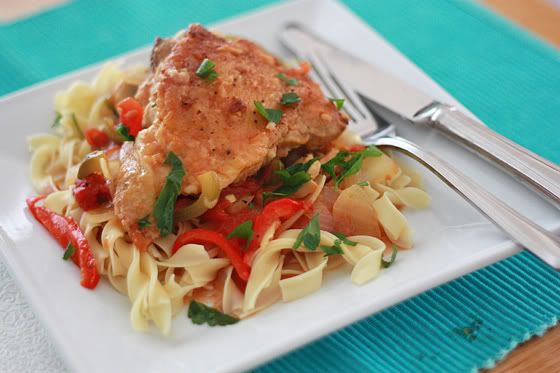 Although I've loved cooking from a young age, I really didn't start experimenting with new recipes until I went away to college. I was fortunate to happen upon the cookbook section of my university library one afternoon while looking for a secluded place to study. Needing to stretch my legs and take a short break, I got up from my study table and started pacing the aisle, trying to recite the nutrition definitions I was memorizing. When I decided I was done studying, I packed up my things and walked back down the aisle. I caught a glimpse of a book poking out just a bit from one of the shelves. I instinctively pushed it back in line with the other books, then turned my head to look at the title.
Long story short, I ended up marching out of the library with a stack of about 10 books in my arms (thankfully my apartment was REALLY close to campus). Over the next year or so, I checked out or read every cookbook in the library, and my hunt for the "next best" recipe really took off. I started keeping my "cook-this" list that semester of college, always adding more recipes than I can possibly cook through, but I finally tackled one of the first dishes I ever put on the list: Chicken Cacciatore.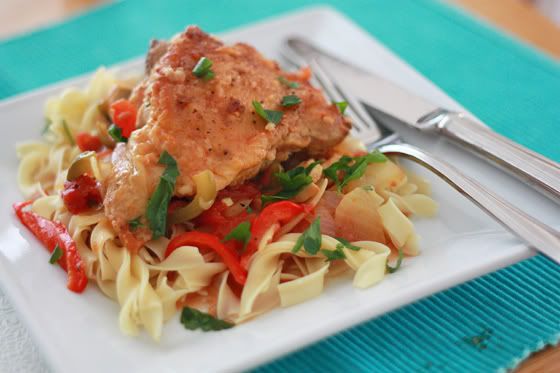 Chicken Cacciatore isn't anything particularly fancy, but I somehow had't made it, even after five years on the cook-this list. Basically, it's a slow-cooked chicken stew (nicknamed "hunter's stew") that usually includes peppers, onions, tomatoes, and some spices. It's a simple, hearty meal that's usually served over your favorite pasta.
I've read dozens and dozens of cacciatore recipes, but I decided to base mine on the Pioneer Woman's recipe. We tweaked the recipe to our tastes, making a few changes and substitutions here and there, and it was delicious. I usually don't buy or cook skin-on or bone-in chicken, but most recipes I've seen call for it, so I decided to give it a go. We didn't eat the skin, but it kept the chicken nice and moist while it cooked.
Notes on the recipe:
The chicken was VERY tender, and although we served whole pieces on a bed of noodles and sauce and vegetables the first night, we ended up removing all the skin and shredding the remaining chicken for the leftovers. Both ways were delicious, but if you're not very coordinated at removing chicken from bones (I'm not), shredded may be the way to go.
This meal gets better with time. If you like, you could make it the day before or freeze it, then cook up the noodles when you're ready to eat it. Also, if you don't own a Dutch oven (I have one of these) or oven-safe pot, feel free to transfer the mixture to a large casserole dish and cover with foil instead of a lid before baking.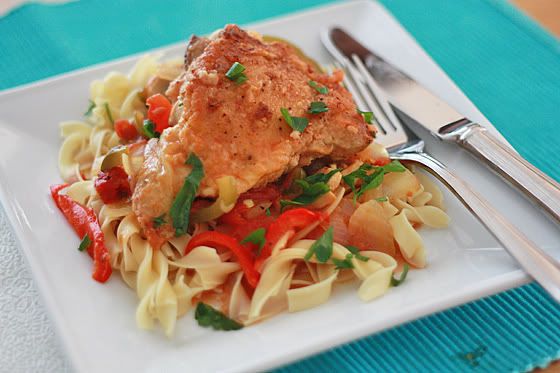 Print
Chicken Cacciatore
---
2 Tbsp

butter*

1 Tbsp

olive oil

1/2

c flour

1 tsp

salt

1 tsp

black pepper

7

–

8

whole chicken thighs (for me this was around 3lbs of bone-in, skin-on chicken thighs)

2

green bell peppers, sliced

2

red bell peppers, sliced

1

sweet onion, halved and sliced

8oz

mushrooms, sliced

5

cloves garlic, minced

3/4 tsp

oregano

1/4 tsp

rosemary

1/4

–

1/2

tsp red pepper flakes

1/2tsp

salt and pepper, plus more to taste

1

(28oz) can diced tomatoes and their juices

1/2

c water or chicken broth
Optional for garnish: fresh parsley and parmesan cheese
---
Instructions
In a large Dutch oven or oven-safe pot, melt butter and olive oil over medium-high heat. Combine flour, 1tsp salt, and 1tsp pepper in a shallow bowl. Working in batches, dredge the chicken thighs in flour mixture (pat each side into the flour to coat) and brown both sides in the Dutch oven. Don't worry about cooking the chicken through, we're just browning the chicken. Set browned chicken aside on a plate and drain all but 1 Tbsp liquid from the pot.
Add bell peppers, onion, mushrooms, and garlic to the pot and cook 1 minute, stirring to scrape up any browned bits from the bottom. Add oregano, rosemary, red pepper flakes, and 1/2tsp salt and pepper. Stir in tomatoes, their juices, and the water or chicken broth. Stir to combine.
Nestle chicken pieces into the sauce skin-side up, but try not to completely submerge them. Cover pot with lid and transfer to the oven.
Bake at 350 degrees for 45 minutes. Increase the temperature to 400 degrees and remove lid. Bake 10 minutes at 400 degrees.
Serve with your favorite noodles (I used about 8oz of egg noodles) and garnish with parsley and parmesan. Chicken can be left whole or skin can be removed and the chicken shredded.
Notes
*For a dairy free version: use all olive oil in place of the butter.
Adapted from The Pioneer Woman