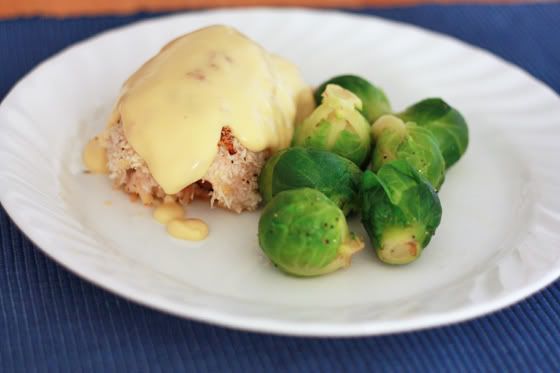 Last night marked the very end of our winter break. Michael's employer gives an incredibly generous winter break to its employees. We've basically been on break since the 22nd of December. And he had yesterday off in observation of New Year's Day, which we thought was an incredibly generous added bonus. We took advantage of every last minute of together time and it was a little tough to get back to the ol' schedule this morning. Still, after such a lovely break, we know it's time for that sort of thing.
After a quick doctor's appointment for me yesterday, we spent the last day of our vacation together running a few errands, playing fun things on the Wii, reading, watching some favorite shows, puttering around the house, and generally relaxing. In the days since we got home from my parents' house, I haven't spent much time in the kitchen since we've been in a lazy, relaxed, vacation-y mood (and I've been getting over the last few bits of post-food-poisoning-funk). It felt SO good to get into the kitchen last night and make a real dinner beyond soup and grilled cheese!
Michael LOVES chicken cordon bleu, and I love making things from scratch, so we put it together at home and enjoyed a real, true home-cooked meal. It. was. delicious.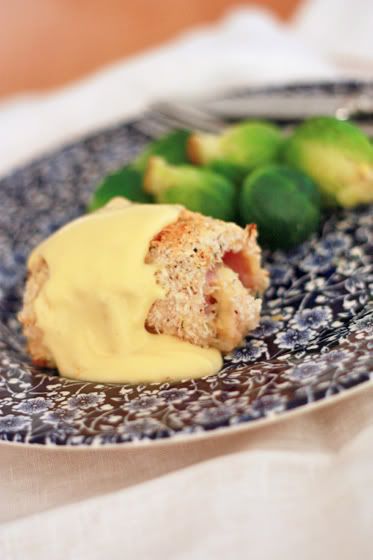 It's easy to look at something like chicken cordon bleu and get intimidated, but the truth of the matter is that it's not very difficult (at all) to put together. My recipe makes 4 servings, and I had them assembled and ready to go into the oven in less than 20 minutes. It might take you a few more than that if you've never made them before, but trust me, you can do it!
While they bake, you have about 30 minutes to put together whatever side dishes or sauces you might be interested in. Michael's mom would serve chicken cordon bleu with a sauce made from cream of chicken soup and sour cream, but you could make a bechamel sauce, or serve them plain (my preference). Paired with a quick vegetable or two, this is a great meal and much healthier than buying the pre-packaged frozen version.
A few notes on the recipe: Michael is a fervent mustard-hater and he loves these. The layer you spread is thin enough that they don't taste mustardy, the just taste flavorful. I'm a mustard lover, and I also loved them. If you'd prefer, you can use your favorite prepared honey mustard in place of the dijon and honey combination used below.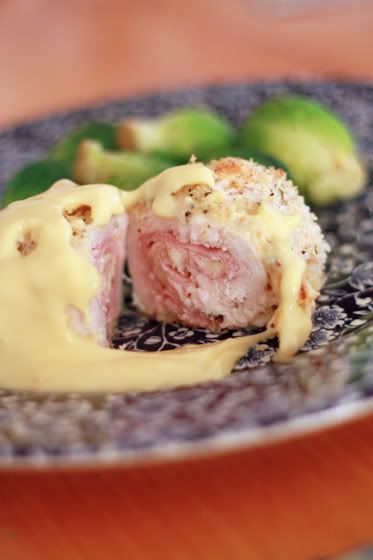 Print
1

lb chicken breast (for me, this was

two

breast halves)

4

slices smoked deli ham (I like nitrate-free)
about

1

c grated Jarlsberg (my favorite), Swiss, provolone, or mozzarella cheese

1 Tbsp

dijon mustard

1 Tbsp

honey

1

egg, beaten

3/4

c panko bread crumbs

3 Tbsp

freshly grated parmesan

1/2tsp

salt

1/2tsp

pepper

1/4tsp

garlic powder

1/8tsp

oregano
olive oil
---
Instructions
Preheat the oven to 375 degrees.
Pound chicken breast to 1/4″ thickness. (I do this in a gallon-size zip-top bag with a rolling pin.) Cut into 4 equal pieces, trying for the most rectangular shape possible (for me this was cutting each chicken breast into two pieces). Place rough side up, keeping the smooth side down on a board or plate.
In a small bowl, combine honey and dijon mustard. Spread a thin layer of mustard mixture on the rough side of each chicken piece, and top each with 1 slice of ham (you may need to fold it in half lengthwise), and about 1/4c cheese. Starting at a thin end, slowly roll up each piece of chicken and secure at the seam with 2 toothpicks. Some of the ham might poke out of the seam at the bottom, but don't fuss about it. Repeat with each piece of chicken.
Put the beaten egg in one shallow bowl and set aside. Prepare breadcrumbs by combining panko, parmesan, salt, pepper, garlic powder, and oregano in a second shallow bowl. Dip each chicken roll-up in the egg mixture and then the breadcrumb mixture. Feel free to press the breadcrumbs onto the chicken to help them stick.
Place breaded chicken roll-ups in an 8×8″ or 9×13″ baking dish coated with nonstick spray and drizzle each roll-up lightly with olive oil. Bake at 375 for 30-35 minutes or until done. If you want them more golden brown, turn the oven to the broil setting for the last 1-2 minutes of the cooking time.
Serve with favorite sauce or plain.