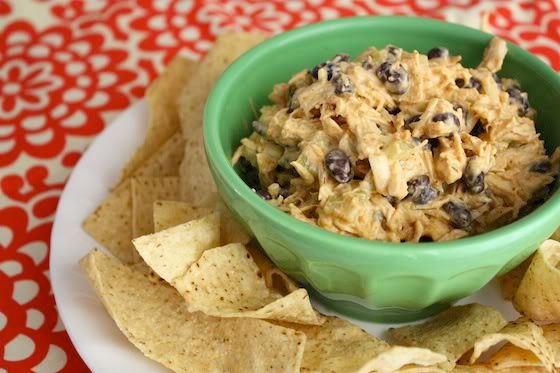 Updated from the archives
Whenever anyone hears we've moved to Hot-as-Blazes USA, their first reaction is to tell us we're crazy-go-nuts. Secondly they swoon over how awful the heat must be. Last week, someone from church shrugged weather complaints off and said, "If it's under 105, it's warm. Anything over 105 is hot."
The truth is, just like anywhere, you adapt to the weather. When we came apartment-hunting in March, the locals were blustering about about how freezing it was outside. It was 65. Michael and I thought it was so funny, but come winter, we will be two of those people who are sure they're going to die from frostbite when the mercury dips below 70.
What does all this have to do with chicken? Well, we're in the hot season of the year. Cold and refreshing meals seem to hit the spot best, and this is our southwestern take on chicken salad. We like it cold served with tortilla chips or on tostada shells.
The original recipe was passed on from my dear family friend Evelyn (of crescent roll fame). I've adapted it a bit–less mayonnaise & cheese, and the addition of lime juice–but no matter how you eat it, it's fantastic.
Notes on the recipe: I like roasting boneless, skinless chicken breasts brushed with olive oil and sprinkled with salt and pepper in the oven at 350 for about 35-40 minutes. They come out juicy and tender. Perfect when you need cooked chicken for a recipe.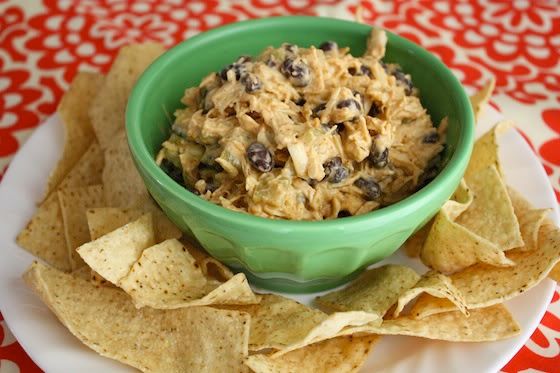 Print
1

lb. chicken breast, cooked and shredded or diced

1

(14.5oz) can black beans, rinsed

1

(4oz) can green chiles (don't drain)

1

c shredded Monterrey Jack cheese

1/3

c low-fat sour cream or nonfat plain yogurt

1/3

c light mayonnaise

2 Tbsp

(

1/2

package) taco seasoning
juice of

1

lime
other: tortilla chips, lime wedges, olive slices to serve
---
Instructions
In a large bowl combine cooked chicken, black beans, green chiles, and cheese. Stir in sour cream, mayonnaise, taco seasoning and lime juice. Combine well.
Serve with tortilla chips and garnish with lime wedges and/or sliced olives.