chicken with herbed cherry tomato sauce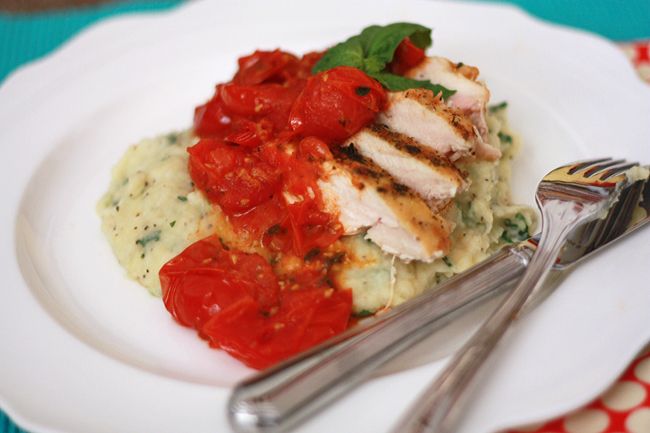 Lots of people balk when I tell them that I like making my own birthday dinner. Michael's even been heckled a bit for it ("why don't you make her something?!") Well, he would gladly make me something, anything, but I love cooking so much, the greater gift is giving me the perfect time and excuse to make something fancy-shmancy.
So remember that delicious parmesan basil potato puree? It was delicious on its own, but I've got to tell you, dear reader, that it was even better topped with this chicken.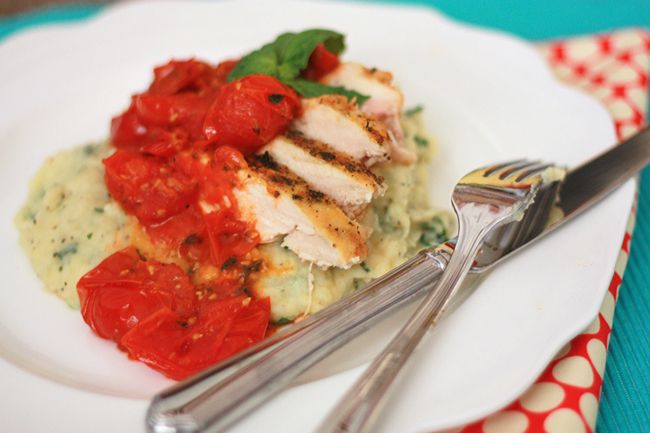 I love, love, loved this dish. It tasted fantastic with the fresh herbs and cherry tomatoes. It felt restaurant quality to me. The chicken was tender and delicious and the sauce was the perfect complement. The tomatoes had great flavor, and the fresh brightness of the lemon zest was such a great finish. I've seen versions of this recipe served over polenta, pasta, or orzo, but I really loved it with the basil potatoes.
Slicing chicken breasts for serving is a sneaky trick that usually helps people feel like they're eating more than they are. This is a great trick if you're trying to eat less meat or to stretch a meal. Michael, who could eat a whole chicken breast by himself, ate 4-5 slices and said he felt stuffed. As a bonus, it sure looks fancy.
Oh, dolly. I loved this dish.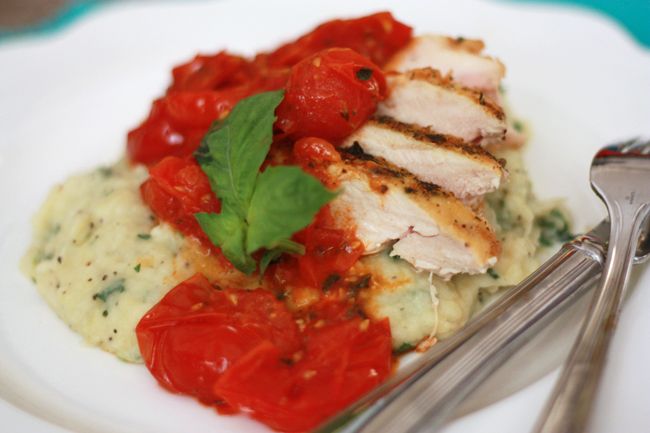 Print
Chicken with Herbed Cherry Tomato Sauce
---
2 1/2 Tbsp

butter
zest of

1

lemon

1/2 tsp

garlic powder

2 tsp

fresh oregano, minced

2 Tbsp

fresh basil, minced

1/2 tsp

paprika

1/4 tsp

salt, plus more for dredging

1/4 tsp

black pepper, plus more for dredging

2

chicken breasts, pounded to an even thickness*

3

–

4

Tbsp flour

2

c cherry tomatoes
---
Instructions
In a small bowl or a food processor, combine butter, lemon zest, garlic powder, oregano, basil, paprika, salt, and pepper. Pulse until well mixed.
On a plate, combine flour and a pinch of salt and pepper. Dredge chicken breasts in the flour quickly (you just want a very thin coating).
Heat half of the herb butter mixture in a large pan over medium heat. When the butter is melted, add chicken breasts to the pan. Cook chicken over medium heat, 5-7 minutes on the first side, and an additional 4-5 minutes on the second side, or till cooked through. Remove chicken from the pan and set on a plate, covered with foil.
Add remaining herb butter and cherry tomatoes to the pan and cook over medium heat until the tomatoes begin to burst and soften, about 5 minutes. You can help break up the tomatoes with a spoon. Taste tomato sauce for seasonings and add additional salt and pepper to taste.
Slice chicken breasts and serve in strips with tomato sauce.
(I paired the chicken with parmesan basil potato puree).
Notes
*I pounded these to an even thickness, so that the chicken cooks evenly, rather than having dried out thin parts and under-done thick parts. If you've never pounded chicken breasts before, I put the chicken between layers of plastic wrap or waxed paper and bang away with a rolling pin. It works great for me.
Adapted from Mrs. Regueiro's Plate