cocoa brownies with browned butter and walnuts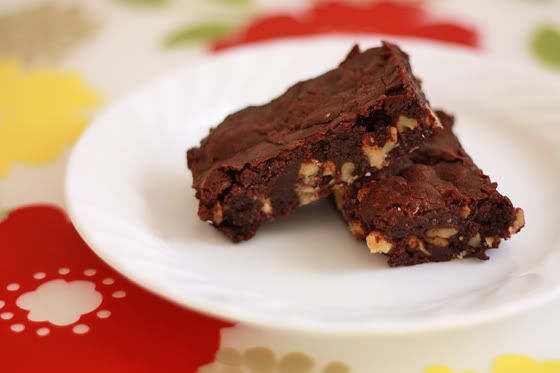 These brownies have been ALL over the place this month, since they came out on the cover of Bon Appetit magazine. I don't subscribe to Bon Appetit, but I've spent the month drooling over pictures of them on foodgawker and tastespotting.
I love brownies. Fudgey, gooey, delicious brownies. I've had a favorite fudgey brownie recipe for a while, but I was intrigued by the idea of a cocoa brownie (rather than a melted chocolate brownie). The fact that caramelly browned butter and walnuts were involved only made me want to try them more.
They were delicious. Oh, sweet Suzie, they were delicious.
When I was little, putting nuts in the batter seemed like a quick way to ruin a perfectly good brownie. Thank goodness our taste buds grow up. I didn't think that at ALL here. The walnuts were delicious and added a great texture contrast to the fudge-like brownie.
If you just can't bring yourself to add the walnuts, you could substitute almonds, pecans, or hazelnuts. Or, if nuts just aren't your thing, you could try chocolate chips (though you may go into a chocolate coma).
We may or may not have made these twice last week. And eaten them all ourselves. Like I said… may or may not have. I'll leave the guesswork up to you.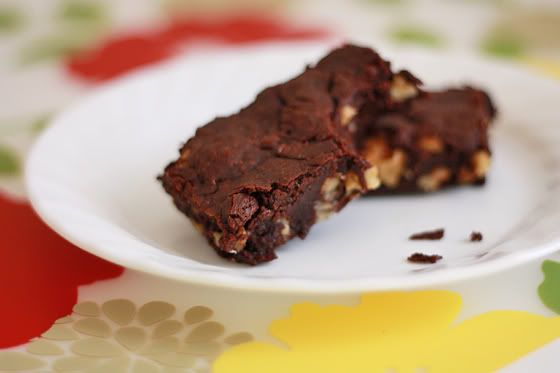 Print
Cocoa Brownies with Browned Butter and Walnuts
---
10 Tbsp

butter, cut in pieces

1 1/4

c sugar

3/4

c unsweetened baking cocoa, sifted

2 tsp

milk

1 tsp

vanilla

1/4 tsp

salt

2

eggs

1/3

c flour

1

c walnuts, chopped
---
Instructions
In a medium saucepan, melt butter over medium heat. Continue to cook until foam decreases and browned bits form at the bottom of the pan, about 5-8 minutes. The butter will look almost caramel-y.
Remove from heat and immediately stir in sugar, cocoa, milk, vanilla, and salt. Stir 1-2 minutes. Allow to cool 1-2 minutes longer, then beat in eggs, one at a time until well incorporated.
Sift in flour and stir until flour is completely stirred in. Add walnuts and stir another 10 or so strokes to mix them in. Pour mixture into an 8×8″ metal baking dish that has been buttered or sprayed with nonstick spray.
Bake at 325 degrees for 25-28 minutes or until a toothpick tests clean (a few moist crumbs are okay, you just don't want batter). Allow to cool, then slice into 12-16 brownies.
minimally adapted from Bon Appetit