cozy beef and mushroom ragu (gf, df)
Unfortunately for our persistent drought conditions, we've had very little winter weather in the desert this year. Seriously. In January, we had a picnic outside without jackets.
Last week, however, the wind brought with it some chilly weather and a few storms that gave us some much needed rain (and even a little hail!). Since these stormy days are few and far between, I do my best to make the best of them.
I survive some of our toughest days by spending lots of time outside with Sophie, so when we're stuck inside because of the weather, a good hearty dinner is what can cheer me up.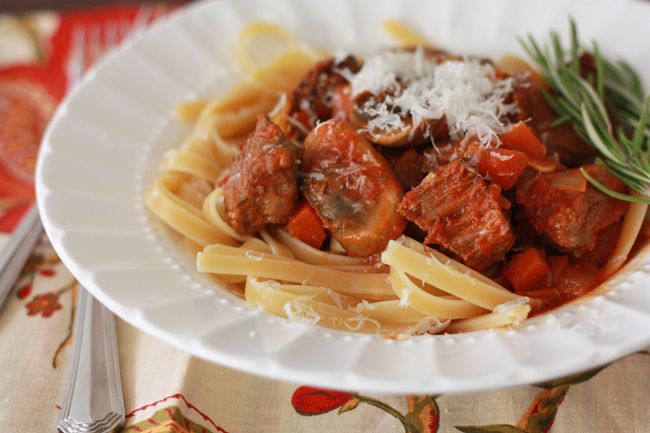 I've had this recipe bookmarked for over a year, and I'm just getting to it. I wish I hadn't waited so long! It was delicious. The beef was tender, the sauce was so flavorful, and my house smelled so good.
This gets better every day. I made it the day before we planned on eating and the flavors developed so much after just one night I think I'll always do it this way. We served this with fettucini, but any hearty pasta (like rigatoni) would do. Also, be sure you have some great bread on the side to soak up any extra sauce. I'd recommend rosemary olive oil bread if you can find it.
A few notes on the recipe: it will seem like there are FAR too many mushrooms when you first add them. They cook down quite a bit, so keep the faith. Also, fresh rosemary is completely delicious, but you'll really want to finely mince it during the cooking so that you don't end up with any big pieces.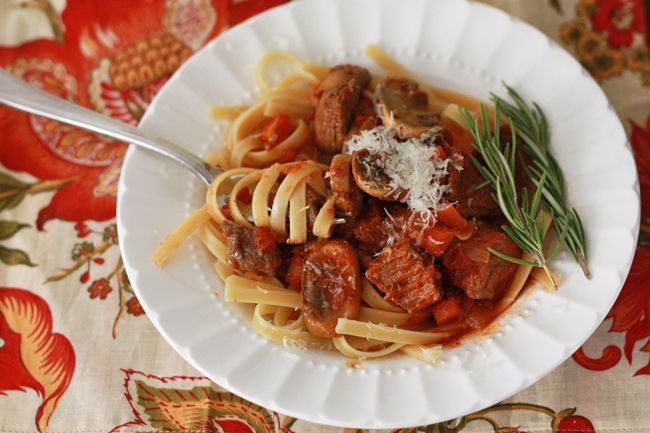 Print
Cozy Beef and Mushroom Ragu
---
1

lb chuck roast, cut into

1

–

2

" pieces

1

onion, diced

2

carrots, diced

1 tsp

fresh rosemary, finely minced (or

1/2 tsp

dried)

1/2 tsp

dried oregano

1/2 tsp

garlic powder

2 Tbsp

tomato paste

2

c chicken broth

1

(14.5oz) can crushed tomatoes

1

lb mushrooms, sliced

12oz

pasta*
salt and pepper
olive oil
parmesan cheese, for garnish (optional)
---
Instructions
Heat a drizzle of olive oil in a large Dutch oven or large saucepan. Sprinkle beef with salt and pepper and brown over medium heat on all sides. Remove beef from pan to a side plate.
Drain fat from pan. Add another drizzle of olive oil to the pan. ADd onion, carrots, garlic, rosemary, oregano, and a little salt and pepper. Cook over medium heat until softened, 5-7 minutes. Add tomato paste and cook about 1 minute more.
Return beef to the pan and add broth and tomatoes. Cover and simmer until beef is tender, about 1 1/2hrs.
Add the mushrooms to the saucepan and cook, covered, until tender 10-12 minutes. If the sauce is to thin, simmer, uncovered, until thickened to the desired consistency.
Meanwhile, cook pasta according to package directions. Drain, serve with sauce, and garnish with a little parmesan cheese.
Notes
*For gluten-free: serve over your favorite brown rice or quinoa pasta. Or, feel free to serve it over mashed potatoes or rice.
Adapted from Real Simple