Can you believe Thanksgiving is next Thursday? I can't wait. I asked to be in charge of pies this year. One fun thing about spending the holidays with people other than those you grew up sharing a house with is the different foods and traditions in each family. This family does sweet potatoes with marshmallows, that family does them with a crumble topping…this family has ham instead of turkey…that family makes a certain kind of dinner roll… It's just so fun!
For instance, Michael's family always includes a recipe handed down for generations called Swiss Lettuce. Michael describes it like this: "basically…you take salad…and make it bad for you." What it actually is is an iceberg lettuce salad with a hot bacon dressing. It's fantastic and I look forward to eating it again this year. One thing Michael's family doesn't serve that mine did growing up is green bean casserole (his family eats steamed broccoli instead).
Now, I've got to admit this straight up: I like the cream of mushroom soup and French's French-fried onion version. My mom does hers slightly different than the original Campbell's recipe (and I like it much better). It's not considered foodie-appropriate to admit this, but it's just true. I like it. A LOT.
Still, being the wierdo that I am, I like learning to make things from scratch. I do NOT think that this recipe is a direct substitute for green bean casserole, but it's a good place-holder if you're looking for something a bit healthier to serve instead.
I really enjoyed the creamy texture, the flavor, and the crispness of the crumb topping. Even with butter and whole milk, this works out to be around 150 calories per serving, verses the 250-350 you can end up with using a more Campbell's-style recipe. We served this for a meatless meal this week paired with twice-baked potatoes and fruit. It was delicious and I gobbled up the leftovers lickety-split.
If you're thinking of giving these a go for Thanksgiving, you'll likely want to double the recipe to make at 9×13″ pan instead of the 8×8″ that this makes. Another perk is that this can be made and assembled the day before, then baked before you want to serve it. Feel free to use whatever bread crumbs you like. I had some freshly-made toasty bread crumbs, so I used those, but I'd recommend panko if you're going to go with store-bought.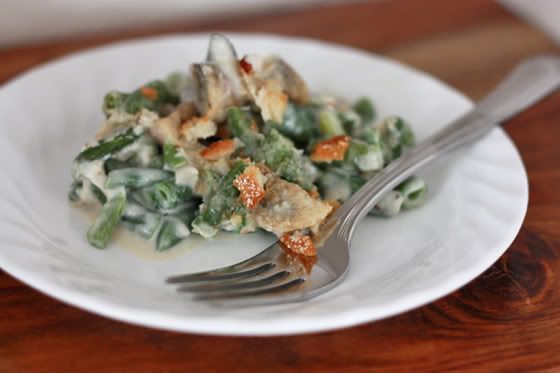 Print
Creamy Green Beans
---
Yield:

4

-

6

as a side dish.

1

x
3 Tbsp

butter, divided

1/2

small onion, diced

8oz

. button mushrooms, stems trimmed and mushrooms quartered

1

clove garlic, minced

2 Tbsp

flour

1

c whole milk

1/2 tsp

soy sauce (optional)
pinch cayenne pepper
salt and pepper to taste

12oz

(3/4lb.) frozen, cut green beans (you could use fresh)
For topping: 1/2c parmesan cheese + 1/2c bread crumbs
---
Instructions
Bring a large saucepan of water to a boil for cooking the green beans.
Meanwhile, in a medium saucepan, melt 1 Tablespoon of butter over medium heat. Add onion and cook 2 minutes. Add mushrooms and cook 4-5 minutes more, or until mushrooms are slightly brown and onion is tender. Add garlic and cook 1 minute longer, or until fragrant. Remove onion mixture from pan and set aside.
In the same pan used to cook the onion mixture, melt remaining 2 Tablespoons of butter. Add flour and stir to combine. Cook over medium heat 1-2 minutes or until mixture begins to turn golden. Add milk and stir to combine well. Cook over medium heat 3-5 minutes, or until white sauce has thickened and coats the back of a spoon. Remove from heat. Stir in soy sauce (if using), cayenne pepper, onion/mushroom mixture, and salt and pepper to taste.
By now, the water should be boiling for your green beans. Cook 3-5 minutes or until mostly tender (cook less if you like your beans more firm). Drain and add directly to white sauce mixture. Stir to coat.
Pour green bean mixture into an 8×8″ baking dish coated with cooking spray. (At this point, you can cover and refrigerate the dish until you're ready to bake it, up to 1 day ahead.)
Before baking, sprinkle with parmesan cheese and bread crumbs. Bake at 400 degrees uncovered for 15-20 minutes or until sauce is bubbling and heated through. Serve warm.