My friends, thank you for surviving my breakfast-for-dinner streak last week. This week, I have a few sweet treats in store for you. (Yay!)
First up, Michael's birthday request: dulce de leche brownies…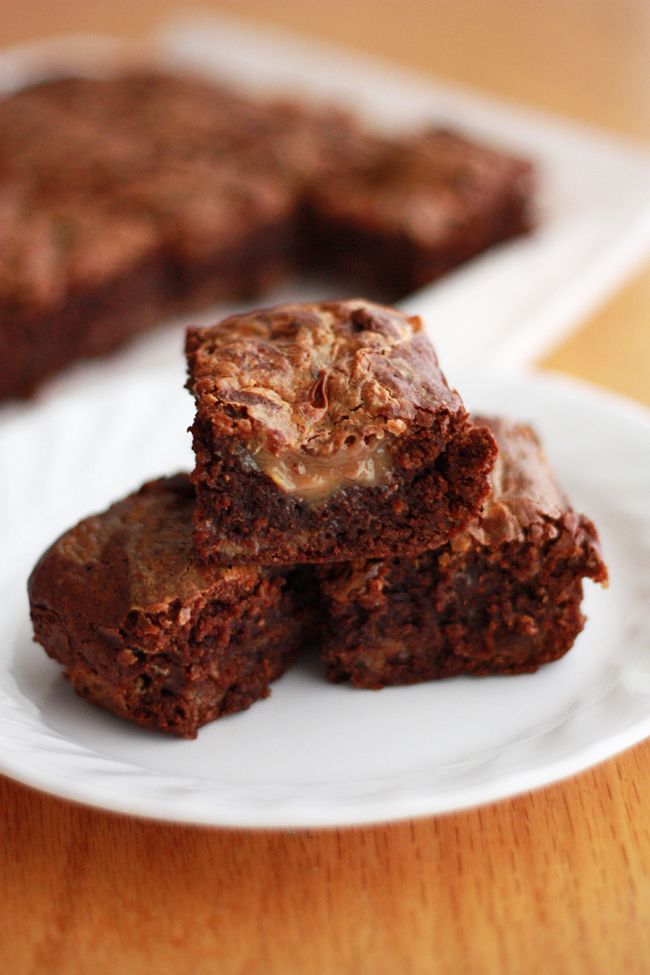 I'd never made dulce de leche before, but Michael had a vision in mind of just what he wanted. We adapted our recipe ever-so-slightly from the ice cream-and-treat genius David Lebovitz. Mr. Lebovitz is my go-to resource for ice cream recipes (his book is FABULOUS).
These brownies are a touch on the cake-y side. I usually prefer a deep, rich, fudge-y brownie like this or this, but these were very tasty. They were especially tasty served warm with a scoop of homemade salted caramel ice cream on top (recipe later this week).
Dulce de leche is caramel-y and sweet. You can make your dulce de leche ahead of time, several days in advance. On its own, it will keep up to 1 week in the refrigerator. I made mine the day before I made the brownies, and it worked beautifully. The completed brownies froze beautifully. We pulled them out a few at a time later on when we needed a sweet treat and they were awesome!
One last note on the recipe: I probably over-swirled a bit. If you want yours to have even larger pockets of dulce de leche goodness, swirl just a little less.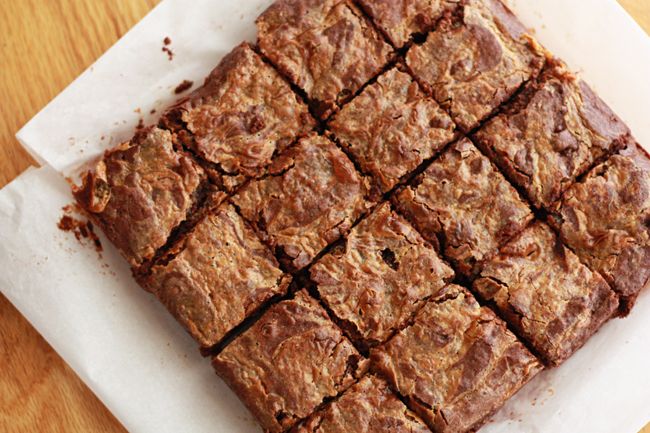 Print
For the Dulce de Leche:
1

(14oz) can sweetened condensed milk
pinch coarse salt
For the Brownies:
8 Tbsp

butter

6oz

semi-sweet chocolate chips

1/4

c unsweetened baking cocoa

3/4

c sugar

3

eggs

1/4 tsp

salt

1 tsp

vanilla

1

c flour
---
Instructions
To make the Dulce de Leche:
Pour sweetened condensed milk into an 8×8″ glass baking dish or 9″ glass pie plate and sprinkle with a pinch of salt. Wrap tightly with foil. Place baking dish into a 9×13″ baking dish. Pour water into the 9×13″ pan until water reaches halfway up the side of the 8×8″ dish.
Bake at 425 degrees 1hr 15 minutes, or until the color of peanut butter. Check every 30 minute or so during the cook time to monitor its progress. Add additional water to the 9×13″ pan, if necessary. Allow dulce de leche to cool before handling.
For the brownies:
In a large saucepan, melt butter and chocolate chips over medium heat until smooth. Stir in cocoa and sugar. Add eggs, one at a time, beating to incorporate after each addition. Add salt and vanilla. Fold in flour until just combined.
Pour half of the brownie batter into an 8×8″ baking dish lined with parchment paper. Spoon 1/3 of the dulce de leche mixture over the brownie batter in small clumps. Use a butter knife to swirl the dulce de leche into the brownie batter.
Pour the remaining half of the brownie batter into the pan and smooth. Scoop the remaining dulce de leche in small clumps over the surface of the brownie batter and swirl with a butter knife.
Bake at 350 degrees for 30-40 minutes until the center is just set or until a toothpick inserted in the center of the brownies comes out clean.
Allow to cool completely before slicing.
Notes
The dulce de leche can be made up to a week ahead of time and stored in the refrigerator. If you've made it beforehand and stored it in the refrigerator, you can warm it in the microwave for about 30 seconds to make it smooth enough to stir (it will still be thick).
Brownie recipe adapted from David Lebovitz  and dulce de leche recipe from my sweetened condensed milk can.