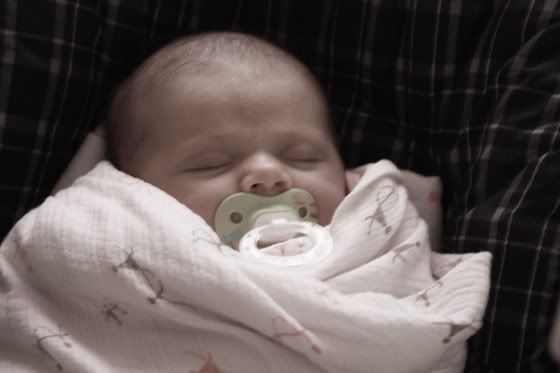 Yesterday was one of those funny magical days that you just need to laugh or cry. And I like to choose laugh.
Sophie took not a single great nap yesterday. She's recently discovered a new cry sound. It's three short little "Aye Aye Aye" sounds in a row. The first time she did it, Michael and I literally jumped up from the couch, sure she must be in mortal peril. After we assured that, yes, our girl was alive and hadn't been stung by a scorpion or something (one of my greatest fears for Sophie), we sort of sat back and analyzed the cry.
After a few more listens, we discovered it wasn't pain. It was angry. A protest cry.
My heart was equal parts rapture and oy vey.
You see, Sophie's becoming more and more her own little person. A little personality is slowly emerging from the sleepy baby we brought home. I love seeing her personality coming out. She's sweet as honey for the most part, now that she's not in pain from reflux. She's learning and growing and every time she meets someone new, that someone tells me she has such bright, alert eyes. And she does. They're two happy lights shining out over a world she's just beginning to discover.
I can't imagine what it's like to really start becoming awake to the world around you. Every minute she spends awake is new and fresh and bright. She's not bored, even by routine things around her. She can hardly get enough of everything around her. I want to be that way forever. Imagine how much joy we'd find in the everyday if we looked at the world around us with fresh eyes instead of getting lost in the bustle and busyness of life.
So even though I know she'd feel better and happier with a little nap, I can't blame her. Everything is too amazing to miss and she's starting to protest naps. When I see her big yawns and her eyes just fighting to stay awake, I want to whisper in her ear that the world will still be here when she wakes up. It will still be new and exciting. I know that in a few weeks or months, things will sort themselves out with her daytime sleep. Until then, I'll try to remember that everything is amazing. Starting with a sweet lovely little girl who doesn't want to miss anything.