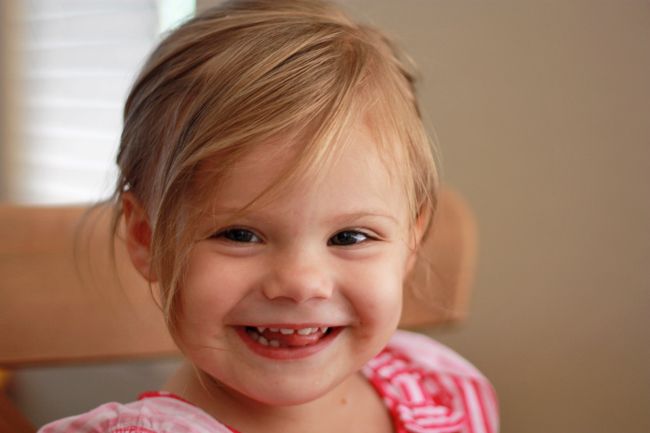 1. Sophie's had the best week I can remember in MONTHS. She's been SO on top of her game. She's been smiling, laughing (albeit fake-laughing much of it), and interacting much more often than usual for her. She's been imitating new words, mimicking a few actions here and there, and just really seems to be at peace. I wish I knew what it was that's making the biggest difference for her, but it's been glorious. This photo, for instance, was us just "chatting" at lunch. Milo was asleep upstairs, and Sophie was jabbering away to me in jibberish. It was the sweetest, loveliest lunch in ages.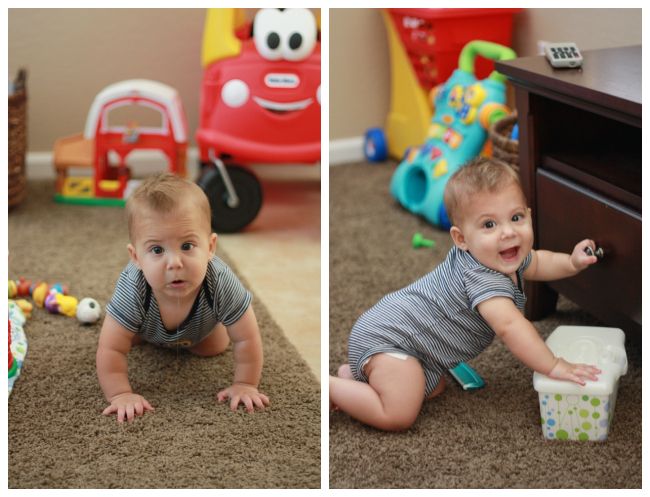 2. I'm pretty much being chased in slow motion all day. It's hilarious. Crawling is going very well–he's constant (slow) motion. His bigger frustration is not being able to keep up. He's also starting to try pulling up on everything.

3. Anyone done baby led weaning? I'm talking about weaning to solids, not weaning away from breastfeeding/formula. Milo HATES purees. Sophie took to them flawlessly–seamlessly–and other than a brief raspberry-blowing phase that lasted a few weeks, it was SO EASY. Milo has HATED purees, hates rice cereal, and has no interest in any of it. He DOES have interest in eating real people food. The idea behind baby led weaning is that you offer small, soft pieces of "real" foods (i.e. steamed fruits & veggies, meats, toast, noodles, etc) to baby and let him decide how much or if he'll eat it. It's scary and new for me, and other than holding my breath while he chews, it's going MUCH better than purees. We've tried apples, bananas, avocado, cereal puffs, pears, cucumber, zucchini, and carrots. He hasn't choked once, and his pincer grasp is developing well, but this is soooo out of my league and not in my comfort zone at all. Ah well… just keeping me on my toes, I guess.
(p.s. if you're interested, this is the book referenced often. 100 Days of Real Food recently featured a discussion about it, and John and Sherry of Young House Love did it with their daughter Clara. Browse Pinterest, and you'll see LOADS of blogs featuring ideas and encouragement. Thank you, interwebs.)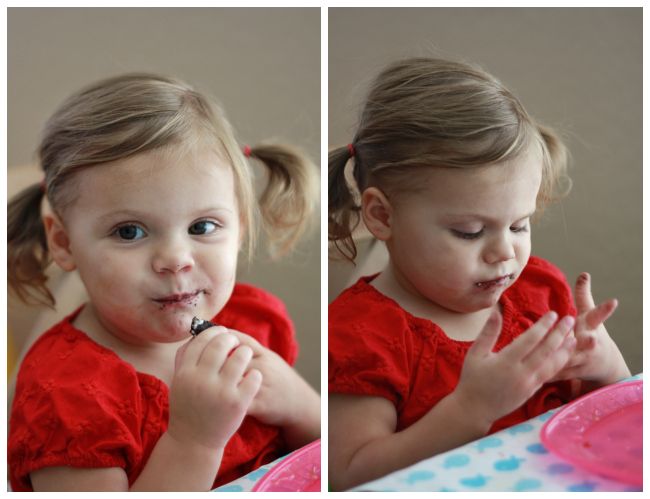 4. You guys, we found gluten free, dairy free Oreos. They're called K-Toos, made by Kinnikinnik company. We found them at our local Sprouts store. They really do taste close to the real thing. And certainly real enough for this girl. I haven't baked any chocolatey, floury, sugary treats since we changed our diet, and we've missed having a sweet little something. Don't worry. They crumble and smear just like regular Oreos.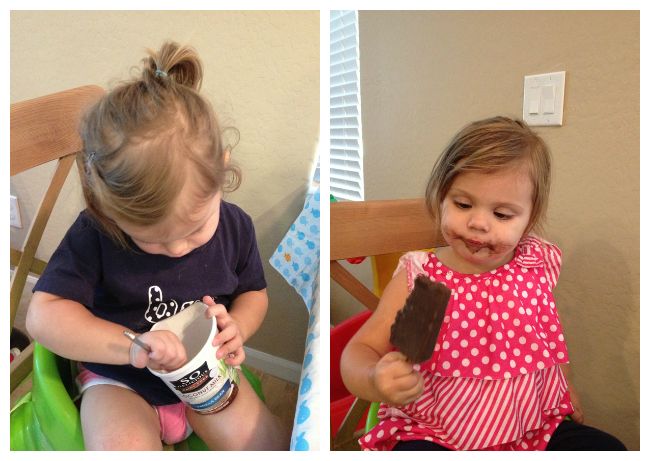 5. And so it begins… There's a good reason we've had dessert most evenings this week. Sophie climbed (read: fell) out of her crib this week for the first time. Yes, I know we're lucky to have lasted this long. With acutely aware senses and a very alert mind, she can often take up to 2 hours (sometimes even more) to fall asleep at night, so her being in the crib was kind of our saving grace. She's also not napped this week, so it looks like sleep is about to take a serious turn… that on top of sleep-training Milo (now that he's in his own room) means I might be a crazy zombie for a few weeks. Bear with me! Also: thank goodness for homemade fudgecicles and those K-Toos!
Happy Weekend, dear reader. I hope it's a great one!