Happy Friday, dear reader! What are you up to this weekend? Michael and I are going to have a fire and toast marshmallows. I can't wait!
Here's the latest: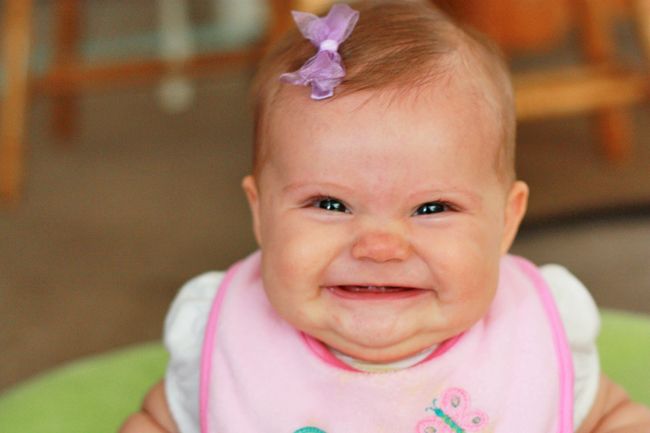 1. Sophie smiles nearly constantly, but hardly EVER laughs, despite our best efforts. For Sophie, smiling is a full body experience. Still, I will make funny faces, dance around, talk in silly voices, and–while she's beaming–I hardly get more than a single, indulgent "heh" or "hm."
2. Though she scarcely laughs, Sophie has developed a hilarious fake cough. She closes her eyes, opens her mouth wide and makes a throat-clearing cough sound. It. is. hilarious.
3. She L-O-V-E-S her vegetables. We haven't tried fruits yet, so that may change in time, but for now she's been enjoying sweet potatoes, butternut squash, and green beans.

4. She's been "singing" lately. It's the best. She pokes her tongue out a bit while she's doing it. I love it!

5. This is totally not important, but it is a happy thought, just the same: I found a pair of jeans that fit. I've needed some new jeans and had some birthday money set aside for just that purpose. I found a GREAT pair at Anthropologie! And I got them on clearance for 70% off! I wouldn't have even looked at them (Anthropologie is SO very expensive!), but Michael found them, encouraged me to try them on, and then told me what a good investment they were. Bless him. I have been in heaven all week–they fit well and are comfortable enough that I can play with Sophie on the floor. Hallelujah! Birthday money well spent.
Happy Friday all!
p.s. Michael likes to do things like turn Sophie into George Washington in the bathtub. I'll admit: I laugh every time.