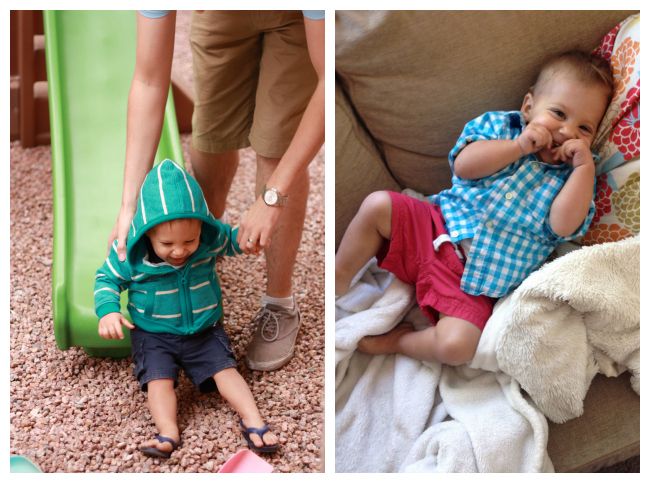 1. I alluded to this on Instagram earlier this week, but Sophie came up with one of Milo's best nicknames. They've been doing this thing the last few weeks, where Milo will get close and Sophie will stop, look at me, and say "teek-o?" (tickle) I'll say "yes! You can tickle Milo!" She'll then wiggle her fingers close to him (occasionally actually making contact) and he'll, of course, beam uncontrollably as if to say "SHE'S TOUCHING ME! ALMOST!" And then I'll say "good job, Sophie! He's so happy! Look, he has a smile!" Well, one day this week, after this exchange, she paused thoughtfully and said "Smile-o!" Smilo it is. Because never in the history of ever has there been a boy so happy to have his sister's attention.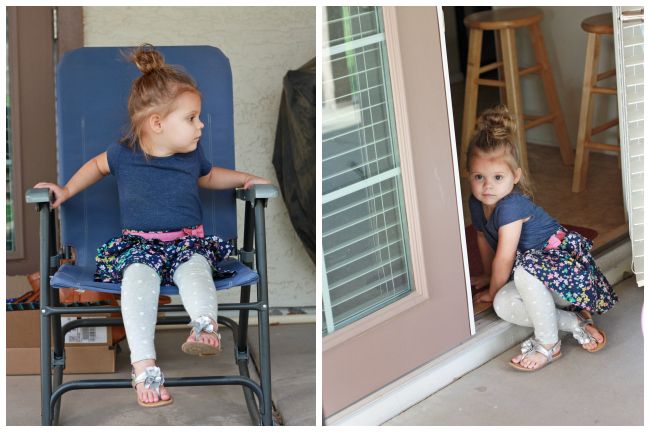 2. April 2nd was Autism Awareness Day. It also happened to be the day of Sophie's first IEP (Individualized Education Plan). She'll be starting special needs preschool this fall, and all our evaluations are done. We wrote up some goals for her based on her specific delays and needs. It was kind of a bittersweet day. We've come so far in a year. We have so far to go. My beautiful, smart, clever girl will be starting real school in just less than four months. I'm so scared and excited for her. I can't seem to get my thoughts together about this last year since our diagnosis, though I've tried writing about it half a dozen times. Suffice it to say (for now, at least) that God is good, life can be so very hard, and love wins.

3. Speaking of love winning, Milo has a few words! He can say "no-no," "all done," "bubble," "shoes," "hi," and (my favorite) "mama." Both of my babies can say my name. They learned it within three months of each other (Sophie started saying my name at Christmas). It makes my heart so happy to hear it, even when it's on the monitor from a certain boy who shall remain nameless who is on nap strike, calling out for rescue.


4. Two weeks ago, we were in Target, on our way to the checkout when out of nowhere, Sophie cried out "DRESS!!!!!" I stopped the cart and looked around. Then I spotted it. Her eyes and arms and fingers were all fixed on The Dress. Mint fabric, floral print, and a cheery yellow flower. Of course you need The Dress in your life, Sophie. Of course. So we walked over, I showed her a few other choices, which she fully and completely in all ways ignored. She cradled The Dress all the way to the checkout, handed it directly to the cashier instead of allowing it to touch the conveyor belt and reached for it to be handed right back to her after it was scanned. She carried it carefully all the way home, hung it up on a door handle and just stood back and admired it. We've worn The Dress at least twice a week since then. It's perfection.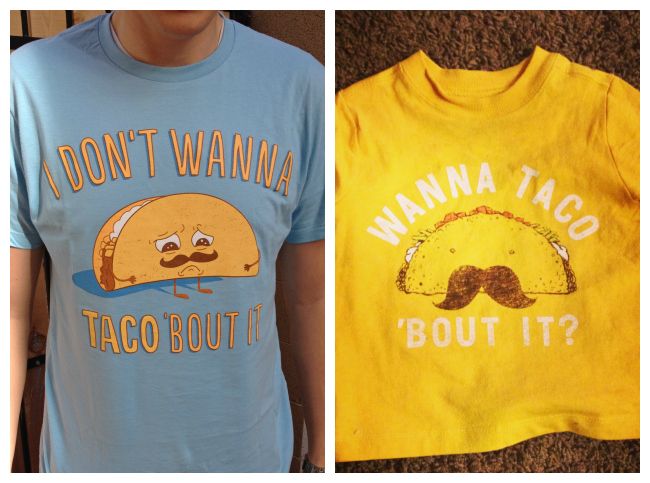 5. It's Michael's birthday this weekend. He doesn't like a huge fuss, so I'm NOT going to tell you that I love him a lot, and I'm NOT going to say that we're SO happy to have him in our family, and I won't tell you how proud we are of the work he's doing in graduate school, or wax poetic on his many virtues, and I won't say that we hope it is a fabulous, wonderful, in-all-ways-good birthday. I will, instead, show you this T-shirt we got him to celebrate (on the left). Now he and Milo can be twins! (though Milo's shirt was long sleeved and that ship sailed like 2 months ago)
SaveSave
SaveSave