I've had several readers ask me what books I'd recommend for pregnancy and for having a new baby. I've read probably way too many books on this. Unless you're writing a book on the subject, there comes a time when too much research is just overwhelming. While I can quote statistics, practices, and research from literally 20 different baby books, I've got to tell you, it's not very helpful. It was tough to narrow it down, but I've gotten it down to (almost) five books I'd recommend.
1. For pregnancy: This is the easiest category for me. I'd recommend either the Mayo Clinic Healthy Pregnancy or What to Expect When You're Expecting book. They contain most of the same information. What to Expect is written in really informal, talking-to-someone-you-know text, where the Mayo Clinic book takes a bit more professional approach. I used the Mayo Clinic book more, but I thought both were helpful.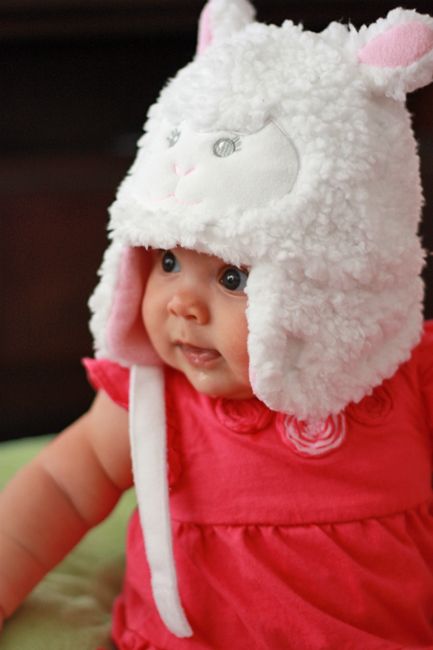 I can't wait for it to be cold enough for Sophie to wear this hat.
2. The Baby Whisperer. This is a routine-based book that gives lots of suggestions. Sometimes, she's a bit preachy–she is very "never let your baby cry or they will never trust you." Overall, though, I felt like there were lots of suggestions on things like feeding, fussing, and developing a routine that works for you. Another helpful one is Healthy Sleep Habits, Healthy Child. This book talks about all kinds of approaches to helping your baby sleep better–everything from cry-it-out approaches to rocking to sleep.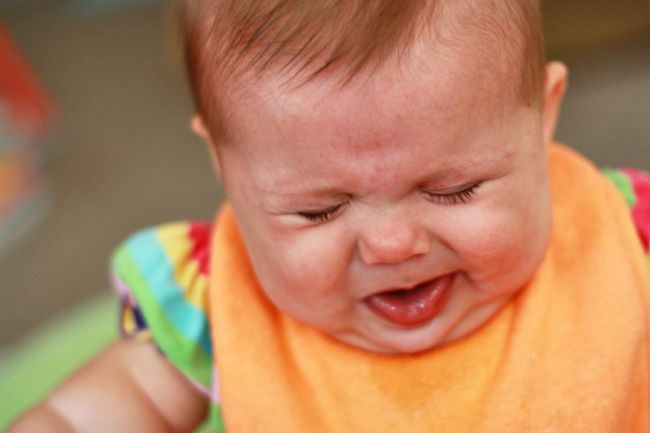 Sophie doing her fake cough
3. Happiest Baby on the Block. I'd actually recommend the DVD over the book for this one, though they cover the same principles. This book teaches you how to calm a fussy or colicky baby. The approach covers 5 s's–Swaddling, side-lying/stomach position, swinging, shushing, and sucking. This was a life-saver in the beginning.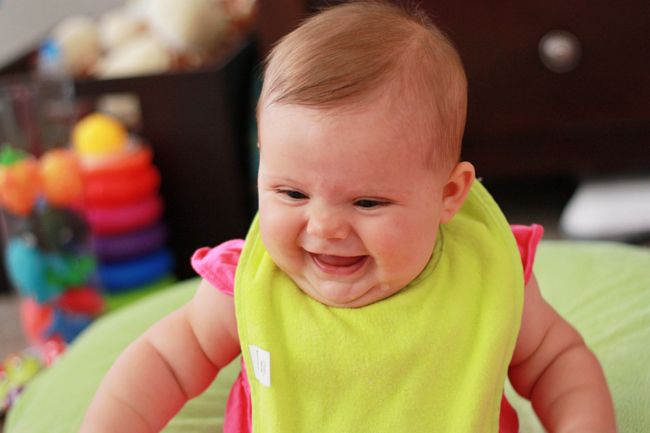 4. It Gets Easier… and Other Lies We Tell New Mothers. I read this at the height of Sophie's reflux, when I felt exhausted, dejected, and overwhelmed, and felt guilty for feeling exhausted, dejected, and overwhelmed. It was a perfect read. It's a light-hearted look at first-time (and anytime) motherhood. The birth section had me laughing out loud with tears running down my face.
First taste of peas. Believe it or not, she likes them!
5. Blender Baby Food. There are lots of books that talk about adding solids to your baby's diet. I found this the most helpful. I loved that the amounts of vegetables or fruits and water are set out for me. There are "meal plan" ideas for the different age ranges, and ideas for which foods to try mixing together. It's the only book that talks about solids that I've liked enough to purchase (I got a pristine used copy on Amazon for a steal!).