grilled peach and bacon salad (gf, df)
Grilled Peach and Bacon Salad – You're going to love it. A great savory way to use up that extra store of summer peaches.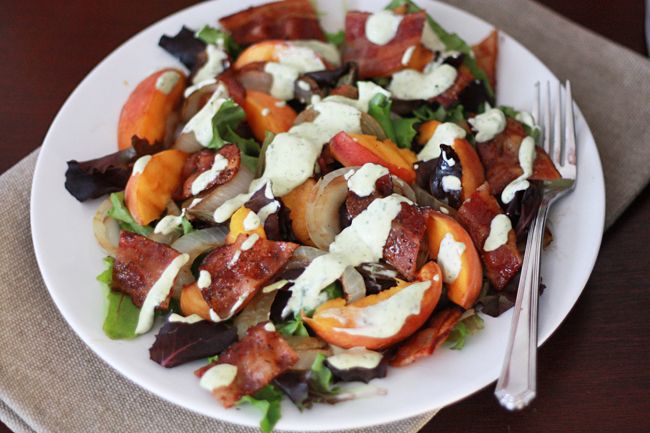 Happy Birthday, Dad! I love you!
It's been the Summer of the Peach for me this year. I typically choose nectarines over peaches (because the fuzzy peach skin is too much hassle to remove), but this year good, juicy nectarines seem to be in short supply in my neck of the woods. Or desert. As it were.
So, I've sucked it up and become quite handy with my paring knife. (Seriously, you should time me sometime. I'm getting quite good. It's one of those special tricks I plan on whipping out at parties when the moment's right.)
As peach season comes to a sad close, I thought I'd give a shout out to one of the best peach meals we ate this summer: grilled peach and bacon salad with caramelized grilled onions.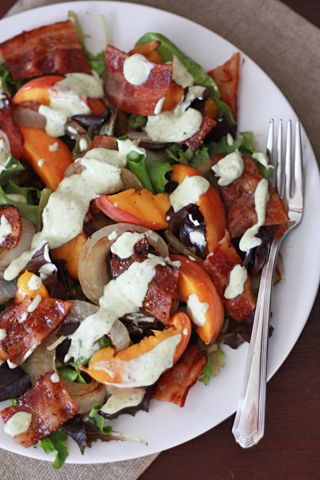 First, a confession: I thought people who talk about topping bacon with something before you cook it were over-reacting. Trying to be too fancy with a trendy food item (people DO put bacon in everything these days). I was wrong. Topping bacon with the tiniest hint of brown sugar and a healthy dose of coarse black pepper made for the tastiest bacon Michael has ever tasted in his entire life and made my top 3. AMAZING. Don't skip this step.
(side note: p.s. baking bacon is my favorite way of cooking bacon. I've been doing it for about a year now, and it's the best, easiest way! Plus, the clean-up is much easier. Win-win!)
Secondly, if possible, I recommend using peaches that still have some firmness to them, as a too-juicy peach (if there is such a thing!) may have a hard time staying together on a grill. Also, for those of you like me who only have an indoor grill pan, that works just fine!
Top this salad with whatever dressing you like–I recommend something tangy or sweet. Brianna's Poppy Seed dressing would be delicious, Sweet Vidalia dressing, or a poppy seed vinaigrette would also make great choices.
Print
Grilled Peach and Bacon Salad
---
8oz

bacon*

2 Tbsp

brown sugar

1/2 tsp

coarse black pepper, or more to taste

2

small Vidalia or sweet onions, sliced into thick rings

4

medium peaches, cut into

1/2

" wedges
olive oil
salt and pepper
spring mix, or other favorite lettuce
Favorite salad dressing – Creamy Poppy Seed, Vidalia onion, or poppy seed vinaigrette recommended.*
---
Instructions
Line a baking sheet with foil or parchment paper and spread out bacon slices so that they are not touching. Sprinkle brown sugar and pepper over the bacon, adding more pepper if desired. Bake bacon at 325 degrees for 25-30 minutes, or until caramelized but not too browned. Let it cool (it will continue to crisp as it cools) and cut or tear into bite-sized pieces.
While the bacon is cooking, preheat a grill pan (or your grill). Brush onions with olive oil and sprinkle with a bit of salt and pepper. Grill over medium heat, turning occasionally until softened, browned, and somewhat caramelized (about 10-12 minutes). Remove onions from grill and set aside. Brush peaches with a little olive oil and grill over med-high heat 2-3 minutes, or until tender. Remove from grill and set aside.
To assemble salad, place spring mix or lettuce on a large serving platter. Top with grilled onions, peaches, and bacon. Drizzle with desired salad dressing and serve right away.
Notes
*For gluten free, be sure to use GF bacon (I prefer Hormel Naturals Uncured). For a gluten & dairy free dressing, Brianna's brand poppy seed is a great choice.
Adapted from Food & Wine magazine