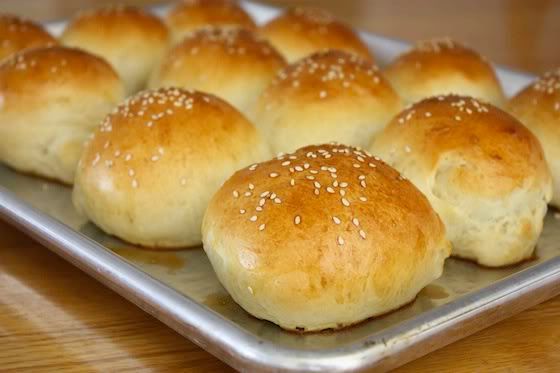 My penchant for making things I could buy in the store continues.
I really don't know what it is. I just. really. like it.
I've been making all our sandwich bread for a year now, and my ambitions are now turned to learning to make all the other sorts of bread we eat–buns, ciabatta, etc. Yep, folks. It's official: I am a crazy person.
Michael had a hankering for hamburgers the last week and I decided that now was as good a time as any to try making homemade buns. They were pretty darn easy, and after adapting a few recipes, I came up with something that really worked out well. Michael and his brother Daniel loved them with their burgers. I ended up grilling a portobello mushroom and did without a bun, but I tried one and they were great!
They kept well for the two days we had them out on the counter in a bag. We froze the rest and will use them later, but we decided they are a bona fide hit!
Notes: I use SAF Instant Yeast. I keep it in a freezer (thicker) zip-top bag in my refrigerator. It keeps like a dream and works better and more consistently than any other yeast I've tried. If you make bread fairly often, it's also a much better buy than buying individual packets of yeast. Also, I use bread flour because of a higher gluten content. I find I get softer bread this way.
You can certainly make these by hand. I've just included mixer directions here. If you're making these by hand, add 2-3 minutes to the kneading time (since despite our best efforts, we just tend not to be as efficient as a motored mixer).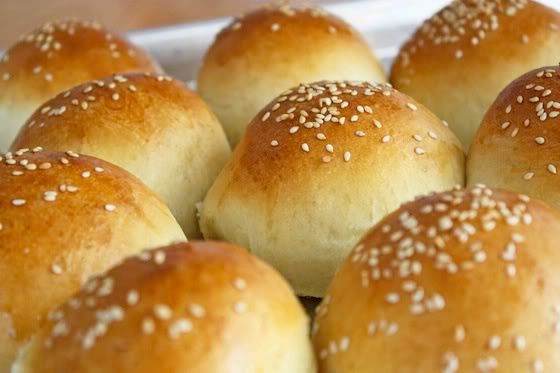 Print
1

c warm milk

3 Tbsp

warm water

1 Tbsp

sugar

2 tsp

yeast

5 Tbsp

butter, melted

1 tsp

salt

2

c bread flour

1 1/2

–

2

c all-purpose flour
egg wash: 1 egg + 1 Tbsp milk
sesame seeds (optional)
---
Instructions
In a liquid measuring cup or small bowl, combine milk, water, sugar, and yeast. Allow to proof (sit) for 3-5 minutes or until bubbles form at the top.
Add to bowl of mixer, and add butter, salt, and bread flour. Mix on low speed using the dough hook attachment for 1-2 minutes or until bread flour is well incorporated. Add in all-purpose flour 1/2 cup at a time until bread dough pulls away from the sides. (I only used about 1 3/4c bread flour). It should still be moist but not sticky.
Knead about 5 minutes (mixer on medium speed) or until smooth and elastic. Place dough in an oiled bowl, cover, and allow dough to rise for about 1 hour, or until doubled.
Punch dough down and refrigerate for 30 minutes.
Divide the dough into 12 balls for hamburger-sized buns or 18 for slider-sized buns. Place on a greased baking sheet and cover (I use plastic wrap sprayed with nonstick spray). Allow to rise until doubled in size, about 40 minutes.
Combine egg and 1 Tbsp milk to make egg wash. Brush over tops of buns and sprinkle with sesame seeds if desired.
Bake at 425 degrees for 10-12 minutes or until a golden. Allow to cool before using.