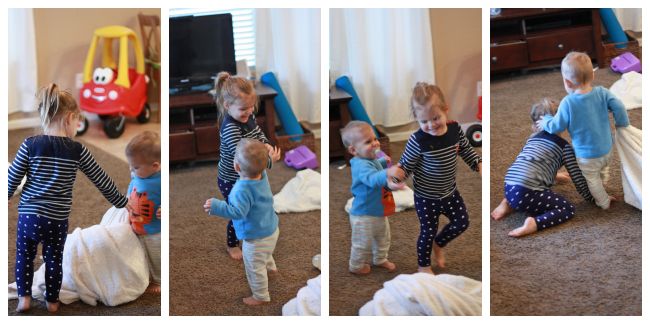 1. They're wrastlin'! I really didn't know when or if it would ever happen, but my babies are purposely playing together! Sophie's decided it's hilarious for Milo to chase her. He LOVES any sort of attention she'll throw his way, so other than a few too-rough incidents, I just can't get enough. She'll stick her arm out to get him to reach out for her, then run away squealing. It's the best. And, even better, no lacerations or concussive injuries have occurred yet, so win-win.

2. Thank you to everyone who recommended the water table! We got ours last Thursday, and the babies have played with it for at least an hour almost every day since then. We LOVE it! (We got this one)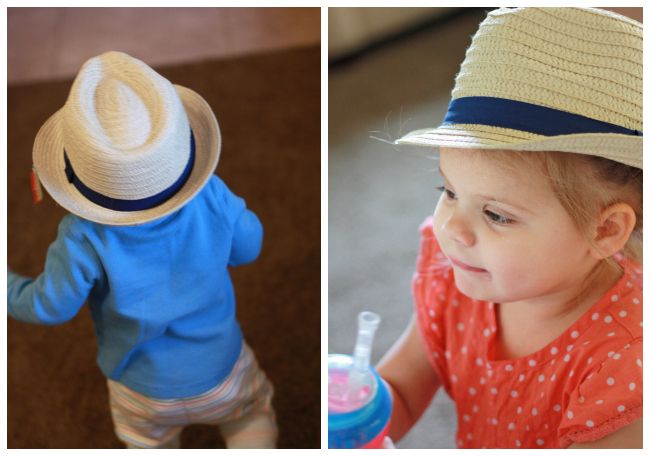 3. I'm a sucker for tiny hats. I never wear hats. I don't look sleek, stylish, or fashionable in them. I look like a goofus. But. Tiny hats? For tiny babies? I can't help it. And fedoras were in Target's dollar bin this week. So… that happened. Best 100 cents I spent all week.

4. Can we talk about how Milo is Michael's mini-me? Because he is. Sophie looks a LOT like Michael too. In fact, no one really thinks there's any of me to be seen in my children. But, Milo = Michael. Am I right?

5. I've had a hard time charging up my mama mojo this week. There have been some long days, lots of babies awake in the night, and it's been a little hard to keep a smile on my face and my energy up. What are your favorite mom tricks for those days? I've been exercising, eating right, going on walks, and trying to make a daily devotional part of my day. I'm just feeling a little (lottle) spent!
(p.s. those bottom two are some of my favorite pictures of Sophie ever)
Happy weekend, dear reader! I wish you every good thing!