how i make mashed potatoes (gf)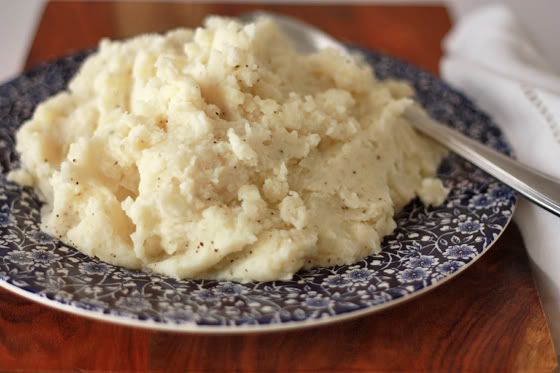 When Atkins was really popular, I was in the thick of nutrition classes at college. Even if I hadn't discussed potential health risks of the diet in my classes, I knew right away that I could never be an Atkins short-timer or lifetime-er.
Fact is, I love carbs.
Mr. Carbohydrate and I have had a love-love relationship for as long as I can remember. Most of my carbohydrate sources are from fruits, vegetables, and whole grains (oats, whole wheat, brown rice, etc.), but man alive, I jolly well love some white fluffy stuff every once in a while.
Potatoes may be my favorite source. Especially while pregnant.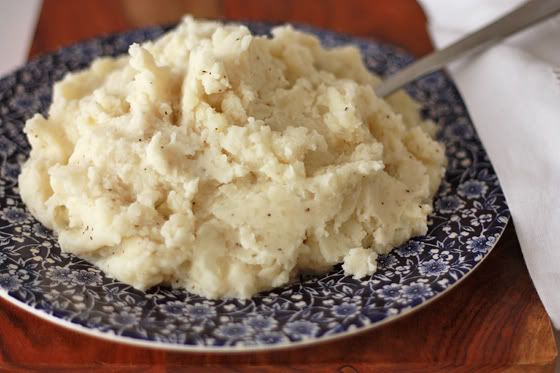 There are a million ways to make mashed potatoes, and almost all of them I've ever tried have been great. As a college freshman, my roommates and I decided to hold a mini roommate Thanksgiving and when it came time to make the mashed potatoes, everyone was very convinced theirs was the only way. One roommate was butter only, one was butter and cream, one was sour cream only, and I stood there with a can of condensed milk and some garlic ready to jump in. We ended up compromising. And I learned that I liked my mashed potatoes best when made with butter, milk, and sour cream.
While I love red-skinned potatoes mashed with garlic, or smooth potato puree with butter and cream, I love these for my everyday mashed potatoes.
Notes on the recipe: The amounts of the add-ins are given in ranges, since sometimes I find I need just a bit more of this or that to get the texture just right. Start at the low end of everything, then add whatever you need to get them the way you like them.
Also, you can use whatever you have to mash the potatoes. I most often just use a fork, but if you have a food mill or potato ricer, you can get even smoother results.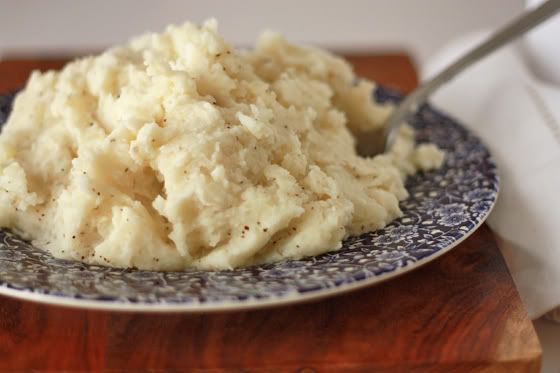 Print
Basic Mashed Potatoes
---
Yield:

6

as a side dish

1

x
2 1/2

lbs potatoes (I mostly use Russet), peeled and cut into

six

ths or

eight

hs

2

–

3

Tbsp butter

4

–

5

Tbsp milk (any percentage)

3

–

4

Tbsp sour cream or Greek yogurt

1/2

–

3/4

tsp salt

1/2

–

3/4

tsp pepper
---
Instructions
Place potato pieces in a large pot and cover with water. The water should cover the potatoes by about 2 inches. Bring the water to a boil and cook the potatoes 8-12 minutes, or until they are very tender when pricked by a fork. (If you're not sure if the potatoes are done all the way, take out a piece and try to smash it with a fork. If it doesn't smash easily, the potatoes need to cook longer.)
Drain potatoes and transfer to a large bowl. With a fork, potato masher, food mill, or potato ricer, mash the potatoes (a few lumps are okay here). Stir in 2 Tbsp butter, 4 Tbsp milk, 3 Tbsp sour cream, 1/2 tsp salt, and 1/2 tsp pepper. Taste and add additional amounts if necessary to achieve desired texture and flavor results.