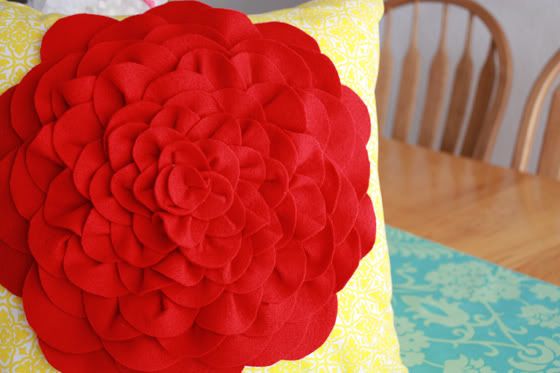 I continue slowly but surely working on projects around our house. It's fun to see it come together and makes me feel just like Donna Reed in It's a Wonderful Life. (side note: I love that movie and I love Donna Reed. I want to be her when I grow up.)
This weekend, I embellished a pillow cover I'd made earlier with a felt flower. And I thought you might want to make one too! It was a fun, inexpensive project that went really quickly. I did all the sewing by hand–I love sewing with felt by hand–but you could certainly do it with a machine if you're starting from scratch instead of using a pre-made cover.
I got the original idea from my FAVORITE resource for quilting ideas, Cluck Cluck Sew. You can see her tutorial here. I've adapted her pattern a bit, and here's what I came up with.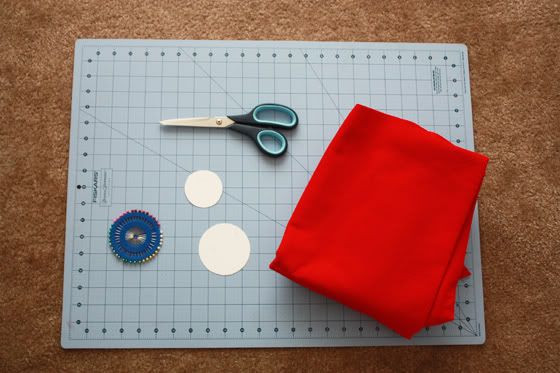 Begin with the pillow cover you plan on using, about 1/2 yard of felt (buy the kind on the bold not the individual sheets), thread to match the felt, and and some cardstock. Trace a 3″ circle and a 2 1/2″ circle onto the cardstock and cut out to use for your pattern.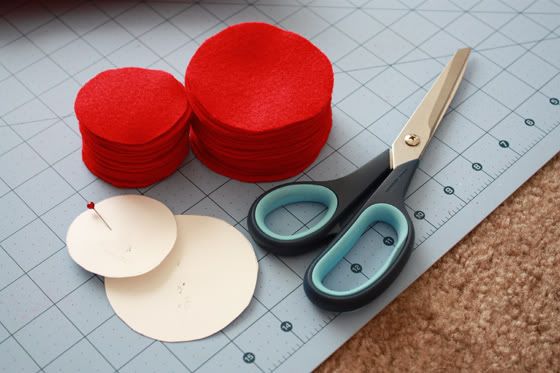 Cut 28 large circles using the 3″ template and 24 smaller circles using the 2 1/2″ template. I found I could cut out at least 2 circles at a time by folding the felt in half and pinning on my template with a straight pin.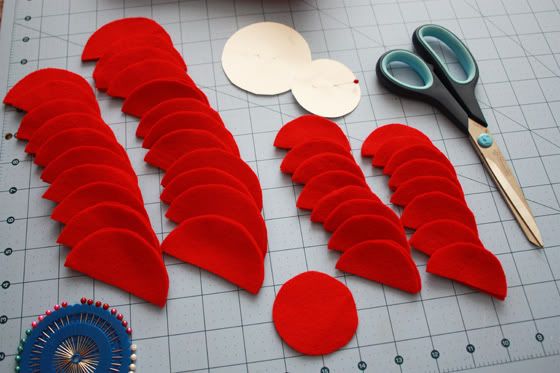 Cut all the large circles in half (doesn't have to be exact). Cut all but one of the smaller circles in half. The whole circle will be used for your final piece to make the flower's center.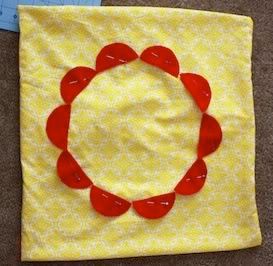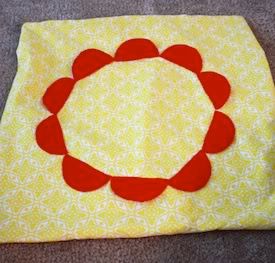 Start with the large circle pieces and form a circle on the right side (visible side) of the pillow cover fabric. If you're nervous about doing this freehand, trace a large circle onto your fabric and use that as your guide. (I used 10 pieces for the outer circle.) Use straight pins to fasten the pieces, overlapping the tips by about 1/4″. Sew the straight edge of each semi-circle onto the pillow cover. This will be the largest ring of your flower. If things didn't come out perfectly, don't worry.
Arrange the next circle of pieces to fill in the gaps of the first circle. (Think of it like laying bricks. You don't want all the rows exactly on top of each other.). Sew straight edges down.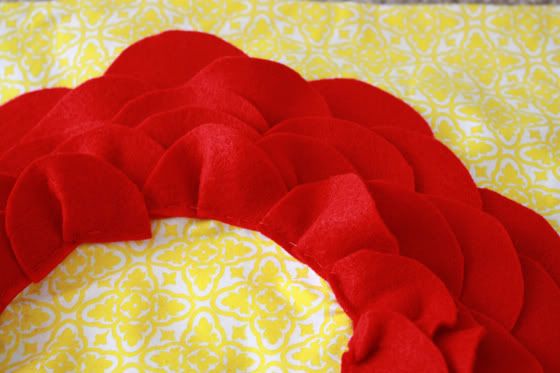 When it becomes difficult to sew the edges straight down, add a small pleat near the center and sew down. You will need to do this as the rows get smaller and smaller. (I started on the 4th row.) It will also help the flower become a bit more 3-D, as shown.
When you run out of large pieces, begin using the smaller pieces, again using pleats when it becomes difficult to sew straight edges down. Repeat until you reach the center. If you need a few extra circle pieces, trace a few extra small circles and cut in half (I didn't, but you might, depending on how tightly you layer the flower petals).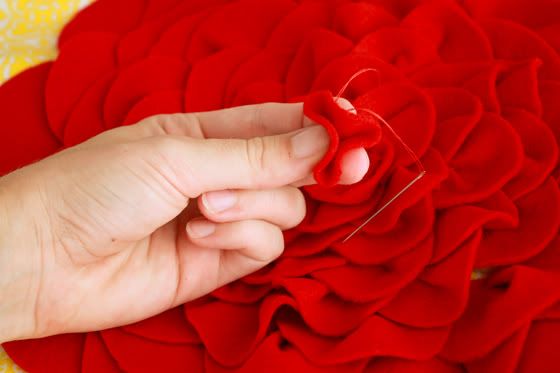 When you get to the very center, pull the needle up through the center of the flower. Hold the final small circle in your hand and pinch together in a few places (I did mine in three). Stitch around the bottom, where you have it pinched, then sew back down onto the center of the flower.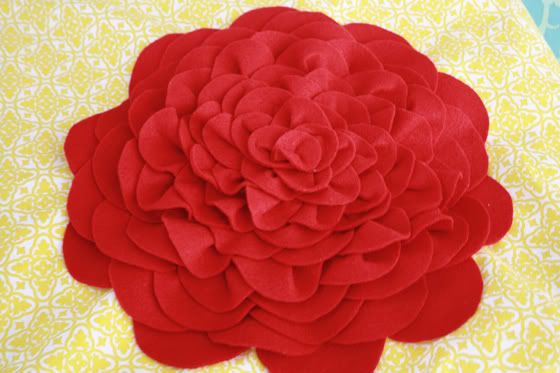 Secure with a few final stitches. You're done!
It looks nice finished, no?