how to make felt flowers (and a wreath idea)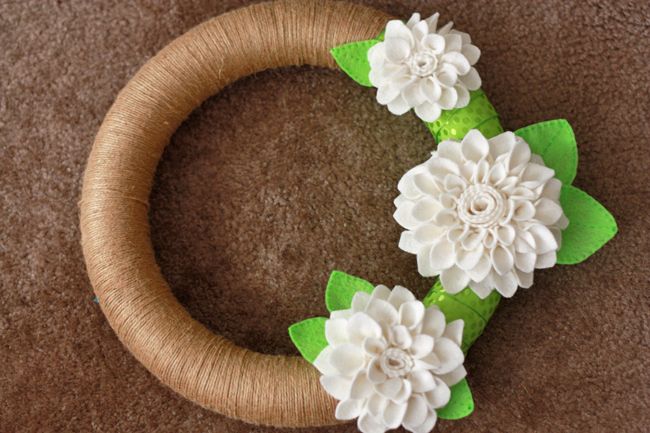 One of my most popular posts to date is the tutorial I did of how to make a flower pillow. I'm thrilled for everyone who's had success with the tutorial. It makes me wish I'd done a better job of taking pictures.
I have done exactly zero craft projects since Sophie's birth. That may or may not have something to do with the fact that I've usually collapsed into bed by 8:00pm (I used to go to bed right after putting Sophie to bed for the night at 7:15ish, so I'm getting better!).
Anyway, I was bitten by the crafting bug and for $4.50 I was able to complete this project, since I had all the materials except a foam wreath frame on hand.
Thus, I give you an exceptionally amateur tutorial on how to make this wreath, and, more specifically, how to make felt flowers.

For this project, you'll need 1 foam wreath frame (I found one at Wal-mart, but I know JoAnn's, Hobby Lobby, and Michael's carry them), twine or yarn, ribbon (if desired), felt, hot glue & hot glue gun, and a needle & thread.
If you're buying felt, you could probably complete this project with 2-3 8.5″ x 11″ sheets maximum, which would give you some room for error. I had some by-the-yard wool felt leftover from the quiet book I made, so I just used that.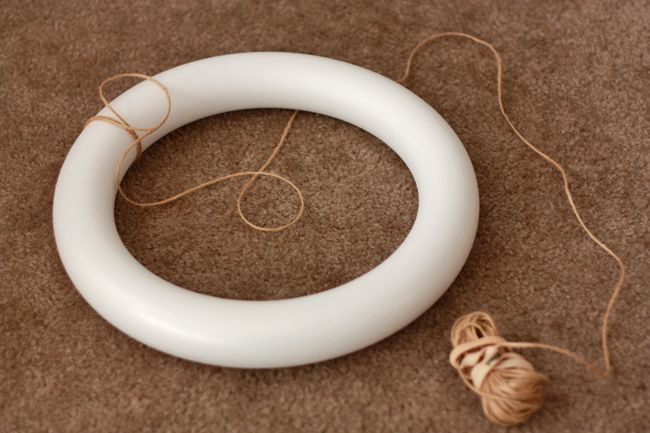 Step 1: wrap your foam wreath frame with twine or yarn of your choice. Try to wrap it as tightly as possible. Secure the ends with hot glue. This is a really good activity to do while watching something, such as You've Got Mail or re-runs of the show Pushing Daisies.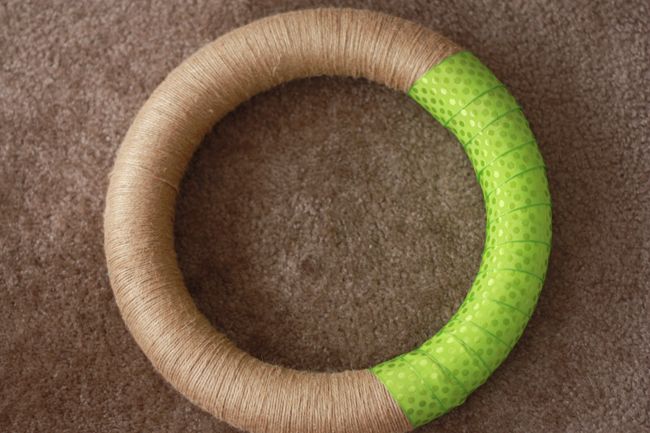 Step 2: If you want part of your wreath wrapped in ribbon, as I did here, wrap ribbon around the segment you want covered and secure the ends of the ribbon to the back side of the wreath with hot glue.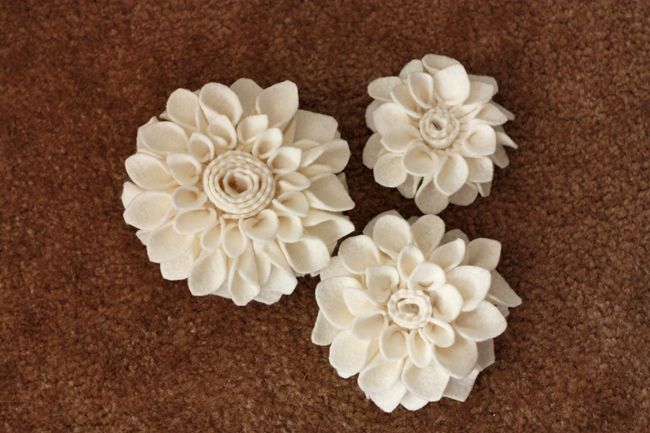 Step 3: Start your flowers. Naturally, the number of squares you need depends what size you want your flower. Start by deciding how large you want the backing of your flower. I made three different sizes of flowers–large (3 1/2″), medium (2 3/4″), and small (2 1/2″). The finished flowers were, 5 1/2″,  4 3/4″,  and 3 1/2″ wide, respectively. I will give directions based on the largest flower.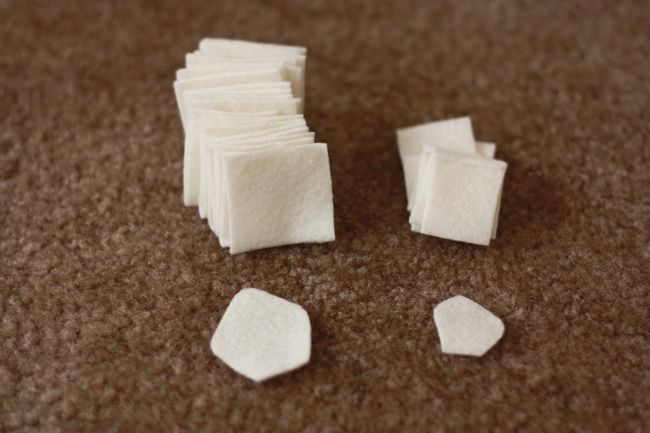 Cut 35-40 1 1/2″squares, and 12-15 1 1/4″ squares (I ended up using 37 large and 14 small. You may use more or less depending on how tightly you place your petals.)
To form petal shapes, trim each square slightly to soften the corners, as shown. I didn't use a template, and not each petal was exactly the same. I preferred it this way, as it gave the flowers a nice effect. You'll notice that the petal on the left is quite symmetrical, whereas the right petal is a bit slanted to the right. This is completely fine. Don't worry about exactness, it really isn't a science.

Step 4: For a large flower, you will be making three rows of petals. Begin at the outer layer, using the 1 1/2″ size petals. Attach petals by folding the bottom half of each petal in toward itself as shown. Place one stitch in each half of the flower, and continue attaching petals.

I find they look really nice when the petals are packed tightly together–I used 20 petals for the outer row. You may prefer them a bit looser.  Repeat this attachment process, using 1 1/2″ petals for the outer and middle rows and the 1 1/4″ petals for the center row.
*If making a medium flower, use this same method. If making a small flower, make only two rows of petals.

Step 5: When you are finished attaching petals, you'll have a bit of a gap in the center. To make a flower center, cut a small strip of felt, thin and long. I'm sorry, I forgot to measure exactly what I used, but it doesn't really matter–I cut each strip freehand.
(Note: I used pinking shears for a zig-zag finish, but you can use regular scissors and have a smooth finish. Both look great).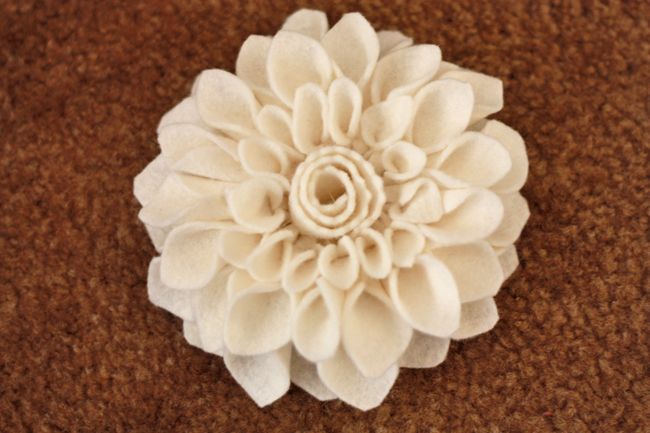 Curl the strip up on itself into a spiral. Attach it to the center of each flower with either hot glue or a few stitches.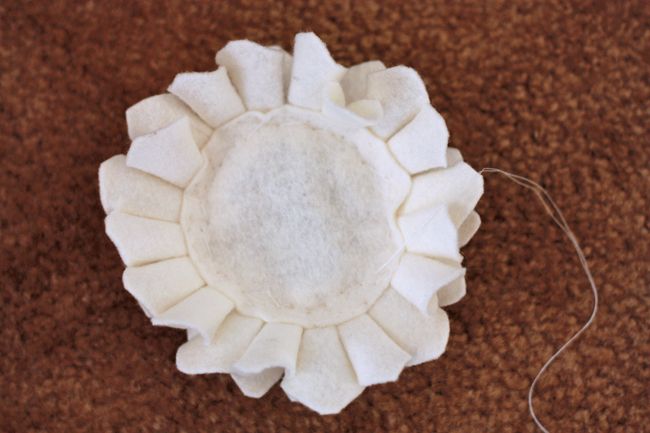 Step 6: You can stop here if you like. I found that my flowers weren't laying completely flat. Here's the back of my flower.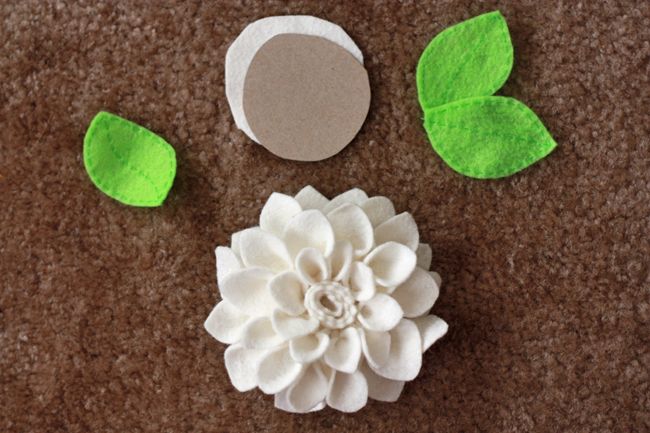 If you want a bit more structure, cut a small circle of cardboard out the same size as your flower back (here, about 3 1/2″). Cut a second circle of felt the same size (again, 3 1/2″). Cover one side of the cardboard with felt and attach it with hot glue. Then attach it to the back of your flower with hot glue.
*Note: I promise this isn't as lime green as it's reading on the blog.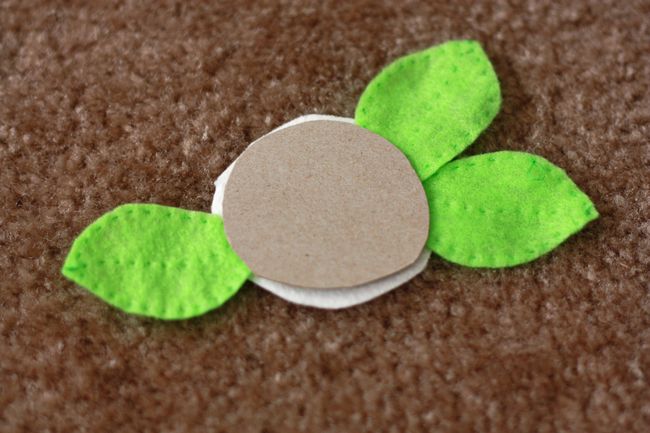 If you want to attach any leaves to your flowers, cut them out and attach them to the cardboard backing of the flower before attaching it to the flower.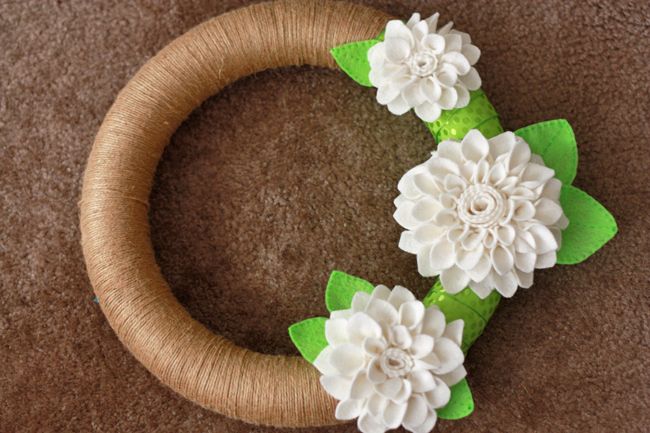 Step 7: Arrange your finished flowers any way you like on your wreath and attach with hot glue.
And that's it! Much easier than it looks, eh? These flowers could easily be turned into brooches, or could be used to top gifts, if you're no feeling the wreath.