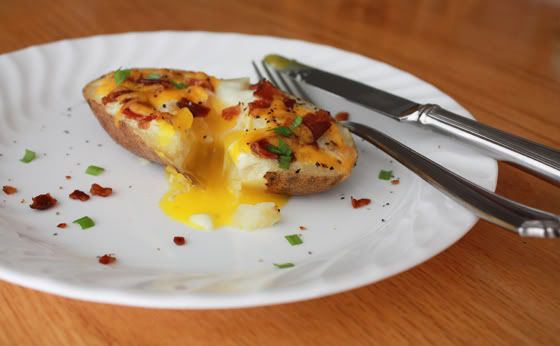 Sometimes I think it would be the COOLEST to work in a diner–you know, and be able to shout out diner short-hand to Bubba, the loveable fry cook behind the counter.
"Bubba! I've got an Adam & Eve on a raft with a side of moo juice (two poached eggs on toast with milk)" or "Hey Bubba! Flop two, add a shingle with a shimmy and a shake, and finish 'er off with a pair of drawers (two eggs over easy, toast with butter and jam, and two cups of coffee)"
It would be just like the time Lorelai watches the diner for Luke on Gilmore Girls. I think it would be really, really fun. Sigh…
Then I remember that diners aren't the sparkly, happy, mom & pop places they used to be. Instead, they're usually dingy, dirty, run-down, and staffed by underpaid teenagers with swoop bangs across their eyes and personalities as dry as Ben Stein's voice.
So I decide to make breakfast at home and call it good.
What does this have to do with anything? Well, diner-speak is how this dish gets its name. An Idaho Sunrise is a potato filled with a sunny-side-up egg. It makes for an easy breakfast, brunch, or dinner and looks great on a plate.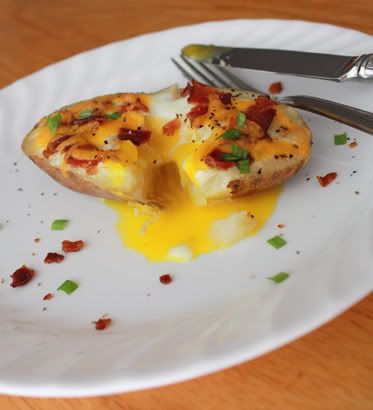 I've seen several recipes similar to this one floating around the web, so I sort of combined them and came up with this. The recipe below is for 2, but you can certainly double or triple the recipe as needed. One perk is that you can use leftover baked potatoes or bake them the day/night before you want to use them.
You can top these with whatever you like–cheese, bacon, chives, salsa, breakfast sausage–anything that strikes your fancy. I provide a basic example here, but feel free to change it up and make it your own…Bubba would want you to.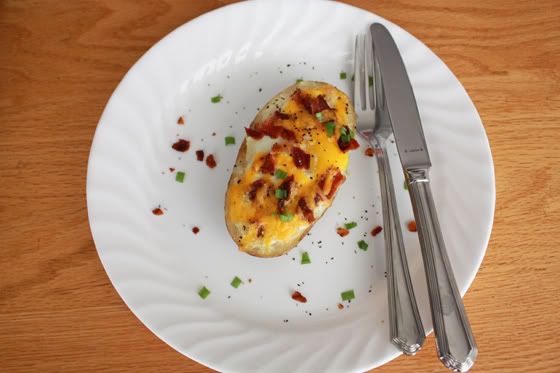 Print
Idaho Sunrise
---
1

large baked potato (already baked)

2

eggs

2

slices bacon, cooked & crumbled*

1/2

–

1

Tbsp butter, melted or olive oil
grated cheese*
chives or green onions
salt & pepper
---
Instructions
Slice the potato in half lengthwise, and carve out bowl shape using a spoon. Discard what you've scooped out. Try to only leave a small border around the edges of the potato so you have plenty of room for the egg. Brush the inside and outside of the potato with butter. Sprinkle with salt and pepper. Crack an egg into each half and sprinkle with bacon and cheese.
Bake at 350 degrees for 20-25 minutes, depending on how firm you want your yolk. Mine was soft at 20, and Michael's was firmly cooked through at 25. Garnish with additional toppings or salt and pepper, as desired.
Notes
*For a gluten-free version, double-check that your bacon is gluten free. I like Hormel Naturals Uncured bacon, which has the added benefit of no nitrates or nitrites. For a dairy free option, sub olive oil for the butter and skip the cheese.