meatballs marinara (gf, df)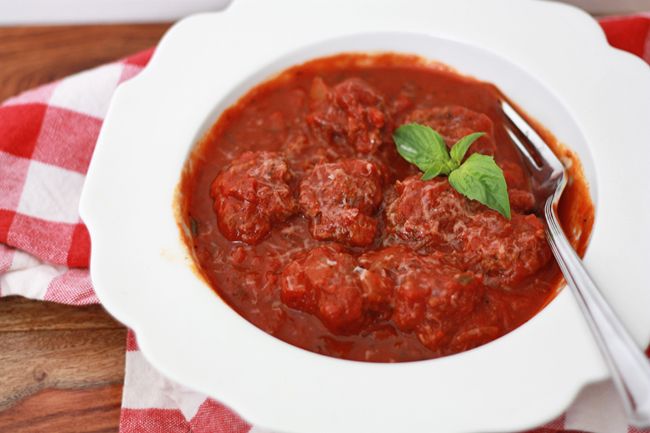 The weekend brought with it a chilliness we couldn't help but relish, since we've had temperatures in the 60's and 70's for the past month. (It's hard to really feel like Christmas is coming when you're wearing flip-flops and don't need a jacket.) I actually love the weather here, so I hope that didn't sound whiny. All I'm saying is that I'm glad it feels a bit more wintry than it has.
Since the weather is cooperating, we figured we'd better celebrate with a hearty, warm, cozy meal in.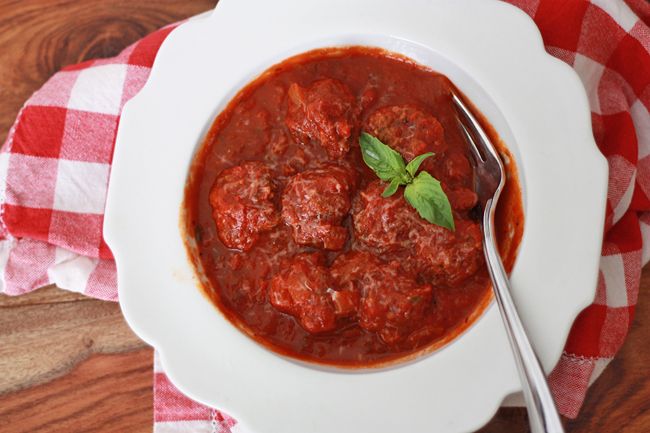 I've made this recipe 3-4 times now, and I think I have it just about where I want it. I love how tender the meatballs stay by cooking in the sauce. I think the sauce has just the right amount of herbs, and these meatballs are dynamite with pasta or on a toasted bun with some mozzarella for sandwiches. They freeze beautifully, so feel free to make a double batch to freeze for later.
Do with them what you will, just know… you'll be in love.
Print
Meatballs Marinara
---
For the marinara:
2 Tbsp

olive oil

1/2

medium onion, diced

1

(28oz) can crushed tomatoes and their juices

1

(6oz) can tomato paste

2

–

3

Tbsp sugar

1 1/2 Tbsp

fresh basil (or

1 1/2tsp

dried)

2 tsp

dried oregano

1 tsp

salt

1 tsp

pepper

1/2 tsp

garlic powder
For the meatballs:
1

lb ground beef (I've used 85% and 93% lean with good results)

1/3

c fresh breadcrumbs*

2 Tbsp

fresh parmesan*

1 Tbsp

fresh basil (or

1 tsp

dried)

2 tsp

dried oregano

1/2 tsp

salt

1/2 tsp

pepper

1

egg
---
Instructions
Start by making the sauce. Heat olive oil in a large, deep pot or Dutch oven over medium heat. Add onion and saute until translucent and tender, 3-5 minutes. Add crushed tomatoes & their juices and tomato paste. Stir until smooth. Add 2 Tbsp sugar, the basil, oregano, salt, pepper, and garlic powder and stir to combine. Taste and add additional sugar if desired. Cover and bring to a simmer over medium-low heat while you make the meatballs.
To make meatballs, break up ground beef in a large bowl. Sprinkle over breadcrumbs, parmesan, basil, oregano, salt, and pepper. Beat egg in a small bowl and pour over ground meat/breadcrumb mixture. Use a fork or your hands to stir the mixture until just combined. (Try not to over-mix the meatball mixture, just make sure everything's pretty evenly distributed. If your mixture feels a little dry, you may add 1-2 Tbsp milk.)
Make 1 – 1 1/2 inch diameter meatballs and drop them directly into the simmering sauce. I've gotten between 14-18 meatballs out of this recipe. You may get more or less depending on the size you make. Cover sauce and meatballs and simmer over medium-low heat for 45-50 minutes.
Serve with pasta or on buns for sandwiches.
Notes
* For a gluten free version, sub gluten free breadcrumbs or make your own by pulsing a slice of gluten free bread in a food processor. For dairy free, just skip the parmesan. It won't affect anything.