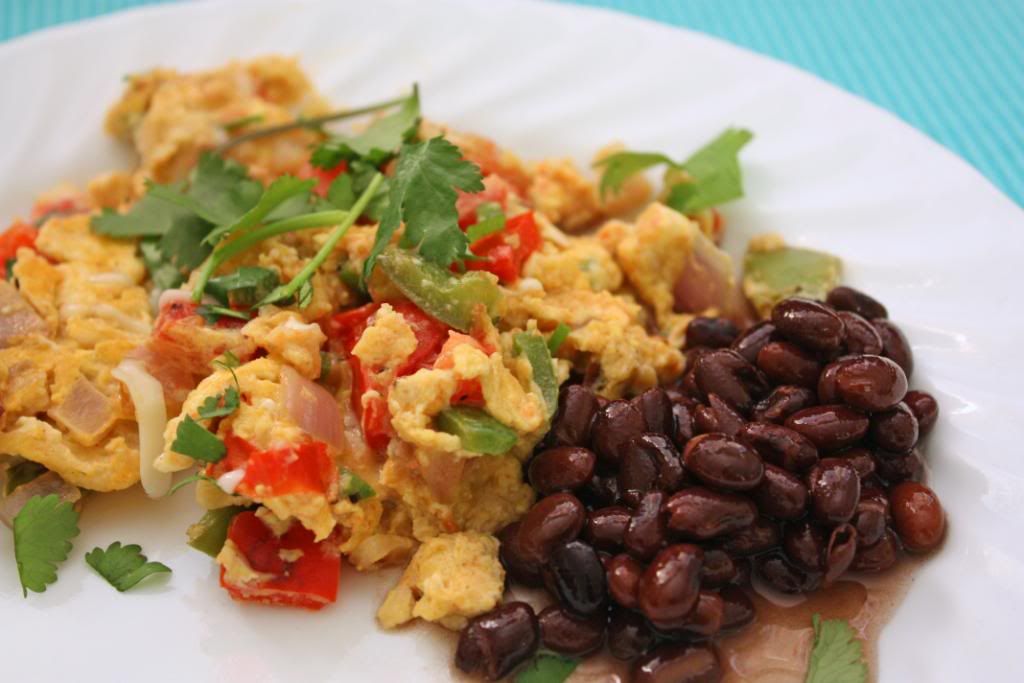 I am an egg person. I can happily eat an egg for breakfast, lunch, or dinner. I like them almost every way I've ever tried them.
Michael, however, doesn't.
He used to. But when he was living in upstate New York, he was friends with a farmer who brought him 5 dozen eggs a week. For about four months, he ate breakfast burritos, scrambled eggs, fried eggs, egg sandwiches, toad-in-the-hole, and even tried scrambled eggs with ranch dressing and taco seasoning mixed in with them (I know. I threw up in my heart too).
Needless to say, Michael has been done with eggs for some time now. Even almost three years later.
Still, I find myself with a hankering for eggs every now and then, and so I try to come up with ways that Michael can stomach them and I can enjoy them.
I'd seen Migas on both the Closet Cooking and Pioneer Woman blogs and thought they sounded great–enough flavor to help Michael not feel like he's eating plain eggs, and enough eggs for me to satisfy my craving.
They were delicious! I really enjoyed something a little different for dinner (though these would be great for brunch or breakfast, too), and I LOVED them with black beans.
Feel free to make these any way you like–add in a little bit of this or that (green chiles might be nice), or leave out a bit of this or that (no cheese) to make them your own. They're very, very flexible, as almost all recipes should be.
**friendly reminder: when working with jalapenos, protect your hands with gloves or plastic bags to avoid getting the oils on your hands. When you rub your eyes later, you'll be glad you did.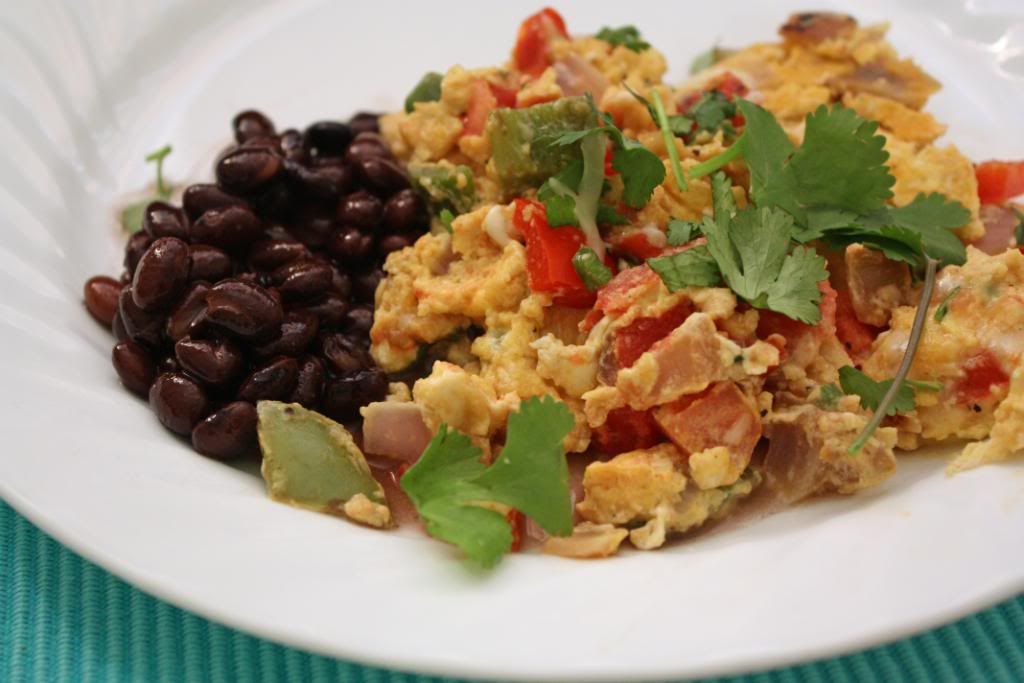 Print
Migas
---
4

corn tortillas*

2 Tbsp

canola oil

9

eggs

1/4

c milk (I used skim)
salt and pepper

1 tsp

olive oil or butter

1

red or orange bell pepper, large diced

1

green bell pepper, large diced

1

red onion, large diced

1

jalapeno, seeded and minced

2

tomatoes, diced
Monterrey Jack cheese, grated (I used between 1/4-1/3c)
cilantro, chopped
black beans (canned or dry beans that have been cooked)
---
Instructions
Heat canola oil in a small pan over medium-high heat. Add 1 tortilla and cook a few minutes (2-3) on each side to crisp it. Set on paper towels to cool and repeat with remaining tortillas. Discard remaining oil and let tortillas cool. Chop into large pieces.
In a small bowl, whisk together eggs and milk until well combined. Sprinkle with salt and pepper and set aside.
Add butter or olive oil to large pan and heat over medium-high heat. Add peppers and onion and cook until browned around the edges and softened. Add jalapeno and tomatoes and cook 2-3 minutes more.
Reduce heat to medium-low. Add egg mixture and stir slowly, as you would making scrambled eggs. When eggs are cooked through, remove from heat. Stir in tortilla pieces, and garnish with cheese and cilantro. Serve with black beans.
Notes
*For gluten-free: be sure your tortillas are, in fact, gluten free. I like Tortilla Land brand.