Updated from the archives
It's official: I am a crazy person.
Probably not a news flash to anyone who reads this blog, but there it is all the same.
It's the very beginning of fall and I'm already three soup recipes in. This might not seem strange, until you consider the fact that the chilliest it's gotten here in the desert is about 93 degrees. Soup weather? Probably not, but it's fall for-crying-out-loud!
Minestrone is Michael's very favorite soup. It was one of the first meals I made for him when we got married, and he can't get enough of it. It's chock-full of vegetables and the broth tastes absolutely incredible. It's easy to switch things out for your tastes or if you have different ingredients on hand–you can swap cooked barley for the pasta, or Italian sausage for the kielbasa.
I like pairing minestrone with grilled ham, mozzarella, and basil pesto sandwiches. It's also great by itself or with rolls or breadsticks. Anything you like, really.
This soup freezes really well and is a great meal to take to a neighbor in need. I often bring this soup when my friends have babies or have gotten surgery. It gets even better as time goes on, so don't be afraid to make it ahead of time.
If I'm making it with the intention of freezing it, I'll sometimes leave out the pasta and freeze it that way, adding in the pasta when I'm ready to serve it. However you choose, it's one great soup.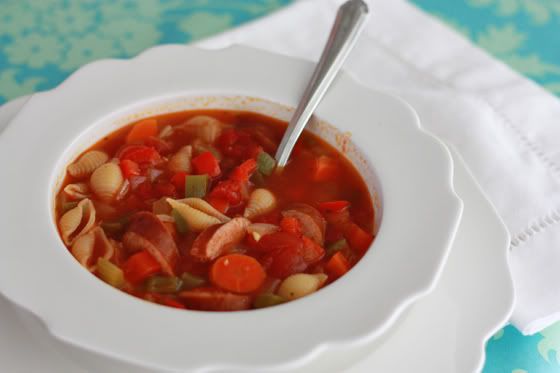 Print
1

lb. kielbasa sausage, cut in half lengthwise and sliced (I prefer turkey or light versions)

1

onion, diced

2

bell peppers (I use red and green), diced

3

carrots, peeled and diced

4

stalks celery, diced

2

cloves garlic, minced

1

(28oz) can whole plum tomatoes (Italian-style or regular) and their juice

1 quart

chicken broth or stock

1

(14.5oz) can Great Northern or canellini beans, rinsed and drained

1/4tsp

dried oregano

1

–

2

Tbsp fresh basil (or

1tsp

dry)

1 1/2

c dry medium-sized pasta (orrechiette or shells)
olive oil, salt, and pepper
---
Instructions
In a large soup pot or Dutch oven, brown sausage in a small drizzle of olive oil. Remove sausage and set aside.
Add onion, bell peppers, carrots, and celery to pot, stirring to scrape up any brown bits. Sprinkle with a little salt and pepper and continue to cook over medium heat until veggies are crisp-tender, about 10-15 minutes. Add garlic to pot and cook 1 minute more. Return sausage to soup pot.
Using your hands, break up or crush the tomatoes into the soup pot. Add tomato juices and the chicken broth to the pot. Stir in beans, oregano, and basil. Cover and bring to a simmer over medium heat. Simmer about 20 minutes.
While soup is simmering, cook pasta according to package directions in a separate pot. Cook until al dente. Drain and add to soup pot. Stir to combine and add 1-2c water if necessary or if more broth is desired.
It tastes even better the longer it sits (as is the case with most soups).
Notes
If I'm making it with the intention of freezing it, I'll leave out the pasta and freeze it that way, adding in the pasta when I'm ready to serve it.