Broccoli Bacon Salad – One of my favorites for barbecues, picnics, and potlucks.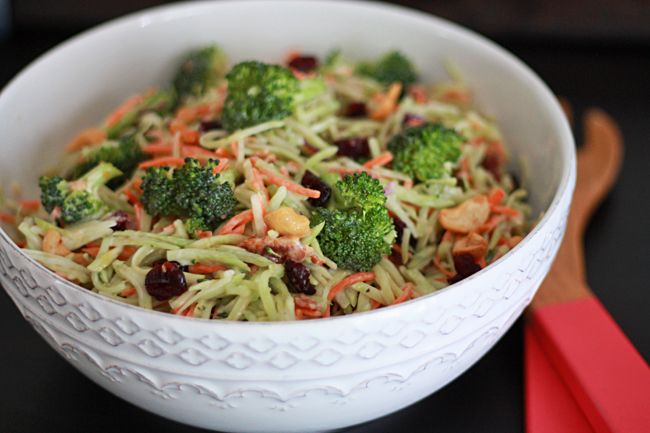 Updated from the archives
This is secretly one of my favorite ways to eat broccoli. Bacon, cashews, cranberries, a tangy dressing… yep. Definitely a favorite way. And no–definitely no–this is NOT the healthiest way to eat broccoli, I know. But it makes an excellent contribution to a summer barbecue, picnic, or potluck dinner. Cool, crisp, and refreshing…this is the way to eat broccoli in the summer.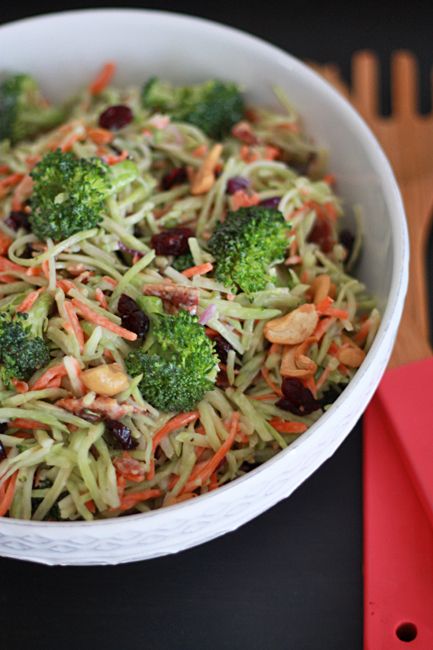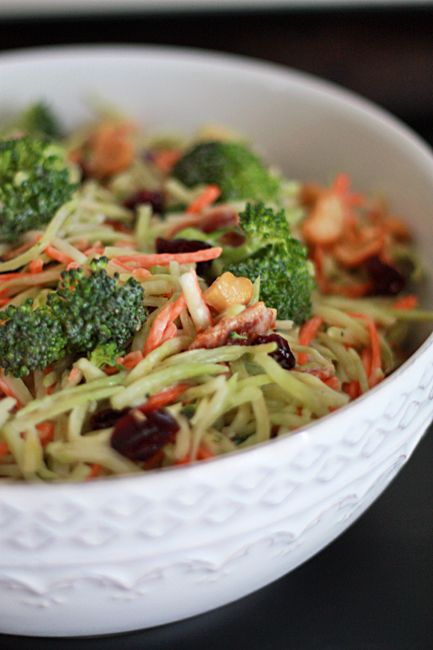 My recipe has shifted over the last several years. This is a simple, straight-forward method that I really enjoy. I really like the combination of broccoli slaw and broccoli florets, though you can certainly use all florets or all slaw if you prefer. This recipe is very forgiving and can be adapted endlessly. You could stir in a little grated cheese, a few green onions, swap toasted slivered almonds for the cashews… I even know people who stir a little of the bacon drippings into the dressing for a more bacon-tastic flavor.
Two things to remember: any kind of mayonnaise will do–light, olive oil, regular, etc. I just wouldn't use Miracle Whip ever. Also, try to resist the temptation to over-dress the salad. When you first stir in a little of the dressing, it may seem like it's not enough. Don't panic. Give it a little time to settle in, and you'll be surprised. It will be plenty! You probably won't use all the dressing the recipe makes. It's just a good amount to get you started.
Broccoli Bacon Salad
I often make this in the morning before I plan on serving it for dinner. I store it in a bowl fitted with a tight-fitting lid and flip the bowl over a few times during the day to prevent it from drying out.
Ingredients
For the salad:
1 (12oz) package broccoli slaw
1c fresh broccoli florets, cut into small pieces
4-5oz bacon, cooked and crumbled*
½c salted cashews, or more to taste
½c dried cranberries, or more to taste
For the dressing:
¾c mayonnaise*
3 Tbsp vinegar
3 Tbsp sugar
salt and pepper, to taste
Instructions
For the dressing:
In a small bowl, whisk together mayonnaise, vinegar, sugar, and salt and pepper to taste. Taste and adjust seasoning as necessary (more vinegar, sugar, salt, or pepper)
For the salad:
In a large bowl, combine broccoli slaw, broccoli florets, and crumbled bacon.
If making salad ahead of time, stir in only enough dressing to coat the salad (the salad will soften and the broccoli will release some of it's liquid, so you don't want to overdress the salad.) Refrigerate until ready to serve, up to 8 hours ahead of time. Right before serving, stir cashews and cranberries into the salad. Add a little more dressing if necessary.
If serving immediately, stir in cashews, cranberries, and enough dressing to coat the salad well.
Notes
* For other variations, you could stir in a little grated cheddar cheese, 2 sliced green onions, or substitute toasted almonds for the cashews. For gluten free, be sure your bacon and mayo are gluten free. I like Hormel Natural Uncured or Applegate Uncured bacon and Kraft olive oil mayo.