banana chocolate chip muffins
Updated from the archives
During my pregnancy, I have had a LOT of cravings, though most of them are for things I can't do anything about–a sun-dried tomato, basil, and mozzarella wrap I ate in the airport once, my favorite meal from an out-of-state barbecue restaurant we love (and miss), a piece of garlic bread from the pizza place near our first apartment.
So whenever one has hit that I actually CAN do something about, I'm sure to jump on it. Yesterday afternoon, I was sewing a crib skirt for babygirl's new crib and was hit with a REALLY strong craving for something with banana. Thankfully, I had just the right number of over-ripe bananas between my freezer and countertop to make muffins.
I've actually debated updating this post, since this was the first recipe I posted almost three years ago. Since I do hope to update it, I'll be sure to show you the pictures I took that first post.
This was my first food photography attempt ever. I had my fluorescent apartment lights on, I used the flash, and I felt so fancy! Thankfully, I've learned a few more skills (I still have LOTS to learn), but the recipe, thank goodness, is just as delicious as ever.
This recipe is adapted from one by my old roommate Mandy. I made these all the time when Michael and I were engaged and he'd come over to watch The Office on Thursday nights. Again with the nostalgia.
ANYWAY…these have a great banana flavor and can be dressed up with chocolate chips, nuts, or made plain. (Warning: if you make the plain ones, they're dangerously good with Nutella. I warned you!) They freeze well and make a great fun breakfast or treat. Enjoy!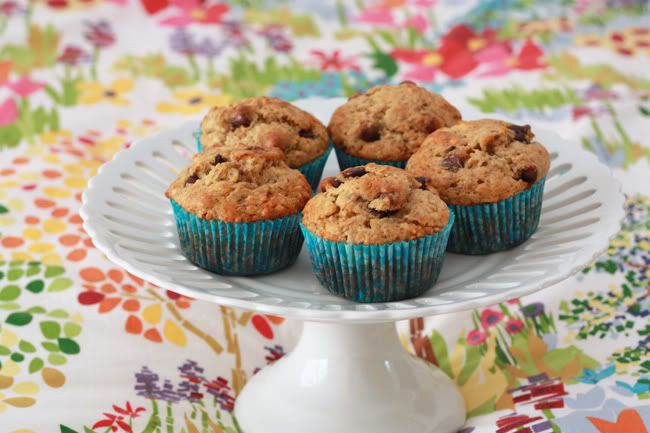 Print
Banana Chocolate Chip Muffins
---
1/2

c brown sugar

1/2

c butter

3

ripe bananas, mashed

1/4

c milk

1 tsp

vanilla

2

eggs

2

c flour

1 tsp

baking powder

1 tsp

baking soda

1/4tsp

salt
chocolate chips–I use semi-sweet
---
Instructions
Cream butter and sugar. Stir in bananas, milk, vanilla, and eggs. Stir in dry ingredients, stirring till just blended. Fold in chocolate chips. Use as many as you want based on whether you want them as a treat, a snack, or a breakfast food. (Quite honestly, for me…there's not always a difference.)
Divide batter among 12 muffin cups and bake at 375 for 18-20 minutes.