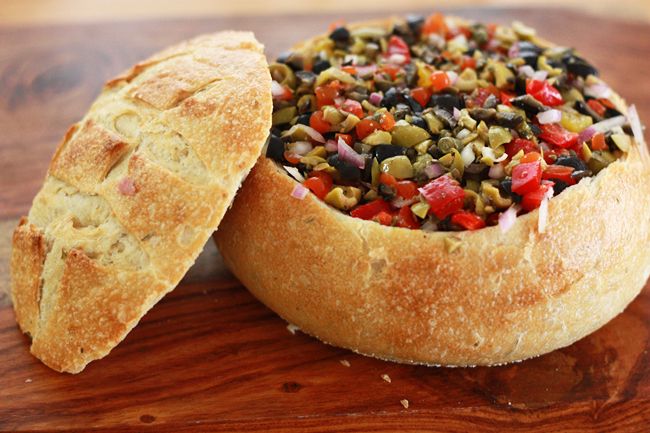 I have a deep and abiding love of New Orleans/Cajun food. It's only gotten stronger with each recipe I've tried.
Nerd alert: I've been more excited about Mardi Gras since I saw the Disney movie Princess and the Frog. The way they talk about Cajun food in that movie makes me want some every time I watch it. Gumbo, Jambalaya, Etouffee, Beignets, and (you might have guessed) Muffulettas.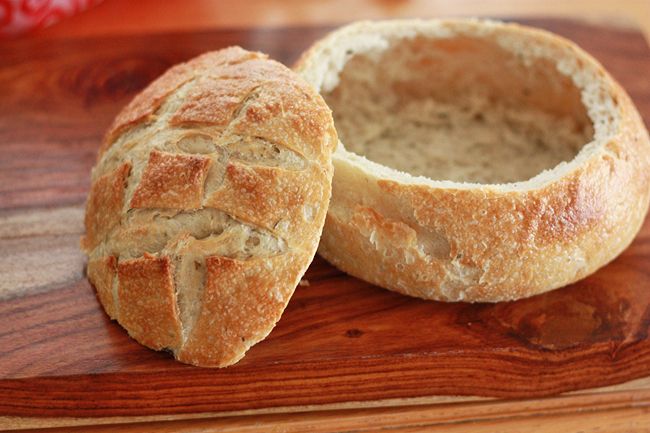 If you've never had a muffuletta before, it's the signature sandwich of New Orleans, which means it's a great choice for Mardi Gras! It's packed to the rafters with everything delicious. The big key is the olive salad–made of chopped olives and lots of other yumminess marinated in olive oil, vinegar, and oregano.
I don't by any means claim to have put together a perfectly authentic muffuletta. As always, this is just my take on it, but I thought it was delicious. We found a great loaf of rosemary olive oil bread that was fantastic paired with all the other delicious flavors. Also, if you're not big on olives, never fear; Michael's not really much of an olive guy, but he thought the olive salad made it taste like a grinder or pasta salad with Italian dressing, and he really enjoyed it.
I loooved it, and I'm sure we'll be making it again. Happy Mardi Gras! If you're looking for something more dinner-y to serve, feel free to make our Sausage and Vegetable Gumbo. It's to die for.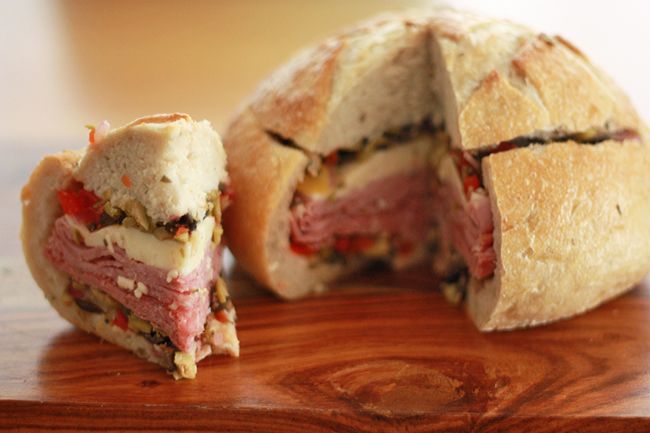 Print
For sandwiches
1

round loaf of bread (about 14-1

6oz

)

4oz

ham (sliced)

4oz

salami (sliced)

4oz

prosciutto (sliced)

4oz

provolone (sliced)
For olive salad:
5

–

6

oz green olives stuffed with pimentos, minced

5

–

6

oz black or kalamata olives, minced

1/2

red pepper, minced

2 Tbsp

capers, minced

1/4

c red onion, minced

2 Tbsp

red wine vinegar

1

–

2

Tbsp olive oil

1/2 tsp

oregano

1/4 tsp

black pepper
---
Instructions
Prepare the loaf of bread by either slicing in half horizontally, or cutting a circle out of the top and hollowing the bread out, leaving 1/2 – 3/4″ of bread around the edges (as shown).
In a medium bowl, make olive salad by tossing green and black olives, bell pepper, capers, red onion, vinegar, 1 Tbsp of olive oil, oregano, and black pepper. If the mixture looks a bit dry, drizzle a little more olive oil as needed. (The olive salad can be made up to 2 days ahead of time)
If using a hollowed out loaf of bread, spread half of the olive salad mixture on the bottom of the bread. Layer ham, salami, prosciutto, and provolone, then top with remaining olive salad and the top circle of bread. If you've sliced the bread in half horizontally, spread half of the olive salad on each half of the bread, then layer the meats and cheese as you would when making a regular sandwich.
Place sandwich on a sheet of plastic wrap and wrap as tightly as you can manage, double-wrapping as necessary. Refrigerate sandwich until ready to serve, a few hours or even overnight. Slice into wedges to serve.